In Windows, two types of errors occur. The first one is normal windows errors, which occur when important files are corrupted or are missing. And, the second type of error occurs, due to system-level problems. Like, driver issues, memory-related problems, and other hardware related issues. And, when these type of problems occur in the system, we get BSOD errors. And recently, numerous Windows users are facing an "irql_not_less_or_equal Windows 10" error. This error can occur due to multiple reasons.
In some cases, Windows user gets information regarding the file, with this error. Means, which file is responsible for the "driver IRQL not less or equal" error. So, if you have the name of that file. Then, you can fix this error, by renaming that corrupted file. But, if your computer is only showing the blue screen with "irql_not_less_or_equal" error. Then, you need to try all the solutions mentioned in this article.
What are the causes behind this error?
As I mentioned, there isn't any specific reason, behind this error. The error can occur due to
Buggy Device Driver.
BIOS update.
Peripheral Device. (faulty hardware)
Overclocking. (While gaming CPU overheating.)
Newly connected hardware part. (RAM upgrade.)
Some memory-related issues.
"A Windows user was telling that, after upgrading the motherboard." He got this error when he was trying to update drivers.
All, I am saying here that, it's not possible to find out the actual cause. Unless you know, what you did. I have already written an article about a BSOD error, Which is "system thread exception not handled". You can read that article to get more solutions. Ok, So here I am providing all possible solution to fix "irql_not_less_or_equal windows 10"
Note: If you're using any other version of Windows, still you can try these solutions. Because Windows 7 and 8 work the same as Windows 10.
Irql_not_less_or_equal windows 10 Fix.
Remove all external devices.
Let's start this article, with the basic solution. As I mentioned above, this error can occur due to the faulty peripheral device. So, if your PC is showing "IRQL not less or equal windows 10" error in a loop. Then, first, turn off your laptop using the power key. Then, disconnect all connected external devices, power cable also(if using a laptop.). Now, start your Computer and if the error still coming then try the next solution.
Uninstall recent Windows Update and Install Drivers.
If you're stuck on a BSOD error loop. And, unable to access your Windows. Then, you need to boot into safe mode, before trying out this solution. Safe mode is, mode of operation by application software. It means, in safe mode windows uses only required driver to boot the computer. So, if the problem is with the driver, then you will not face any error in safe mode.
How to boot Windows in Safe Mode?.
First, turn off your Computer Completely. Now, press the power key to turn it on again. After that, immediately start pressing the F8 key to boot Computer in the advanced boot menu. Select "safe mode" using arrow keys and then hit enter to boot into safe mode. You can easily exit from safe mode, by shutting down Windows.
Uninstall the recent update.
It could be possible that the error is occurring due to recently installed system updates. So, to fix "irql_not_less_or_equal Windows 10" error. You need to uninstall the most recent update.
Steps to Uninstall – Open Control Panel, then go to Programs > Programs & features > Click on "View Installed Updates" (Check on the left side.)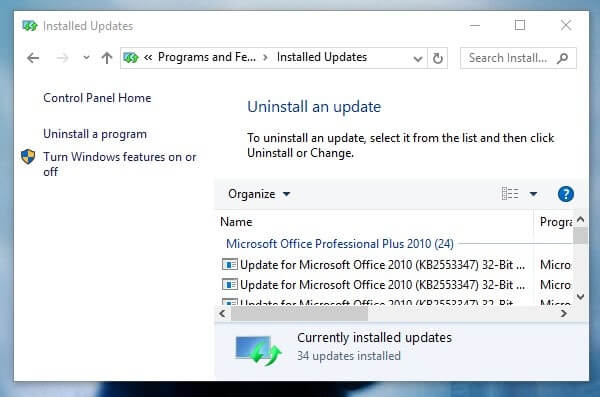 Note: You will able to see the date of the update installed on. So, don't install any old update, else you will face many other errors.
Update Outdated or Corrupted Device Driver.
After uninstalling the recent update and restarting PC, if still error occurs. Then, it could be a driver related issue. There are few drivers, which you need to update to fix this error.
Graphics Driver.
Ethernet and WiFi adaptor Drivers.
Disk Drivers.
According to the Microsoft official site, the error can get resolved by updating drivers. So, this solution is worth trying. You can update these drivers, by going into the device manager. (Press Windows + R key, and in run Window type "devmgmt.msc" and press enter.)
Now, if there is a yellow icon on any driver. Then Right Click on it and choose update driver option. Alternatively, to update the graphics driver, you can visit the manufacturer site to download the driver file. And, if Windows is unable to update any driver, then use driver updater software.
Windows Memory Diagnostic.
If the problem is not with any device driver. Then it could be possible that the problem is with Computer memory. Windows comes with a preinstalled memory diagnostic tool. With this tool, BIOS will test your memory. It's a very basic test but still works in solving many errors. To use the "Windows Memory Diagnostic" tool follow these steps.
Click on the start button and search for it, and then open it.
Now, you will get two options, select the first option which is "Restart now and check for problems".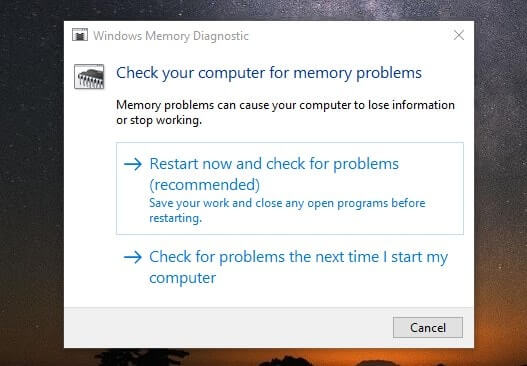 The computer will restart now, and will automatically run a memory test. After completing the test your PC will start normally.
Hopefully, "irql_not_less_or_equal windows 10″error get resolved now. If it doesn't solve the error, then try all remaining solutions one by one.
Uninstall recently installed software. / Overclocking software.
The computer manufacturer, does design computer components to use them till a limit. But, if you are using some overclocking software to boost your Computer performance while gaming. Then, this is the main cause of the "IRQL not less or equal" error. Though, you can easily fix this error, by uninstalling that software and delete its settings. If you're stuck in the BSOD error loop, then boot Windows in safe mode then uninstall.
Remove recently added hardware.
Some Windows users are facing "irql_not_less_or_equal windows 10" error, after adding extra RAM to their Computer. So, if you have added RAM or any else hardware component then remove it. The error could occur if, you're using different frequency RAM. Before adding RAM to your computer or laptop. First, check the preinstalled RAM model using CPU-Z software. Then buy the same manufacture and same frequency RAM.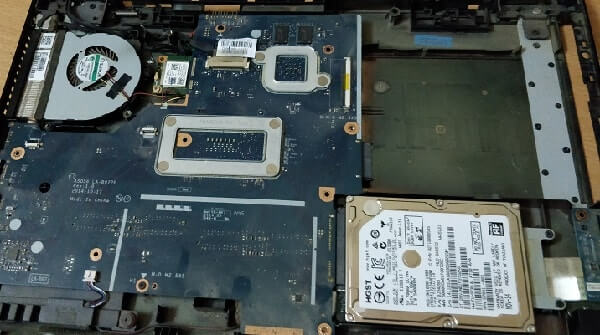 Change Driver File Name.
If with the error, BSOD also showing the file name. Then by renaming the file using the command prompt, you can fix this error. After renaming file Windows will not able to find out that corrupted file, and error get resolved.
Open Command prompt / Windows Powershell (Admin)
Type the following command.
To Change directory to driver folder directory.
cd c:\windows\system32\drivers
To change the filename. (It's an example, check error and replace the name with an actual corrupted file name.)
ren Name.sys Name.old

Done. And yes if you're stuck in a boot loop then, safe mode will help you to try this solution.
Reinstall Windows or RESET Windows.
If none of the above-mentioned solutions is working for you. And, the error is coming continuously, then you can do two things. The first thing you can do is "perform a system restore from safe mode". And, if there is no system restore point created, and you're using Windows 10. Then, first, create a backup of your important files in safe mode. After that, you can reset Windows, or can install Windows using bootable USB Drive.