Recently, PUBG Corporation has released patch 30 for PlayerUnknown's Battlegrounds. This update does offer many new things like a new vehicle( BRDM-2), weapon (Deagle). And, now you can ping loot items. Well, this article isn't about new things introduced in the Game. It's about PUBG not launching after the update. Even, I had to face this problem. When I tried to open PUBG PC through Steam, nothing did happen. So, I opened the task manager to check Game processes. And, found that when I launch the Game. The game's process does run for half a minute and then automatically gets closed. So, If you're also facing a similar problem. Then do follow the solutions mentioned in this article. Because I was able to fix this problem by applying certain solutions.
What Prevents the PUBG from not starting?.
There might be numerous things behind PUBG not launching after an update. Like, Corrupted or missing Game files or the maybe right version of Visual Studio Redist C++ isn't installed. Also for many players, due to the new anti-cheat solution Game also not starting. An anti-cheat solution was introduced to block illegal programs used along with PUBG. And, it could possible that any similar kinda program is running in the background. Though, whatever causes this problem, here are the solutions, which you can try.
Read Also: How to fix PUBG Network Lag Detected Error.
PUBG won't Launch – Solutions
Turn Off Antivirus Software
Let's get started with some simple solutions. Sometimes, problems are small, we make it big. According to some PUBG Players, they've fixed the problem by disabling the antivirus program. Using a third-party Antivirus program in Windows 10 PC is not a good idea. Because Windows comes with enough protection to save your PC against viruses and malware attacks. Though, If you still like to use other antivirus utilities. Then, you can temporarily disable or turn off it. And, after that, try to run PUBG through Steam App.
To disable the Antivirus utility, Right-Click on it from the system tray icon. And, from the context menu, try to disable it. If the option is missing from there, then open Antivirus and go through its settings. Or, you can look on the Internet to know the exact steps to turn off.
Remove or disable the unrelated program
PlayerUnknown's Battleground, a new anti-cheat solution does look for the illegal program first before launching the Game. So, if any unsupported program or anti-virus running alongside with PUBG. Then, it can be the cause of PUBG won't launch, problem. So, Instead of looking manually for services. I suggest you disable all unwanted startup services. And, then restart your Computer.
1. Right-Click on the start button and then click on Task Manager from the context menu.
2. Click on Startup in Task Manager.
3. Now, check the status of the startup services. If any unwanted startup service is enabled. Right-Click on it, and then click on Disable.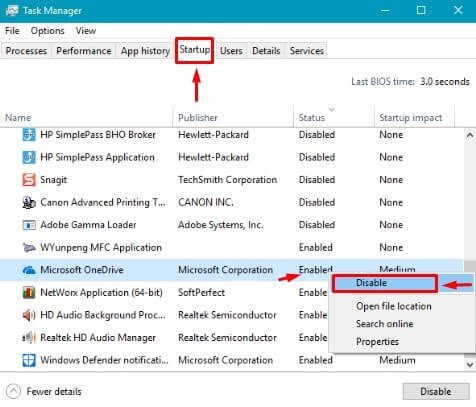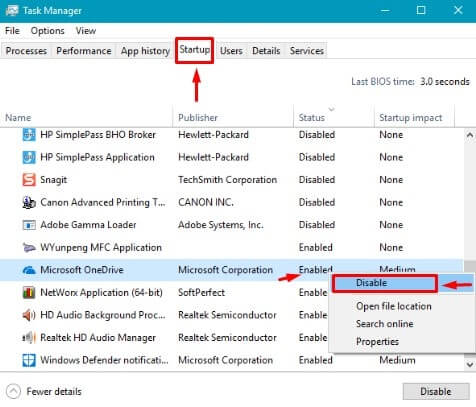 After disabling all unwanted services, restart your computer. And now, try to open PUBG. If still PUBG not starting, then follow the next solutions.
Check and, download missing Game Files
The main reason behind PUBG PC doesn't open is missing Game files. Even, I was facing this problem, because 100MB of the Game file was missing. Even after updating the Game. Steam doesn't show you the missing Game files to download. Until you Verify the integrity of Game Files. Sometimes, Game files get corrupt because of other software interference. So, to fix this problem, follow this instruction to download missing and corrupt Game files.
1. Open Steam Client, and log in to your account. Click on LIBRARY.
2.. Right Click on "PLAYERUNKNOWN'S BATTLEGROUNDS" and then click on Properties.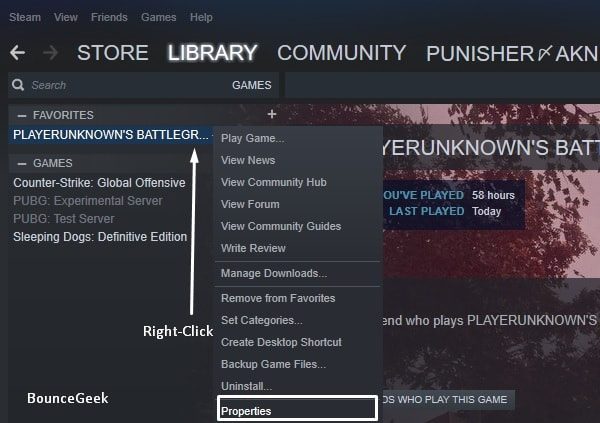 3. In the PUBG properties window, click on "Local Files". And, then click on "VERIFY INTEGRITY OF GAME FILES". UAC window will get open, click on Yes.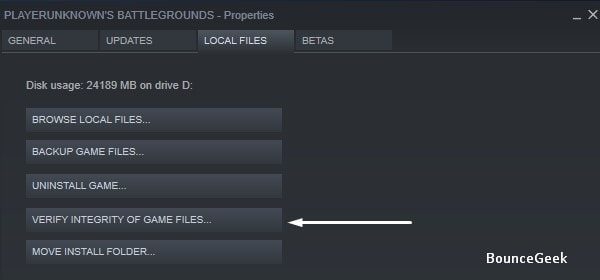 That's it. Now, the validating steam files process will get started. And, it will take a few minutes to check all your Game files. If any files found missing then Steam will start downloading it.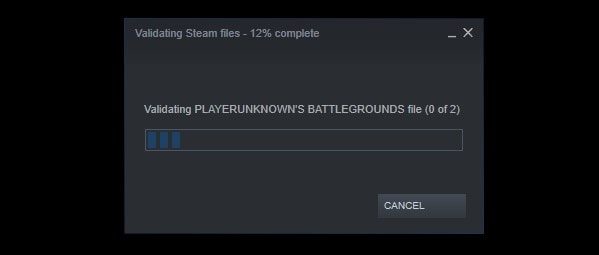 And, when the download gets complete, you can click on Play to launch PUBG PC.
Install Visual C++ Redistributable and DirectX
To run this game, you have to make sure all Visual C++ version is installed. Mainly, Microsoft Visual C++ 2015 Redistributable Update 3, x64 and x86 both versions are required to install.

If accidentally you have installed any Visual Studio version then, reinstall it. You can download any version of Visual C++ from the Microsoft website. All you need to do is search on Google for that version. According to the PUBG Support team, you also need to install DirectX. And, to install the latest version of it, search for "DirectX End-User Runtime Web Installer".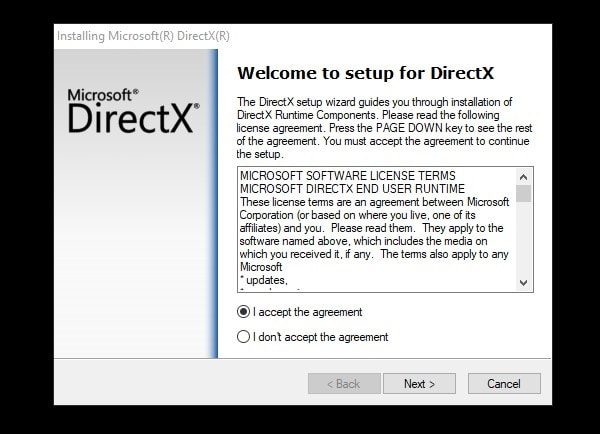 Delete Config Files
There are some config files inside PUBG's installation folder. These files sometimes create conflict with the Game. In that case, you have to delete these files. And, after deleting files, you have to again verify Games files using 3rd solution. Though, solutions 3 and 4 were able to solve the "PUBG not launching" problem for me.
1. First, you have to look for the Steam folder. In which drive you have installed Steam Client.
2. After that, open the following directory.
steamapps\common\PUBG\TslGame\Content\Paks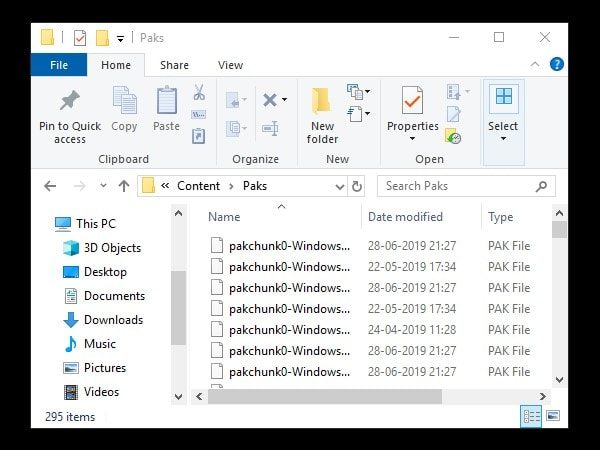 In Paks, you have to delete all files that not start with "pakchunk" name. (Read Carefully, don't delete "pakchunk" files.) If there isn't any extra file, then you can close the file explorer.
And, if you're deleting any file that doesn't contain "pakchunk" and "pak" in it. Then, please follow solution 3 again.
Contact PUBG Support or Re-install PUBG
If all the above solutions are unable to fix PLAYERUNKNOWN'S BATTLEGROUNDS, not launching, problem. Then, you can contact through the PUBG support forum. Or, if you have a good internet connection to reinstall the Game. Then, follow this instruction to re-install the Game.
1. Press Windows + I key to open the Settings App. Click on Apps and the 'Apps and feature' window will get open.
2. Look for PLAYERUNKNOWN'S BATTLEGROUNDS, click to select, and then uninstall.
3. Now, you have to remove these two folders before re-installing the Game.
TslGame Folder - C:\Users\username\AppData\Local\TslGame (Replace username with your PC user name.)

PUBG Folder - C:\Program Files (x86)\Steam\steamapps\common\PUBG (It's default directory.)
After deleting these two folders, you can install PUBG from Steam. And hopefully, PUBG not launching problem will be resolved.