Coronavirus (COVID-19) is spreading very viciously in many countries. And, it is affecting the world in many ways. Two major tech events such as Google I/O 2020 and MWC 2020 got canceled. Due to social distancing and self-quarantine, more people are turning to the internet to beat boredom. Consequently, many streaming services have decided to lower the video quality. Even, YouTube reduced the default streaming quality on its Android and iOS apps. This means you will not get an option to switch YouTube video quality above 480p streaming quality. And, for now, this 480p video quality restriction is for 30 days.
YouTube is the largest streaming platform in many countries. Mainly, this decision is taken, by YouTube, to reduce network load time. Bandwidth consumption is at an all-time high worldwide these days, because of increased video streaming. This restriction is for every YouTube video, even for the video uploaded in 4K high resolution.
Due to this decision, many people are not happy. As per me, YouTube should at least unlock the 720p streaming option. Well, still there are some ways to watch YouTube videos of higher quality. Yes, with some methods and alternative YouTube Apps, you can Remove YouTube 480p restriction.
Note: WiFi users can now stream YouTube videos in 1080p. (480p restriction has been removed.)
Remove YouTube App 480p Restriction
Use a VPN App.
Currently, the 480p YouTube restrictions are applied only in selected countries. So, by using a VPN app, you can easily access higher-quality options. If you're not aware, a VPN (Virtual Private Network) allows for creating a secure connection to another network. Apart from security and privacy, VPN is used to access region-restricted sites.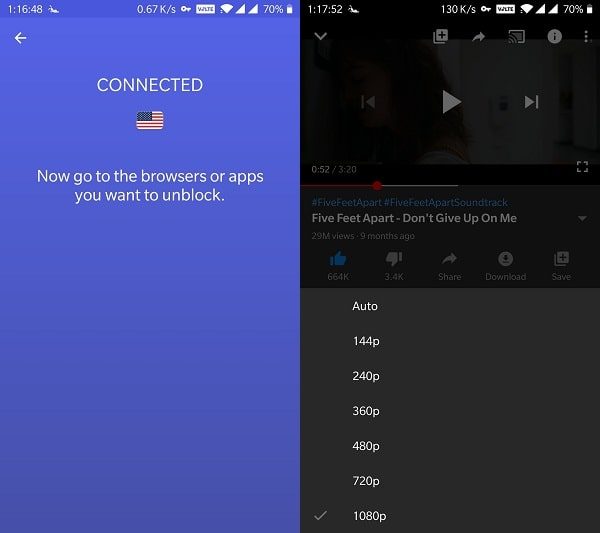 There are so many VPN apps available for both Android and iOS. Personally, I tried TurboVPN, and I was able to play YouTube videos at 1080p quality. Just install the VPN app on your smartphone, and connect to a free VPN Server. That's it, open YouTube App, and play a video. You can now switch to higher video resolution or quality.
Play Video in Desktop Mode.
For now, YouTube 480p restriction is only for YouTube Android and iOS apps. So, if you play a YouTube video on a PC. Then you can access all streaming quality options. These days, almost all Android and iOS browsers come with a "Desktop Site" option. This means you can open a mobile site in desktop view or mode. So, you just have to open the YouTube site in desktop mode in the chrome browser.
1. Install and Open Google Chrome on your smartphone.
2. Do open a YouTube site and Play the video you want.
3. Now, tap on the three vertical dots icon from the upper right corner to open the Chrome menu. After that, tap on the "Desktop site". YouTube videos will now be played in the web version.
4. Select the video quality, tap on the full-screen icon, and rotate the smartphone.
YouTube App Alternatives.
The conventional YouTube App by Google is a great App to stream videos. But, as of now, it's restricting users to watch videos of higher quality. That's why it's good to seek some YouTube app alternatives. If with VPN App, you're not getting good network speed. And, you don't want to use desktop mode in Chrome. Then, there are a few Alternatives App, that will let you stream videos in 1080p.
YouTube Vanced.
YouTube Vanced is one of the best-modded ad-free, versions of YouTube Client. It comes with all YouTube premium features like background playback, PiP mode, Overrides Maximal Resolution, Pinches to Zoom, Block ads, and many more. But, because this App is based on the original YouTube client. So this App also comes with a 480p quality restriction. But, recently, a Reddit user has suggested a method to remove the restriction. And, surprisingly it worked for me. Here are the steps, that you need to follow.
1. First, download YouTube Vanced Manager App. And, download and install MicroG and YouTube Vanced App through it. You have to give unknown source permission, in order to install App through YouTube Vanced Manager.
2. After that, open YouTube Vanced and go to Settings > Vanced Settings > Video Settings > Disable Resolution checks. (Restart App if it asks.)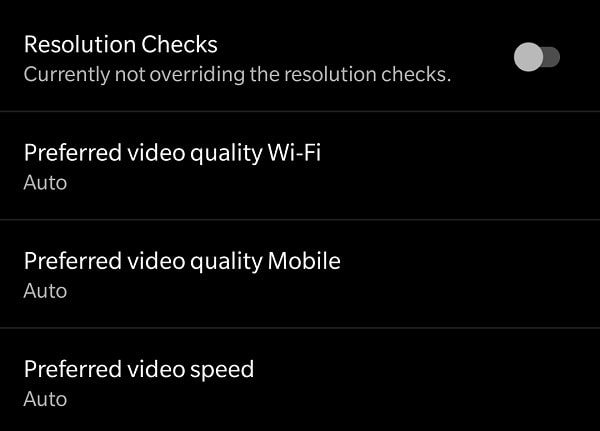 3. Go back to settings > Vanced Settings > scroll down and tap a few times on "About", till it says "hidden menu enabled".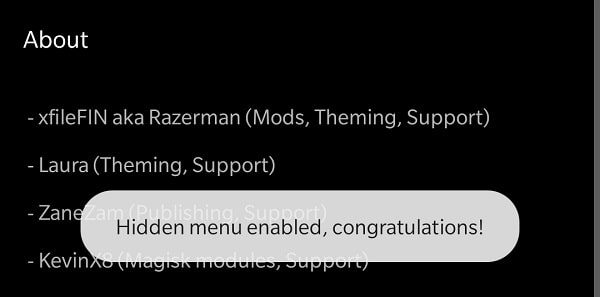 Open Codec Override and enter these values.
In Override Manufacturer – Samsung
In Overrise Model – SM-T510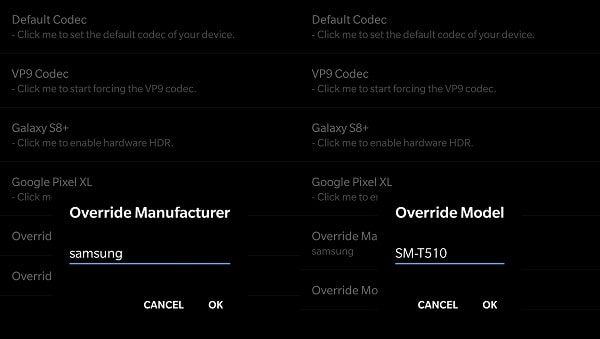 That's it, restart App, and now you will be able to play YouTube videos in 1080p resolution.
NewPipe App.
NewPipe App is a free and open-source YouTube client App. it is available on the F-Droid software repository. The App is created to get the original YouTube experience without annoying ads and permissions. It's a lightweight YouTube App and also helps to save battery life.
You can also download YouTube videos locally. And, can select between video, audio, file format and captions basically can customize download.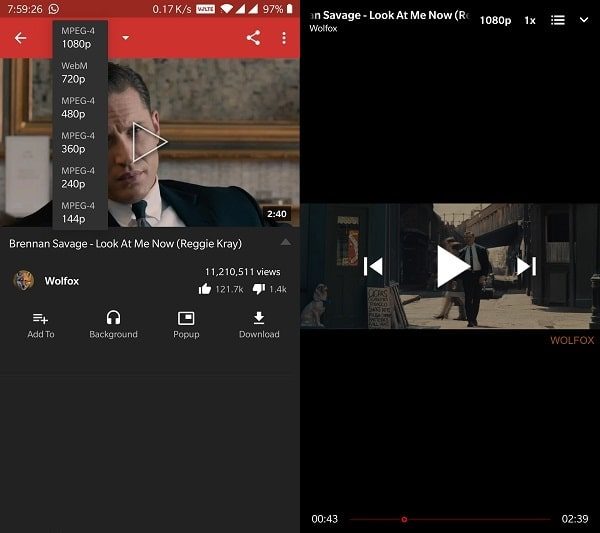 It does not use proprietary Google APIs, that's why you can play videos above 480p quality. PiP mode and background playback option are also supported. Just search for the video and tap on a video thumbnail. Select the video quality and tap on the video to play. With the background option, you can play YouTube videos in the background. (Audio Only.)
YMusic.
YMusic App is designed to enjoy music from YouTube. Yes, it is a kind of YouTube Music App alternative. But, YouTube Music App is also restricting the user to switch video quality from 480p. So, you can try YMusic, it's free. The interface of this App seems similar to NewPipe App. By Default, YMusic App plays only audio from a video. And, yes, you can download audio and video of a YouTube video.
1. Download and Install YMusic App from its official site.
2. Search for the video and play it. Audio will start playing. From the bottom of the App screen, tap on the audio player to expand into a full window.
3. Tap on the video icon and select the video resolution of your choice and tap on OK.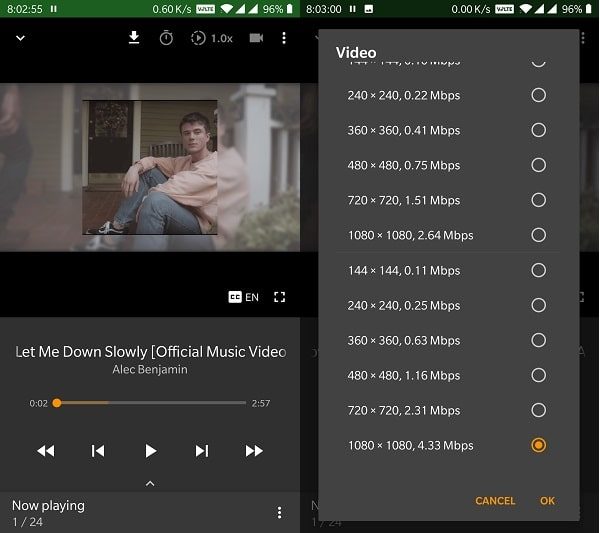 That's it, tap on the full-screen icon and enjoy YouTube videos in higher quality.
So, these are the methods and Apps to use to remove the YouTube 480p restriction.