No Doubt in it that, In the past few years YouTube is growing faster than any other streaming service. Because YouTube doesn't charge to Watch Videos. Also, YouTube is quite beneficial for content creators. Anyone can share their video content freely, and, can make money through Monetisation. But, YouTube servers always stay under heavy strain. Which, sometimes cause YouTube slow video loading and buffering problem. Though, if the problem is from their side, then it gets resolved within an hour.
But, if you're constantly facing YouTube buffering problem. Then, the problem is definitely from your side. But, don't worry, there are some solutions which you can try to fix this problem.
Why is YouTube so slow?
There isn't any specific reason behind YouTube buffering problem. This problem can occur due to server overload, internet issue, IP address range, or browser cache. Also, it could possible that some other programs are using your Internet connection.
Is the problem is with Mozilla Firefox and Microsoft Edge?.
An executive from Mozilla said on Twitter – YouTube runs five times slower in Mozilla Firefox than Chrome. Because YouTube uses deprecated shadow DOM API. This API was the part of the YouTube redesign of last year. So, if you're a Firefox web browser user. Then, for a faster YouTube experience, try Chrome browser. Or, to fix YouTube running slow problem in Firefox. You can install "YouTube Classic" add-ons. This add-on will disable the new API. And, will enable the old classic view of YouTube. And, for the Microsoft Edge browser, you can use Tampermonkey. (User Script Manager Extension.)
YouTube slow video loading and buffering.
Check Network Usage.
As I mentioned, It could possible that some other Windows services or programs are using the Internet. That's why YouTube is not able to get the required internet speed. So, Youtube running Slow, All else is fine. In this case, first, you need to check your network usage. This means, you need to find out the App or background service, that is using an internet connection without your permission.
1. First, Close YouTube Window.
2. Now, press Windows + X key simultaneously. And, from the WinX menu, click on "Task Manager". (Or, you can Right-Click on the start button to access the WinX menu.)
3. Now, a task manager will show you network usage of all background processes and Apps.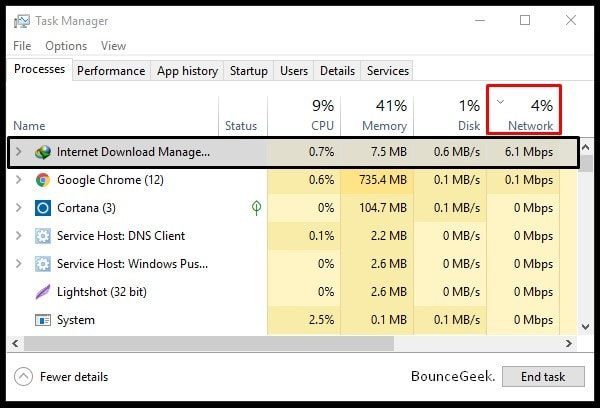 If you find out that, any background process or App is using the Internet. Without your permission. Then, Right-Click on it and then click on the "End Task" option.
Use 'Networx: bandwidth monitor program.
Android devices come with a network speed indicator. Which shows the current upload and download speed. So, In Windows to get that feature, you can download the Networx program. This program will helpful while playing YouTube videos. This means it will show you the current download speed. So that, you can figure out yourself that speed is enough to play YouTube video or not. Also, if this network indicator shows download speed while you're not doing any internet activity. Then, you need to check the network usage of Apps using Task manager. Alternatively, you can check WiFi and Ethernet in the performance section of Task Manager.
Choose Lower Video Quality.
Yeah! this is the most obvious solution. But, if you're using auto settings. And, still facing a slow YouTube video play issue. Then, you should manually select a lower quality. According to your internet speed. If you want to watch YouTube videos flawlessly in 720p. Then 512 kbps to 1 Mbps speed is required. And, for 1080 to 4k video quality you need 1-2 Mbps constant download speed.
But, if your Internet download speed is slower than 512 kbps. Then, try lower video quality like 240p or 360p. If you're using the data connection to play YouTube video. Then, maybe due to an unstable internet connection you're facing this problem. You can check network speed stability using the Networx program in Windows. By clicking on the gear icon you can set lower video quality.
Change YouTube URL.
This is a temporary solution but suggested by many. Users, Who were facing exact same YouTube slow video loading problem. So, give it a try.
1. Open the YouTube homepage in a new tab.
2. Now, replace www with ca in the URL. 

After changing the URL, press Enter. To reload the page with a new URL and play video.
CA is the country code of Canada. By replacing, 'www' with any Country Code. You can access the YouTube server of that country. And, to open the YouTube page of your country. You just need to replace 'www' with your country code. So, if due to server load YouTube video is not buffering. Then, this solution can help you out.
Clear browsing data.
If you haven't cleared browser cache data. Then, you should do it right now. When you open a new site the first time. The browser caches everything related to the site. So that it can open the site faster next time. But, too much temporary data can make YouTube running slow.
These steps are for the Chrome browser. If using any other browser, the process could be different.
1. Press Ctrl + H key simultaneously to open the Chrome history page.
2. From the left side of the Chrome history page. Click on the "Clear browsing data" option.
Alternatively, you can press Ctrl + Shift + Delete key.
3. A new window will get appear, click on "clear data". Also make sure, in the time range drop-down menu, the 'all time' option is selected.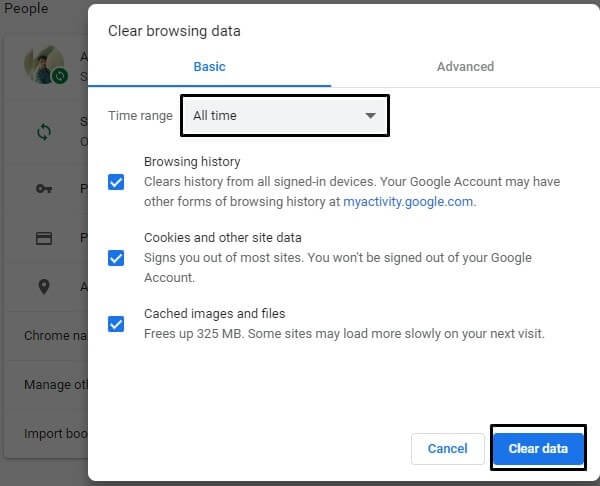 That's it. After clearing data of Chrome web browser. Restart Chrome browser and then try to play YouTube video.
Disable browser extension.
If you have installed any proxy-related or internet security-related extensions or add-ons. Then, you need to disable those. These extensions sometimes block network speed. That leads to YouTube running slow problem.
Enable and Update Flash Player.
Adobe Flash Player is helpful to view multimedia content, executing internet applications, and streaming video and audio. In the latest version of Chrome browser, the flash player comes built-in. But, it could possible that you're using an outdated version of the Chrome web browser. Or, maybe Flash Player is disabled from YouTube site settings.
1. Click on the menu icon. (three vertical dots)
Move your mouse pointer to the 'help' option and, then click on the "About Google Chrome" option.
When you open this help page of Chrome. Chrome will automatically start checking for updates.
2. After updating the Chrome browser. Open the homepage of YouTube.
3. From the URL box, Click on the lock icon, which appears before HTTPS.
4. You will now able to see the "Flash" option, with a drop-down menu next to it.
Click on that drop-down menu and select "Allow".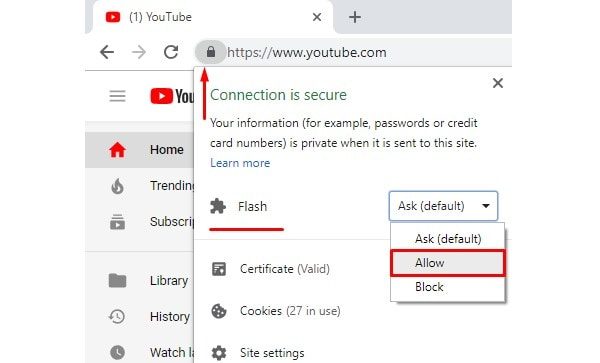 That's it. Now, reload the YouTube page. And hopefully, YouTube slow video play problem will get resolved.
Note: If the problem is occurring in any other browser. Then, from the Adobe site, download the latest version of Flash Player.
Use VPN Service.
Sometimes VPN helps to load the site faster. VPN is basically a connection method uses to add privacy and security to a private or mostly public network. It is most often used by corporations to protect their sensitive data. VPN or proxy helps to redirect internet traffic. In other words, it works like a secure tunnel between two devices. There are many free VPN services available. But, for privacy, you should use a paid VPN. But, here you just want to play the YouTube video. So, you can try any VPN free trial.
Check, Who is connected to your WiFi?.
Are you using a WiFi connection to Watch YouTube videos?. Then, it could possible that someone is using your WiFi connection. That's why you're not getting the required internet speed. In this case, you need to login into your router settings. And, from wireless statistics, you can find out the culprit. Wireless statistics also show current received and sent packets of all connected users. I suggest you read my article on "Who is connected to my WiFi".
Summing-up. / Conclusion. – YouTube running slow.
So, these were the solutions, which you can try. But, first, you need to find out what the problem is with you. Or, everyone facing the same issue. After that, you need to check which Apps are using an internet connection. Also, if you're a WiFi user. Then, you need to find out that. Is anyone else using the internet to download and stream content? After that, you can try rest solutions. Like clearing Chrome browsing data, updating the flash player. Or, if you're a Firefox user, then just install the 'YouTube classic' extension.