Are YouTube videos loading slowly, even with a fast internet connection? Well, you're not alone, many users have experienced the same. This article will help you to fix it.
In the past few years, YouTube has gained so much popularity due to many new content creators. Many new creators are coming daily on YouTube. Because YouTube doesn't charge to watch videos, YouTube earns through ads. Anyone can share their video content freely, and, can make money through Monetization. Because of so much content being uploaded every second, YouTube servers always stay under heavy strain. Which, sometimes cause YouTube slow video loading and buffering problem.
Recently, many YouTube users worldwide reported that YouTube videos failed to load normally. The abrupt outage was for around an hour worldwide. The website was working but users weren't able to play video. Though the problem was from the YouTube side, so it got resolved within an hour. But, if YouTube takes forever to load, then the problem is definitely from your side. Well no worries, even if the problem is from your side, still you can fix it by trying some solutions.
Why are YouTube Videos loads slow?
There isn't any specific reason behind YouTube buffering problem. This problem can occur due to server overload, internet issues, IP address range, or browser cache. Also, it could possible that some other programs are using your Internet connection.
Here are the most common causes behind only YouTube's slow loading issues.
Heavy Load on Youtube Server.
Problem with your Wi-Fi router or Internet Connection.
Something wrong with the video that you're playing.
The browser Cache is causing an issue.
You're using a VPN.
Is the problem with Mozilla Firefox and Microsoft Edge?
An executive from Mozilla said on Twitter – YouTube runs five times slower in Mozilla Firefox than Chrome. Because YouTube uses deprecated shadow DOM API. This API was part of the YouTube redesign last year. So, if you're a Firefox web browser user. Then, for a faster YouTube experience, try the Chrome browser. Or, to fix YouTube running slow problem in Firefox. You can install "YouTube Classic" add-ons. This add-on will disable the new API. And, will enable the old classic view of YouTube. And, for the Microsoft Edge browser, you can use Tampermonkey. (User Script Manager Extension.)
Solutions: YouTube Videos Loading Slow
Check Internet Speed.
This is the first thing you should do before trying any other solutions mentioned in this article. Because it could possible that your ISP currently having downtime due to maintenance. Apart from Internet speed network latency or ping also does matter. A lower ping is required for a stable connection.
To run a network speed test, simply search for speed test on Google. You can either use Speedtest by Ookla or Fast.com

Reboot Router
It's possible for YouTube to load video slowly even on a high-speed internet connection. If you're using your Router for a longer time, and you have not settled up a scheduled reboot. Then, you have to perform a manual reboot, in order for to router to work efficiently. Else, you might experience high ping, which leads to slow loading issues on YouTube and other streaming platforms.

1. Unplug your router and modem from the socket.
2. Wait for a minute, so that router can cool down.
3. After a minute, plug the router and modem again.
4. Wait for a minute for an Internet connection to establish. After that, try playing a video.
Check YouTube Video Stats for Nerds
YouTube Video Player has a built-in option to check video specs. This means you can find which resolution video is running. And, how are connection Speed and Buffer Health? By checking this information, you can identify if there is an issue with your Connection or not.
1. Do, right-click anywhere over the video that is playing.
2. Click on the "Stats for Nerds" option.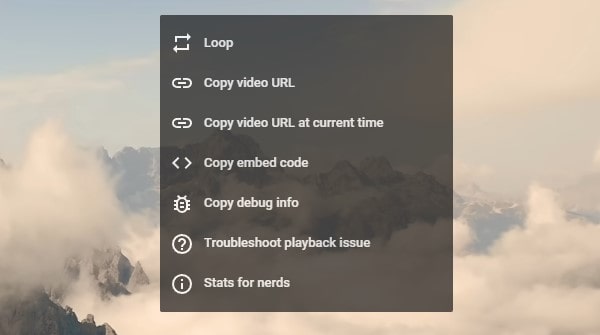 That's it, you will now see all video and network-related information.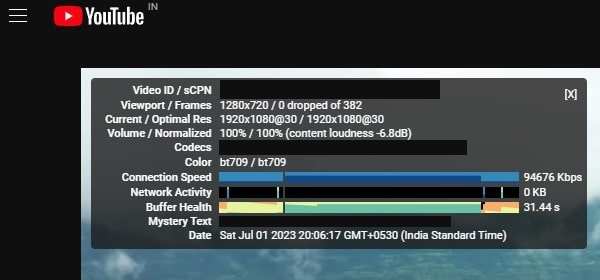 Check Network Usage.
As I mentioned, It could possible that some other Windows services or programs are using the Internet. That's why YouTube is not able to get the required internet speed. So, Youtube running Slow, All else is fine. In this case, first, you need to check your network usage. This means, you need to find out the App or background service, that is using an internet connection without your permission.
1. First, Close YouTube Window.
2. Now, press Windows + X key simultaneously. And, from the WinX Menu, click on "Task Manager". (Or, you can Right-Click on the start button to access the WinX menu.)
3. Now, a task manager will show you network usage of all background processes and Apps.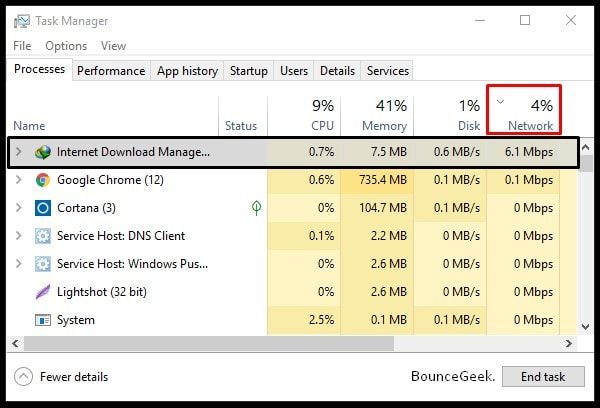 If you find out that, any background process or App is using the Internet. Without your permission. Then, Right-Click on it and then click on the "End Task" option.
Use 'Networx: bandwidth monitor program.
Android devices come with a network speed indicator. Which shows the current upload and download speed. So, In Windows to get that feature, you can download the Networx program. This program will be helpful while playing YouTube videos. This means it will show you the current download speed. So that, you can figure out whether the speed is enough to play YouTube videos or not. Also, if this network indicator shows download speed while you're not doing any internet activity. Then, you need to check the network usage of Apps using Task Manager. Alternatively, you can check WiFi and Ethernet in the performance section of Task Manager.
Choose Lower Video Quality.
Yeah! This is the most obvious solution. But, if you're using auto settings. And, still facing a slow YouTube video play issue. Then, you should manually select a lower quality. According to your internet speed. If you want to watch YouTube videos flawlessly in 720p. Then 512 kbps to 1 Mbps speed is required. And, for 1080 to 4k video quality you need 1-2 Mbps constant download speed.
But, if your Internet download speed is slower than 512 kbps. Then, try lower video quality like 240p or 360p. If you're using the data connection to play YouTube videos. Then, maybe due to an unstable internet connection, you're facing this problem. You can check network speed stability using the Networx program in Windows. By clicking on the gear icon you can set lower video quality.
Change YouTube Country. (Temporary Solution)
This is a temporary solution but suggested by many. Users were facing exact same YouTube slow video loading problem. So, give it a try.
1. Open the YouTube homepage in a new tab.
2. Now, replace www with ca in the URL.

3. After changing the URL, press Enter. To reload the page with a new URL and play the video.
4. CA is the country code of Canada. By replacing, 'www' with any Country Code. You can access the YouTube server of that country.
Open your country YouTube Again – To open the YouTube page of your country. You just need to replace 'www' with your country code. So, due to server load, the YouTube video is not buffering. Then, this solution can help you out.
Clear browsing data.
If you haven't cleared browser cache data yet. Then, you should do it right now. When you open a new site the first time. The browser caches everything related to the site. So that it can open the site faster next time. But, too much temporary data can make YouTube run slow.
These steps are for the Chrome browser. If using any other browser, the process could be different.
1. Press the Ctrl + H key simultaneously to open the Chrome history page.
2. From the left side of the Chrome history page. Click on the "Clear browsing data" option.
Alternatively, you can press Ctrl + Shift + Delete key.
3. A new window will get appear, click on the Advanced tab, then click on "Clear data". Also make sure in the time range drop-down menu, the 'all time' option is selected.
That's it. After clearing the data of the Chrome web browser. Restart the Chrome browser and then try to play the YouTube video.
Disable browser extension.
If you have installed any proxy-related or internet security-related extensions or add-ons. Then, you need to disable those. These extensions sometimes block network speed. That leads to YouTube running a slow problem. To disable or remove the extension from Chrome Browser, open the following URL in Chrome.
chrome://extensions/
Use or Disable VPN Service.
Sometimes VPN helps to load the site faster. VPN is basically a connection method used to add privacy and security to a private or mostly public network. It is most often used by corporations to protect their sensitive data. VPN or proxy helps to redirect internet traffic. In other words, it works like a secure tunnel between two devices. There are many free VPN services available. But, for privacy, you should use a paid VPN. But, here you just want to play the YouTube video. So, you can try any VPN free trial. Also, If you're already using a VPN connection, then do disable it.
In Windows 11, you can enable/disable VPN by going into Settings > Network & Internet> VPN > VPN Connections.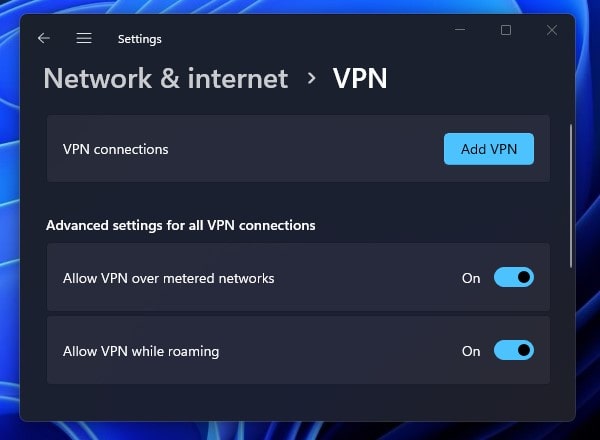 Check, Who is connected to your WiFi?
Are you using a WiFi connection to Watch YouTube videos? Then, it could possible that someone is using your WiFi connection. That's why you're not getting the required internet speed. In this case, you need to login into your router settings. And, from wireless statistics, you can find out the culprit. Wireless statistics also show the current received and sent packets of all connected users. I suggest you read my article on "Who is connected to my WiFi".
Summing-up. / Conclusion. – YouTube Loading Slow.
So, these were the solutions, which you can try. But, first, you need to find out what the problem is with you. Or, is everyone facing the same issue? After that, you need to check which Apps are using an internet connection. Also, if you're a WiFi user. Then, you need to find out that. Is anyone else using the internet to download and stream content? After that, you can try rest solutions. Like clearing Chrome browsing data, and updating the Flash player. Or, if you're a Firefox user, then just install the 'YouTube Classic' extension.