Apps like Snapchat – After Facebook, Snapchat is one of the best social messaging and face morphing App. Apart from sending messages, updating stories, expiring messages this app allows to animate your own face with cool filters. Filters are officially known as lenses, and now everyone likes to use lenses. The best thing regarding filters (lenses) we can share our Snapchat stories, can share on social media by saving it on our Android and iOS devices.
Recently Snapchat introduced a face swapping filters, that allows swapping your face with anyone faces using their images. There is no doubt that Snapchat is the first app to introduced filters. But ever since Snapchat launched filters, other face filters Apps like Snapchat started growing up.
Why we need Snapchat Alternative?.
There is no need of Snapchat Alternative, All features available in this app are perfect and works fine on almost every Android and iOS devices. But it doesn't mean that other apps aren't good. There are some other Apps available which offers almost same features with different face filters. So if you get bored with Snapchat face filters then you need to try out some Apps like Snapchat. Here is the list of some Good Apps with Face Tracking Filters and Messaging security.
Best Apps like Snapchat – Snapchat Alternatives.
Apps with Face-Tracking Filters.
MSQRD by Facebook.
If you're looking for Best Face – Filter App for taking selfies and video selfies then MSQRD is right App. Like Snapchat, this app is not social messaging app neither you can post anything. The only thing that you can do is can use cool face filters of this app. And after taking cool funny video selfies you can share them on Facebook. To use this App you don't need to put any personal information.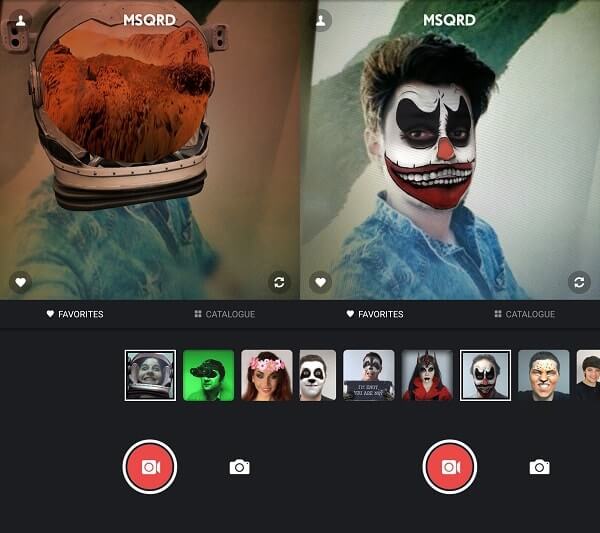 But as I mentioned before the app is developed by Facebook, so Facebook login screen will appear but you can skip it. The app comes with around 17+ face filters, all are divided into catalog like fun, sport, emotions, faces. Face swap filter also there, which allows swapping your face with your friends. Although this app is currently in the initial stage, so sometimes app doesn't work properly. But overall if you're looking for Apps like Snapchat then you need to try out this app for once.
Get MSQRD for Android.
MSQRD App for iOS.
Instagram.
You already know about this App Right?. But do you know Instagram App also comes with face filters?. Recently Instagram introduced it faces filters, which you can access by tapping on camera icon > Smiley (Bottom Right Corner). Currently, the app offers 17 face filters, all are unique and different from Snapchat App. And the best part is Instagram filters works way better than MSQRD App filters.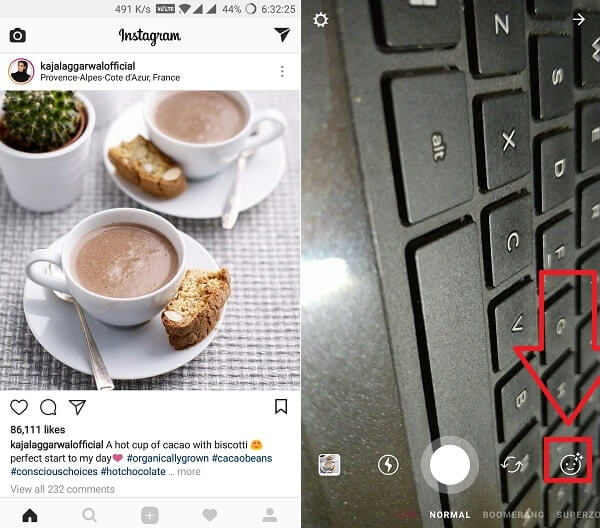 Apart from face filters, Instagram App has many things which makes it best Snapchat Alternative. You can update stories, post photos, share photos on Facebook, can create boomerang, play videos in reverse. And also you don't need to use any third party app to add filters to clicked photos. While uploading pictures on Instagram you can do that. Although the app doesn't allow to download Instagram Photos you can bookmark photos to watch later. If you're searching for an Apps like Snapchat, which offers same features then Instagram is the right choice.
Get Instagram for Android.
Instagram for iOS.
Snow.
Snow app is well – known one of the famous apps like Snapchat for video calling. But since Snapchat launched face filters, Snow also introduced it's selfie face filter fun camera. And if you get bored with Snapchat filters then you can try this App for fun. When you open this app, it will provide you three option to sign on Facebook, Line or Sign up using the mobile number. Apart from face filters, you can upload your stories like Instagram and Snapchat.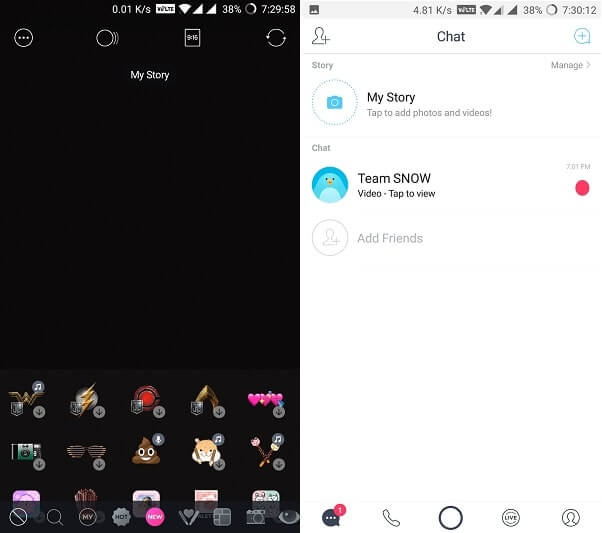 There is live section also available, which is somehow similar to Facebook Live. The face filters section offers tons of accessories and lenses. And Snapchat face swap using images option also available in this App. There is voice changer filters section also available which is somehow way better than Snapchat. Overall this app is better than Snapchat in terms of face filters.
Get Snow for Android.
Get Snow for iOS.
Facebook App. (Camera Filters Added)
Everyone knows about Facebook, After Orkut, it is the oldest social networking site. Recently Facebook introduced two new features in its Android App. First one is stories which are same feature that Snapchat and Instagram offer. And the second feature is facing filters, which is also known as lenses. Like Instagram, Facebook has tons of face filters with some extra tweaks like background music.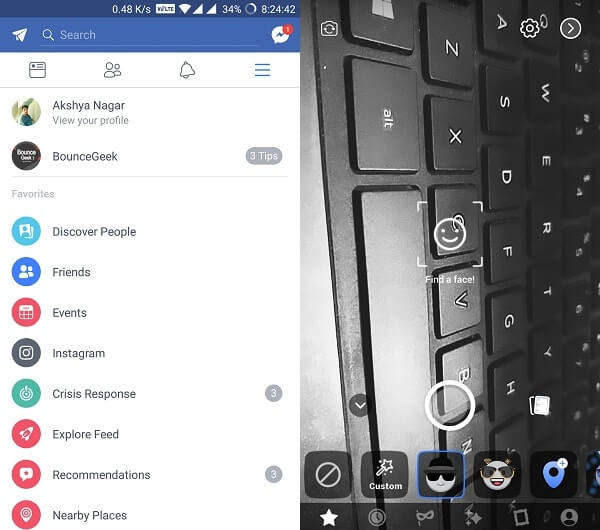 Am not going to compare Facebook with Snapchat, because some Facebook features are first introduced by Snapchat. And still Snapchat feature is way better than Facebook. But there are some features which make Facebook better like Facebook Live, News Fees, Notification center and Facebook adverts. Overall if you want to try out some more cool lenses than trying Facebook App.
Boo! App.
Boo App one of Apps like Snapchat and famous for its awesome face filters and music lenses. Like Snow App, it also comes with tons of Face Filters. Which you can record and send to your Boo Friends. The app is little bit girlish but some filters are available for boys also. There is magic chat option also available which you can access by holding your friend profile.

Like Facebook, Boo app also comes with the option to send and accept the request. The only person that is added to your Boo friendliest can see your Boo stories. Group video chat feature also available in this App, Without paying anything you can do group video chat with your buddies.
Get Boo App for Android.
Boo App for iOS.
Apps with Security.
Wickr Me.
Wickr is also known as Wicker and it is the one of best instant messenger App for Android and iOS. Like Snapchat and other App that mentioned above, it doesn't offer face filter or lenses. But still, this app is alternative to Snapchat in terms of security. Because it allows sending "end to end encryption" to the messages. Apart from text, App has the functionality to send videos, pictures, and files securely.


The person who created Wickr claims that it is the most secure instant messenger available on Google Play. Although due to the popularity of WhatsApp, this app is underrated. But still, 1 million users using this app as daily messaging. As I said Wickr doesn't offer lenses but it allows to edit your images before sending. Overall if you need a secure App for your secret messages then this is the best app like Snapchat.
Get Wickr for Android.
Get Wickr for iOS.
Clipchat.
Clipchat is another messaging App with some really cool features. Although this app completely looks like Snapchat it is much simpler than Snapchat in terms of user interface. It comes with self – vanishing photo option which is way better than Snapchat. When you send the photo to someone on Clipchat, first it shows blurred preview. But when you click on the photo it first shows animation then other people will able to see photo.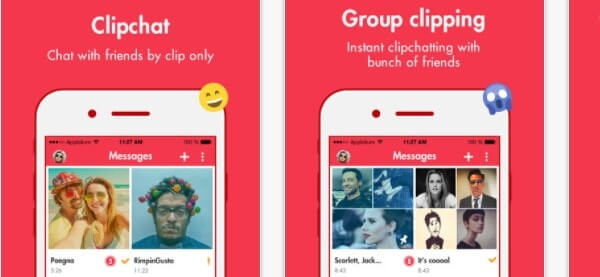 If you're an Android user then, the bad news is still this app available only for iOS user. Like Snapchat, In Clipchat when someone takes a screenshot of your images, you"ll get notified immediately. Overall clip chat is simple fast messenger app with some good security features.
Conclusion – Snapchat Alternative.
So these are the Apps like Snapchat which offer similar or somehow better feature than Snapchat. But Still Snapchat is good App, But if you want to try our new face filters then you can try these Apps. Although still there are tons of Apps available that offers good face tracking filters. But some apps are copied apps of other and writing about every single app isn't a good idea. If you think any best App still left to add in this article then feel free to comment.