The first thing that we learn while learning computer is Drawing our name on Paint Application. Microsoft's paint application is the first Best free painting software, but Microsoft recently announced to shut down it. In upcoming Windows 10 creators update, Microsoft is adding Paint 3D to replace original MS Paint. But still, we'll able to get MS paint from Microsoft Store. We haven't seen any update in Paint since Windows 7 launched.
There are also some other Paint programs for windows available, known as Paint Alternative. MS Paint provides limited drawing tools, and these free painting software provides some advanced tools. Some drawing programs provide tools to work in three dimensions, can create your own model and apply textures and paint effects.
So here I picked some best free drawing software. Some of them are used to design illustrators and other's are somehow similar to Paint but with advanced features.
The Best Free Painting Software.
1. Krita.
Krita is open – source, Best free painting software by artists for artists. It's professional quality tools make you think is Krita Paid, but it's absolutely Free. Some of Krita tools is similar to Photoshop and CorelDraw.
The brush engine of Krita is pretty amazing, allows you to create effects and strokes really fast. Also, you can customize each and every brush. In painting features, you'll able to find out canvas rotation, perspective grids, rulers, several transformation options. The thing that you might not like about Krita is some UI icons are ugly that makes Krita looks old.
Krita is particularly made for comics, but because of tools, you can use it for drawing and illustration. The software comes with dozens of template like Camera, comic, Design and texture, Animation and much more. By Right – click on canvas you can access selection wheel, that lets you pick tools and color easily.
Filter option also available with Krita, and some drawing aids to create straight lines, vanishing points, and some shapes. It is powerful free drawing program for artists, you can download it Free from Below link.
2. My Paint.
My Paint is somehow different from other windows application, the background of this app is similar to Linux apps. It is also open – source free digital art program that provides some pro tools for artists.
The best feature of My Paint is picked layer, color, and brush with only one single click. Also, there is a separate shortcut available to pick one or pick all. Things that you might not like about My Paint is canvas size is limited no option to increase or decrease. Zoom level is also unclear which is the little bit disappointing.
This software is useful when you want to add some handwritten or painted elements or quick art. If you don't have Photoshop around then it comes in handy. If you have some rough sketch ideas, then My Paint is pretty useful and best free drawing software for you.
It works great with the graphics tablet, also you can use it with any other input devices. Because it's open source software so you can also download brush packages created by other users.
3. Paint. NET.
Paint .NET is the advanced version of Microsoft paint application, comes with same features along with some advanced features. User Interface of Paint. NET is quite good and easy to understand for the newbie.
This software supports layers, special effects, unlimited undo and many more useful tools. It is basically a Photo editor software, but because of advanced drawing tools, I added in this list. It also supports a wide variety of plugins and online community also available to learn about the software.
The software was developed to replace MS Paint but Microsoft is going to launch Paint 3D. Currently, it is maintained by some of the alumni that originally developed it. With Paint. NET You can eliminate red eye, fix the contrast, change images color and can convert the image into oil painting.
It has some professional tools that you can find out in premium software like Photoshop. So apart from a photo editor, it's free art software for artists.
4. Artweaver Free.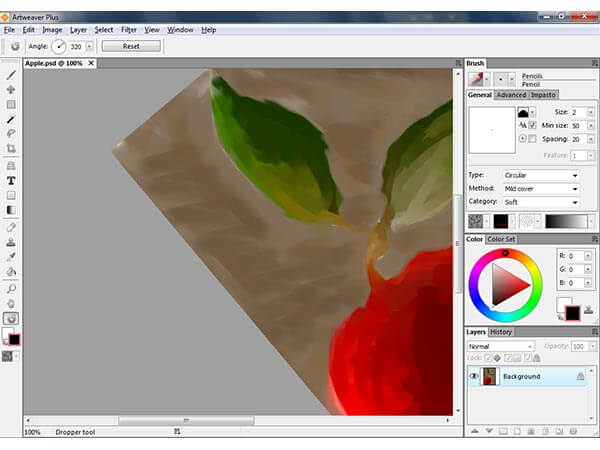 Artweaver is fully featured Best free painting software, comes with the huge set of realistic brushes to paint. It is for professional users, but also suitable for beginners for basic drawing and paintings.
It offers the wide range of familiar brushes such as Circular, Hair brushes, airbrushes. Also, the huge range of pens and patterns enabled you to produce very complex images with the minimal amount of efforts. The layer based system of Artweaver is pretty good allows you to built your art without loose anything.
You can also Turn existing images into artwork using the wide variety of brushes by just cloning colors. The best part about Artweaver it allows you to work on the same document at the same time using LAN connection.
It also records whole painting process from start to end and you can replay later. It is helpful to demonstrate other users to teach them about your artwork. There is Premium version Artweaver available but still, Free version is enough for students and kids.
5. Microsoft Paint 3D.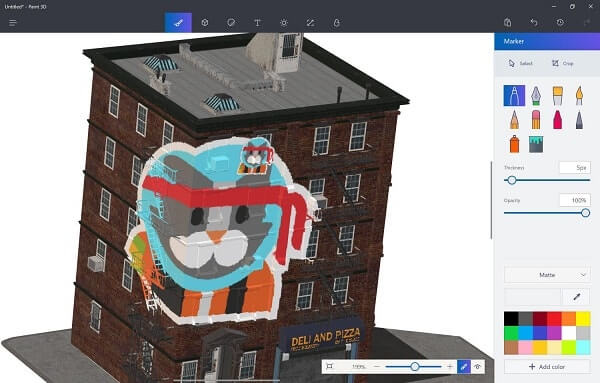 In the latest version of Windows 10 creators update, Microsoft added Paint 3D to replace MS Paint. It allows to create three – dimensional models and edit them in a beautiful way.
It also offers some old classic paint drawing tools which make it one of Best free painting software. There is 3D object button available, which allows you to choose different – different 3D models (like the animal, people, and building object) for your 3D artwork. Also some drawing tools available for doodling on canvas. Apart from pre – loaded 3D models you can also create your own 3D model using advanced tools.
If you have the 3D printer then you can print your 3D paintings using Paint 3D. Like Artweaver, Paint 3D also provides rewind option to replay how you created artwork. You can also apply stickers on 3D models which are pretty amazing.
Paint 3D brush panel offers different sizes of marker, pen, pencil, crayons which make it best drawing software.