There is no doubt that Gmail is one of best Free email client service by Google. That allows us to access other Google services like Hangout, Docs, Drive, Analytics, Adsense and much more using one Gmail account and that also saves our time. But, If you have more than one Gmail account, then you can use only one Account at a time (In a single Tab and Browser). You can try Incognito or you can use other web browser but every time to access Email you need to log in again and again, which is not a Good thing. There are many other Gmail Alternatives available, which is somehow much better in comparison of Gmail.
Why Gmail Alternatives?
Gmail is one of widest Best email clients that allows us best email service. Recently google added a feature that allows us to add other email clients, But still, it doesn't allow to access two Gmail account at the same time.
Also, the main reason that forces us to use Alternatives to Gmail is, Google scan each email and file that you send or receive. And it's not for security purpose, this is done so that advertiser can target users and display ads.
If you use Gmail for confidential conversations than you need to know that Google own all of your data to scan, which is the invasion of privacy. No matter how many Best services Gmail offers us but still there are some drawbacks that I mentioned above.
If you are looking for some Best email client that provide more storage space, allows accessing more than one account and better privacy then check this list of Best Gmail Alternatives.
Best Alternatives to Gmail For Personal & Business use.
1.
Microsoft outlook

.

If you are Windows 8/10 or windows phone user then definitely you used once Microsoft's email client for account creation. Like Gmail, Microsoft's outlook also syncs and allow to use the same account to access OneDrive, OneNote, OfficeOffline, Calendar, contacts and much more. 

There is app also available of Microsoft outlook that supports all major platforms Windows, iPhone, Android. The app is integrated with all these Microsoft services. And as we know Microsoft's owns skype, so we also get skype alerts on outlook mail. It is the one of Best email client by Microsoft. If you are using windows then it is one of Best Gmail Alternatives for you.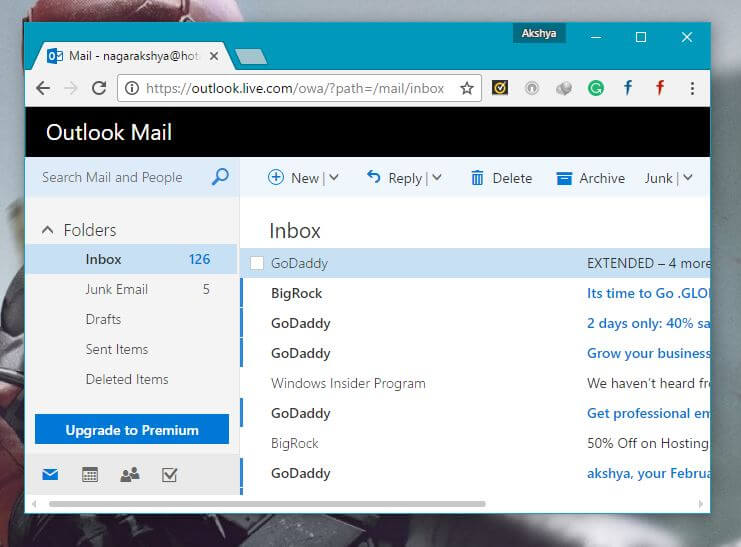 Microsoft's also doesn't spy on emails to show ads, you can also import all emails from outlook express. The best part is Microsoft's outlook offers virtually (cloud) storage that will automatically increase when you needed. You can also use outlook.com to send or receive Email from other Email accounts using POP access. It also allows to customizing the looks and feels of your portal
Outlook also integrated with facebook, you can import facebook contacts to outlook and then you can use it like the messenger. Also, you can check the status of your family and friends and update yours. If you are looking for Custom email service, which is still not available with Gmail you can get in Outlook at 4-8$/user per month.
2.
Yahoo! Mail.
If your first priority of Best email client is storage space, then forget all other Email clients start using Yahoo! Mail. Because it offers 1 TB of online storage which is enough and huge for a Normal or a Business person. And that's why it is Best Gmail Alternatives.
And the Best thing is you don't need to pay for it, yahoo! offers with every email account. Recently yahoo introduced us with a very Good feature that allows us to send customize and beautiful Email to our friends and family.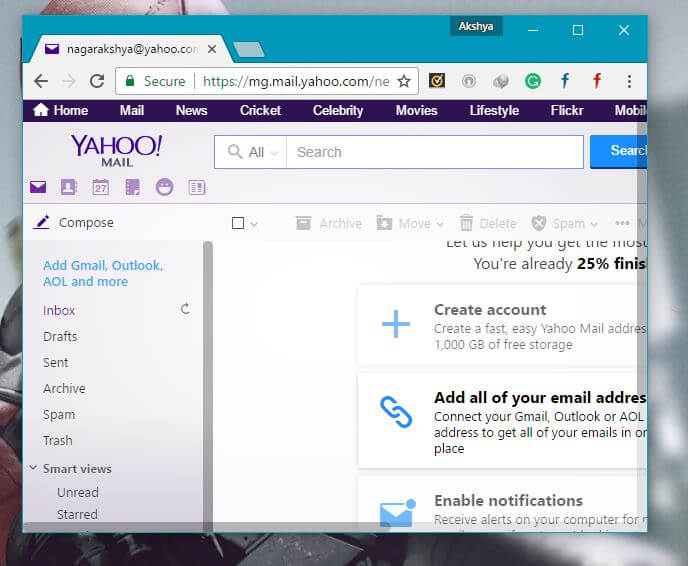 You can also import your contacts from Facebook, Gmail, outlook and from other best email clients. If we talk about security and privacy then Yahoo is best, Becuase it offers SSL encryption.
It also provides messenger service called Yahoo Messenger which is somehow similar to facebook messenger. That allows us to send or receive the message while sending Emails. The custom email also available at $34.95 per yr (1 custom email address); $9.95 per month (unlimited email addresses).
It is not only limited to Mail service, also you can get the latest news about cricket, Movies, celebrity, lifestyle and more. Yahoo app also available for all major platform and integrated with the messenger, Flickr, Aviate, Weather, News and much more.
3.
Zoho Mail.
Zoho mail is another Best Gmail Alternatives, dedicated to Business Mail and it's a Customer Relationship Management tools. It provides two option while Signup one is Business use which is paid and other is Personal use.
If you want to send the same email to more than one person then you don't need to enter each one's email ID. With Zoho mail, you can tag people using your Zoho contact list which is best and unique feature. You can also send whole mail folder by using share folder option. It also allows you to set the reminder, create notes and much more.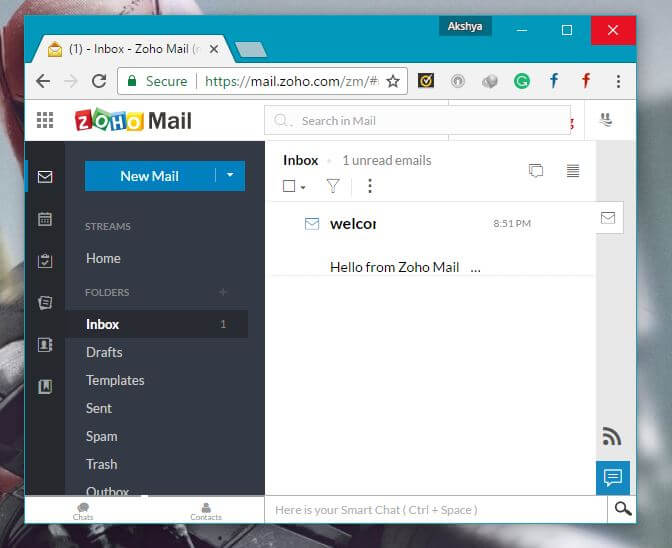 Calander also available in Zoho mail, that allows you to add important dates, which is good for Business use. You can also customize your emails and you can directly share receive files to Zoho cloud services. Zoho cloud service offers 5GB Free Space and 10GB Document storage Space and it's enough for Personal use.
It is ad Free Email client and provides encryption to its mail and document that you send or receive. Also, It is integrated with notes, docs, calendar, links, and CRM.
4.
AOL Mail.
AOL Mail is well – known Free Gmail Alternatives and it uses widely in many countries. Like other Email clients service, AOL also provides unlimited Email storage but you can only send up to 25MB File.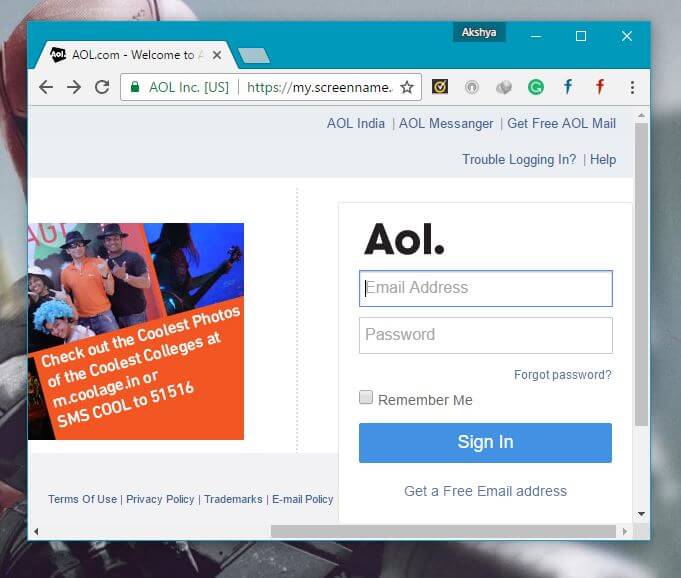 But the best thing is AOL allows the user to Integrate other Email address into their Network. It also allows the user to choose their own choice Email address free of cost. You can choose from these @love(dot) com, @ygm(dot) com, @games(dot) com.
Like Yahoo! Messenger, in AOL you can use AOL messenger that allows you to send the message while sending emails. Apart from these AOL is also ad-free and provide encryption against viruses and spams. It is integrated with To do's, Events, Text Messaging and you can also try AOL app which is available for all major platform.
5.
GMX.
GMX is one of Best Alternatives to Gmail which provides unlimited storage to emails. GMX's Incoming Mail collector allows collecting or syncs mail from other Mail clients. It only provides @GMX(dot)com mail domain but will allow you to add Facebook widgets to quick access.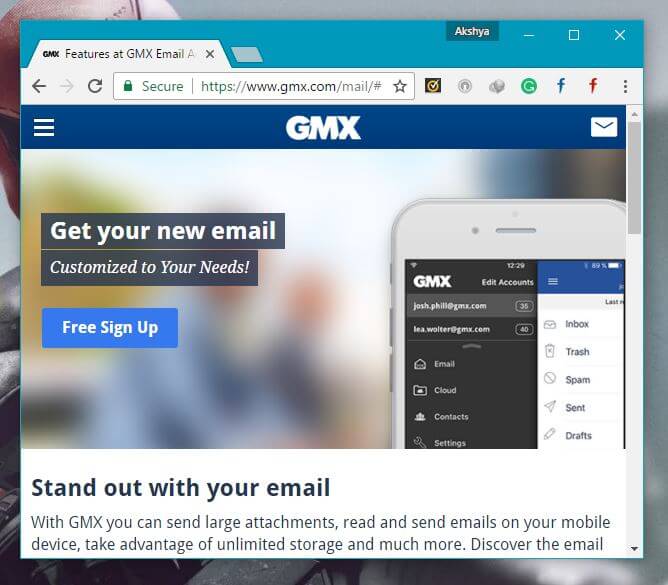 Apart from storage and emails, GMX Interface is User-friendly and easily understandable. Other Email clients allow the user to upload maximum 20-25 MB files, but by using GMX's webmail you can upload maximum 50MB which is enough for personal use.
It also provides a calendar for mark upcoming Events also provides custom emails at very cheap rate. GMX is also provided security to incoming and outgoing emails and spam protection. GMX app also available and provide ultimate support to all major platform.
6. 
iCloud Mail.
If you are iOS or Mac user then you already know about iCloud Mail, And it is also Best Gmail Alternatives. It is made for Apple devices but if you are windows or Android user then still you can access it by using Web Browser.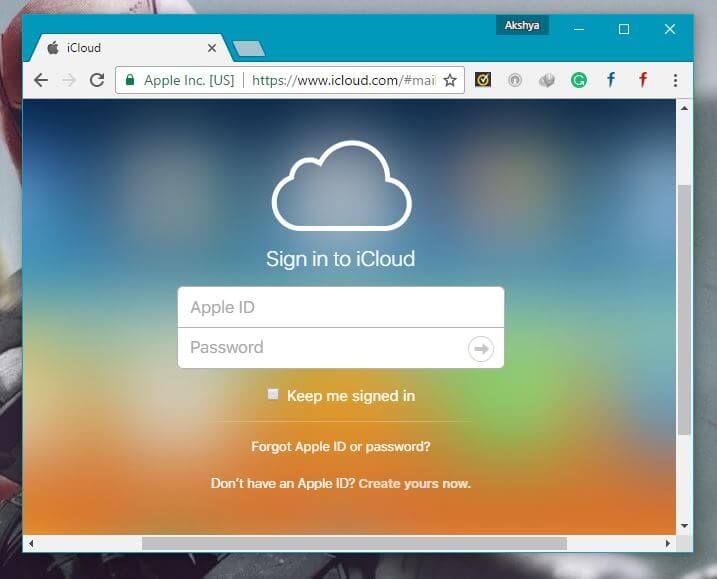 It provides 5GB of storage and at a single time, you can upload maximum 20MB File. Like Gmail iCloud mail also sync user data and you can access from any Apple device. It is the ad-free client and doesn't share any user info with any advertising company.
And if we talk about privacy and security then no one can beat Apple, because apple is concerned about its user's privacy. Still, there are two drawbacks you can't import other email clients emails and you can't organize emails into Folders. You can use iCloud on  Mac OS X or Windows, and iOS running devices.
7.  
Yandex.
Yandex is one of the biggest search engine used in Russia, Apart from the search engine it also provides email service. It provides 10GB of Free Online Storage and you can also extend it to 1GB more when you have only 200MB left.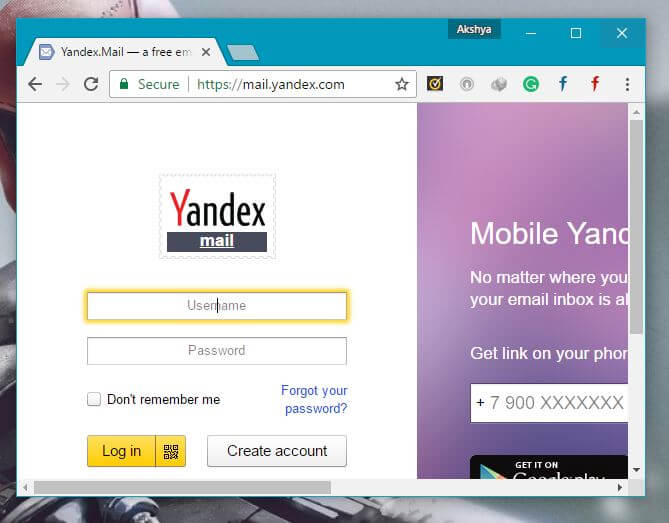 You can manage your emails into folders and Interface is also User-friendly. You can also customize your emails clients and POP3 and IMAP protocol also available, which helps in integrate outlook mail. You can also Integrate Apple's iCloud Mail and use it as Alternative of Gmail.
You can upload Maximum 30MB of Files which is better than Zoho. And you can use Yandex on the Web client, Android, and iOS mobile applications.
8. 
Fastmail
If you are looking for featured Email client with simple User Interface then Fastmail is the best choice, Because it's minimalistic and reliable Email clients. In FastMail Anti-spam filter also available which helps you in keep your inbox spam Free. Fastmail is also known as Gmail Competitor because it provides all Gmail feature with some advance feature.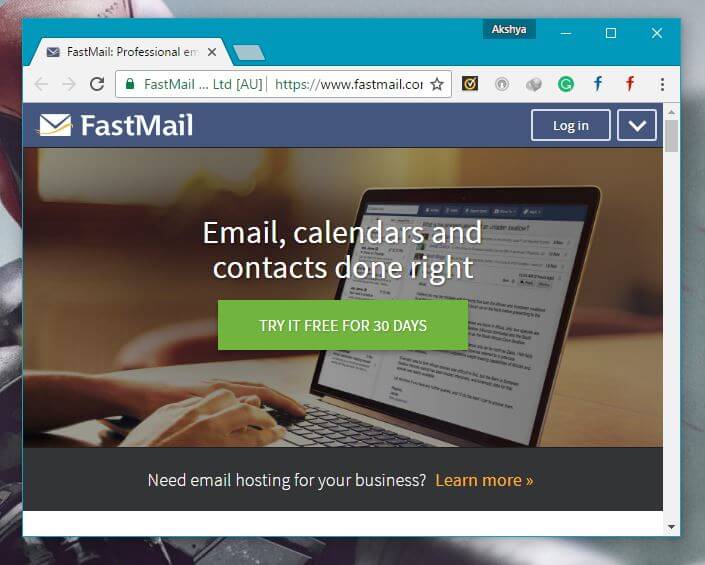 It is fast-growing one of best ad-Free Email client and Gmail Alternatives. With Fastmail, you can Find any email in seconds with powerful search, Pin important messages to the top of your inbox for instant access, Access your email at work, home or on the go using your web browser or favorite app.
You can also sync your calendar and contacts on your phone, tablet or PC, And Coordinate easily with shared calendars, and quickly email all attendees. Fastmail app is also available that supports all Platforms and app supports two-step verification. Like Gmail, you can swipe the email to delete and Archive.
9. HushMail.
Hushmail is another Best Email client service that works on The Web, Android, iOS, and Blackberry mobiles. It also supports POP and IMAP, we can integrate other email clients mail in Hushmail which is the good thing.
It is ad-free email service that provides 25GB of Free storage and also provides encryption to emails that we send or receive. But to keep your account active you need to signup once in a week. You will get @hushmail(dot)com for Free but if you want custom mail then also you can upgrade it and get it.
10.
Inbox.
Inbox is last but not least Best Gmail alternative, that provides 5GB of storage to your emails. While other clients offer maximum 25MB file upload Inbox offers 50MB file upload.
Inbox also provides calendar, reminder, task manager and notes feature which is really helpful. It regularly scans your emails to check virus and spams to keep you protected all the time. You can also Install inbox toolbar which will help you in many ways.
These are Best Alternatives to Gmail, Which is better than Gmail for some Good reason. If you know any other better alternative then feel free to comment, I will add and extend this list.