Another popular movie and TV Shows streaming site "coke and popcorn" shut down recently. Actually, it's shut down by the site admin. And, now site owner is telling its user to use Netflix. Yeah, it's sound funny. Because the first site owner was sharing content illegally. Now, he is forcing users to watch shows legally. I also don't support piracy content. But, as a blogger, I need to share content that users want. That's why this article is about some cokeandpopcorn alternatives.
Still, you can find out this site with a different domain. But on the original domain, the site owner already mentioned that "They are not gonna come back". And, all sites available with this name are fake and contain malicious code or malware.
IMPORTANT: In my previous article, I have shared some "TheWatchSeries Alternatives". So, if you also use that site, then that article might helpful for you.
Why sites like coke and popcorn get banned?.
The reason is pretty simple and short, these sites share piracy content. And, when sites like Netflix and Amazon Prime get to know about these sites. These sites get copyright notice and the site owner needs to take down the site. Else, the site owner falls in some legal issues. And, you may have noticed that some popular sites like CouchtTuner change their domain name. Because domain providers also not support such sites.
Ok, I can understand, you're here to find out about some alternatives. Which will help you to stream and download the latest movies and TV Shows? So, without wasting your time, let's start this article with cokeandpopcorn alternatives.
Coke and popcorn Alternatives.
Popcorn Flix.
Though, the site name is similar to coke and popcorn. But, the site doesn't provide the latest movies to watch. Now, you may be wondering, why I am adding the site to this list. Because the site still manages to provide some good movies of multiple genres. Popcornflix site shows some commercial ads so the site can keep running. You can watch full-length movies and TV Shows, without registration.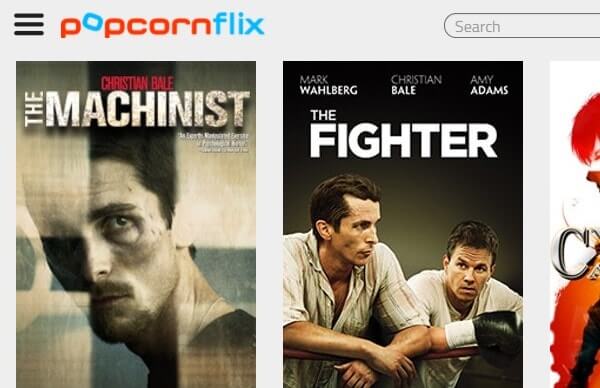 But, if you're using an ad-blocker then you will not able to browse the site. Popcorn Flix site has a directory, In which you can choose from multiple genres. Like Action, Comedy, Drama, Horror, Family, Thriller, Romance, Mystery, Documentaries. This movie site has the new arrival section, in which you can find out some recently added movies. Although, those movies aren't new. And, if you're looking only for the latest content then this site is not for you.
Solar Movie.
Solarmovie is another popular free movie streaming site. But, you need to create a free account to watch movies. The site allows watching movies from 10 different sources. In this site, you can sort movies according to year and genres. You can also check the IMDb rating below the movie title. The original domain of the site is currently banned, now the site is using a .fm domain.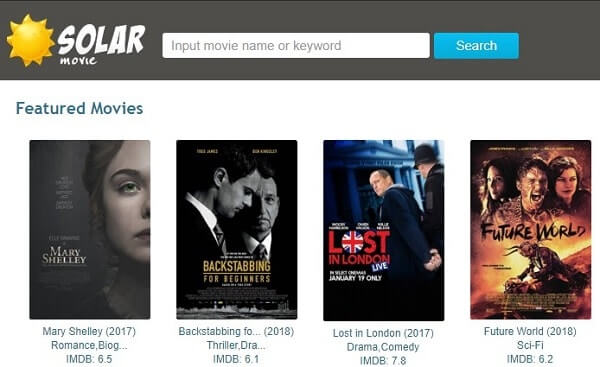 The site contains multiple category or genres to choose from. Like Talk Show, Biography, Comedy, Action, Adventure, and much more. Now, Solar Movies doesn't host content on its server. Overall, the site is one of the good alternatives to coke and popcorn.
Tubi TV.
Are you a movie buff?. Then, maybe you already watched all the latest movies. If you're looking for some fresh content to watch, then this site is for you. The only bad thing about this site, you need to register on it. Although, site registration is quite helpful. Because you can use the "continue watching" feature. Also, you can signup through Facebook, which is a useful option.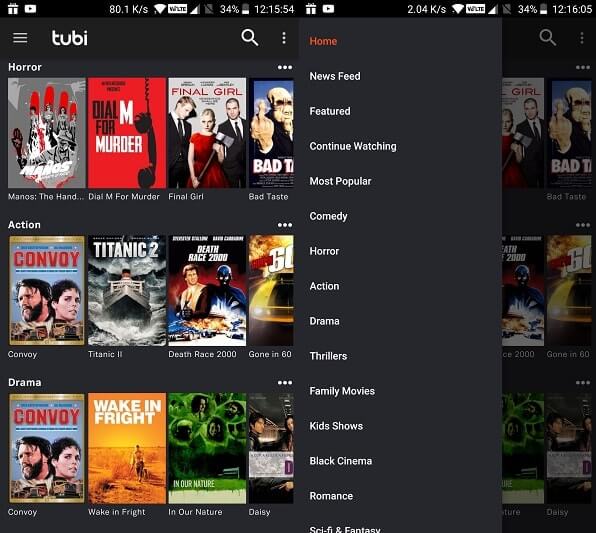 The site also allows you to add content to the queue, so you can create the watchlist. Tubi TV App also available, which provides more features. If you like coke and popcorn site for new content. Then, this site is not for you. But, if you love to watch movies, then you will find some good content.
CMoviesHD.
This is one of the best sites, that provides free movies and TV Shows. Even, you don't need to register. In CMoviesHD, you can enjoy shows from multiple streaming services. Game of Thrones, West World, and All DC and Marvel show available on this site for free. The site user interface is user-friendly and you will find fewer ads. Almost all movies available on this site are in HD quality. But, some movies are in HD CAM quality. And, you can understand, why it is.

If you're not able to find out any specific movie on this site. Then, you can use the request option to ask the admin to upload that movie. In the site, you can sort content according to country and genre. Currently, the site owner is using the .bz domain.
Yidio is a unique website, it offers some free movies to watch. And, also shows sources to watch free movies. Yidio gathers movies from multiple streaming platforms. Like, Netflix, Amazon Prime Video, iTunes, Crackle, HBO now, Showtime, Sling, Vudu, and many others. Because these streaming services aren't completely free. That's why some movies on Yidio require a one-time payment. And, some require a monthly subscription. On Yidio Site, you can find out a free movies section. There are some live TV Channels also available, free to watch.

Yidio helps to search all streaming services at once. And, the site sends you notifications based on the Movies and TV Shows that you watch. On Yidio, you can sort movies between 35 genres. Rating filter (PG-13, G, PG, NR-17, R or NR) also available on the site, which is quite rare. Overall, the site is good, if you like to use multiple streaming services. Then, this site will help you to make movie selection easy for you.
Some Apps to Watch Latest Movies and TV Shows.
Although, in this article, we are looking for some sites, which can be alternatives to coke and popcorn. But, still, I suggest you try out these Apps if you have an Android device. Or, you can install Apk directly on your Smart TV. There are many Apps, which allows watching content for free.
Terrarium TV.
I have already mentioned this App in many movies related articles. The app is not available on the play store, you need to download it from the official site of it. App offers the latest movies and TV Series from Hulu, Amazon, Netflix, and YouTube Red. And, you can sort movies and TV Series according to the genre. Also, you can watch the video with subtitles in your external video player, like MX Player.
Show Box.
Showbox is an alternative to Terrarium TV. But, still, manage to provide the latest Movies. In Showbox, you can watch videos of up to 720p quality. And, there is some fake version available on the play store of this App. But, you can get this App from third-party sites.
That's it. Still, there are many sites available, which can be alternatives to the coke popcorn sites. But, these apps and sites are enough to enjoy the latest and old classic movies.
Summing – up. Coke and Popcorn Alternatives.
So, these are some sites like Coke and Popcorn. Though, I suggest you try Netflix free for one month. And, after that, you will not need to look for these sites. Though, these sites will allow you to watch content for free. But, still, these sites contain some harmful ads.