Looking for some free LogMeIn alternative?. Your search ends here. In this article, you will get to know about some better programs like LogMeIn.
LogMeIn software does provide remote access to your Computer, from another PC, Mac or Mobile devices. It is the most reliable remote desktop tool used by many IT companies. It does also offer some premium features like file transfer and remote printing. But this program is now not available for free. Though, if you're a new user, you can signup, and get 14 days free trial.
But, after that, you need to purchase the pro version of it at $349.99/year. There are two more plans based on user requirements. But, according to me, plans are too costly, if you need software for personal use. But, now you don't need to spend money on remote desktop software. Because there is some other best remote desktop tool available. Which offers the similar feature for free. So, here are the top alternatives to LogMeIn.
LogMeIn Alternative.
TeamViewer 13.
If you're searching for a remote desktop software for personal use. Then, TeamViewer is the best remote desktop tool. It's free for non-commercial, personal use. It's a cross-platform tool, available for Windows, Mac, Linux, Chrome OS, Android, iOS, Windows App, and blackberry. And, you don't need to register for download it or use. But, if you want to use it for commercial purpose, then you need to register.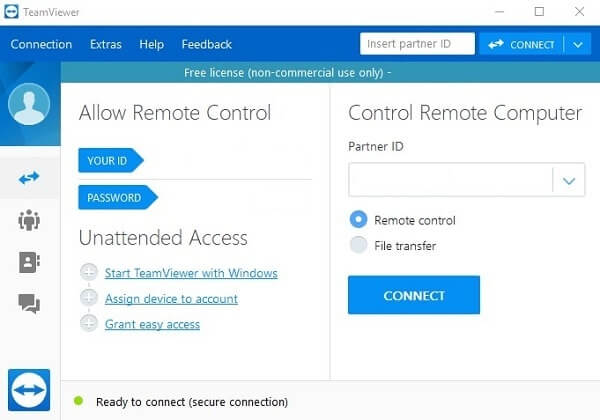 With TeamViewer, you can remote control of your partner PC. As if you are sitting right in front of it. Apart from remote access, software does allow to make video and audio conference call. File transfer option also available, which makes it best LogMeIn alternative. TeamViewer does also allow access to multiple desktops at once. Though for that, you need a good Computer with high-speed internet connection.
If you don't like TeamViewer, then check my article on "TeamViewer Alternative".
Connect Computer Remotely using TeamViewer.
1. First, Open official site of TeamViewer. Click on the download button. (Check upper right corner.)
Select your system, after that, click on download TeamViewer.
2. Install Setup file. And, while installation, the software will ask you to choose between two options, personal and commercial use. You need to select non – commercial use to use this tool free.
3. After installation software window will appear with two section.
Allow Remote Control.
Control Remote Computer.
Want to access another Computer remotely?. Then, you need to enter their remote ID and password in Control Remote Computer. Which they can provide you by seeing from the "Allow Remote Control" section.
Or, if you want to allow your Computer to access remotely. Then, you need to give your ID and password from "allow remote control" section.
Chrome Remote Desktop.
Don't have a powerful Computer to use TeamViewer or LogMeIn?. Then, Chrome Remote Desktop will come in handy. Google is actively participating in the development of multiple software. And, Chrome Remote Desktop is one of Google's project. Chrome is not just a browser. It can do many things, which a normal user can't think of. There is a Web Application Store available for Chrome Browser. In which you can find out multiple extensions and Apps. And, Chrome Remote Desktop is a highly rated App.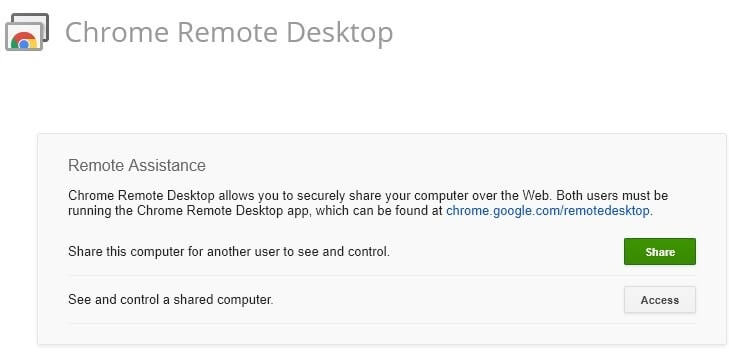 This tool offers two features Share and Access. Share allows you to share your Computer screen remotely with another Chrome user. And, Access feature will allow you to access anyone's computer remotely. Though, to share computer screen, you need to install "CRD Host Installer". And, to access, you only need an access code. Overall, it is a best LogMeIn alternative. If you just want to remote access of your friend computer.
Want to know, how to use "Chrome Remote Desktop"?. Read my article on it.
Windows Remote Desktop.
Microsoft provides almost all useful tools, that users do needs. Like, with the latest version of Windows 10, you can cast your Computer screen to Android. And, maybe you don't know, the remote desktop program comes inbuilt with Windows. Though, if you're using Windows home version. Then you can't share your screen remotely. Only can access someone else Computer Remotely.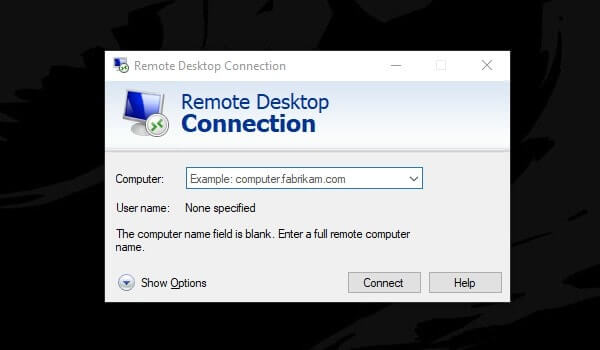 You"ll amaze to know that, Windows remote desktop connection program is also available for Mac. And, it's by Microsoft, so available for free. In Windows, you don't even need to install it. It comes in bundled with Windows OS.
How to use Windows Remote Desktop Connection?.
1. Press Windows + I key simultaneously to open Settings App in Windows 10. In Settings App, Go to settings > Remote Desktop. Here you can turn on the remote desktop.
If you want to give remote access to your Computer. You will able to see the name of the PC under "How to connect to this PC". (You can tell this name to your partner or friend, to give them remote access.)
2. To connect Computer remotely. Do open Search box in another Windows Computer. And, search for Remote Desktop Connection.
3. Click on the program to open. Now, enter the name of the Computer you want to connect. And, after that just click on "Connect".
That's it. It is the easiest way and free LogMeIn alternative, which you can use.
Splashtop.
Splashtop software works differently from any other remote desktop software. Though, does provide the same feature, and, a LogMeIn free alternative. Means do allow you to connect another Computer remotely. Like TeamViewer, Splashtop is free for personal use. The software uses a proprietary protocol, that capable to deliver video & audio at a low latency of 60 FPS.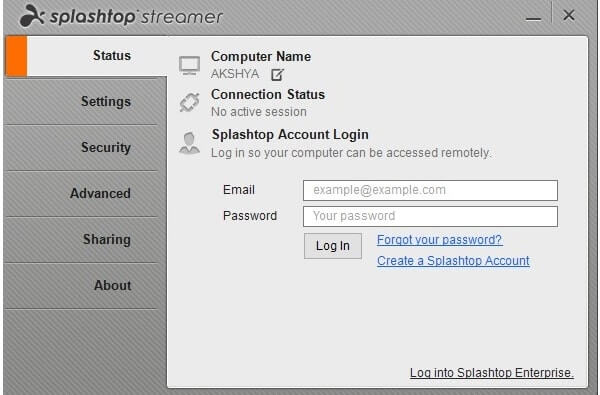 It's a cross-platform program, available for Windows, Mac, iOS, and Android. For personal use, Splashtop offers two programs. One work like the client and another work like a host. Though, the setup process isn't hard. But, if you aren't able to understand, how to use it. Then, feel free to comment. And, you need to create a Splashtop account to use the program.
Splashtop Personal App – If you want to connect to another Computer remotely. Then, it will help you to do that.
Splashtop Streamer – If you want to give remote access to your Computer. Then, you need to install it on your Computer.
VNC Viewer & Connect by RealVNC.
This software also works similarly Splashtop. You need to install VNC connect on the Computer, that you want to control. And, install VNC viewer on Computer, from that you want to control. It's a cross-platform program, available for Windows, MacOS, Linux, Raspberry Pi and some others. This tool is also free for non – commercial use.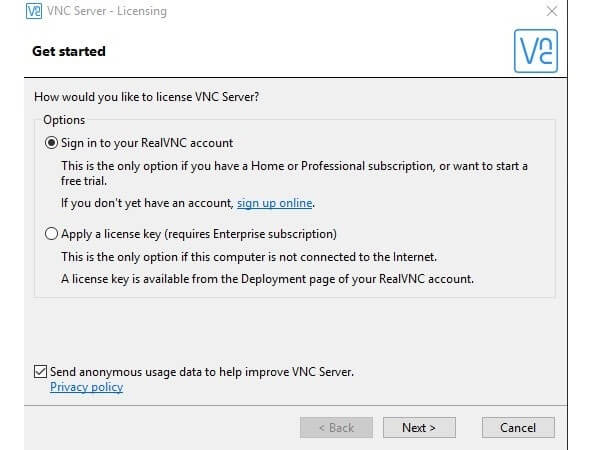 VNC provides 128-bit AES full session encryption. With the free version, you can control 5 Computer. Which is enough for personal use. File transfer and printing feature also available. But, you need to subscribe to it. For personal use also, you need to create a RealVNC Account. Overall, this is the best remote desktop program and LogMeIn Alternative.
Summing – up. LogMeIn Alternative.
That's it. These are the software, that can be the best alternatives to LogMeIn. Because, all are free for personal, non-commercial use. Personally, I do prefer TeamViewer. Because options like file transfer are free. Which isn't free in VNC Viewer. But, if you don't like to install any software. Just want to access any Computer remotely. Then Windows remote desktop connection is the right choice. Though, alternatively, you can use Chrome Remote Desktop. If you're using home version of Windows. If you know any other better program, then feel free to comment.