Netflix vs Amazon Prime – Video Streaming services are now a part of our daily lives. And there is no doubt, Soon video streaming services are going to replace our Regular TV Shows. With streaming services we can watch our favorite TV Shows anytime we want. And nowadays video streaming sites offer better TV Series and Movies rather than regular TV Shows. On the internet, There are dozens of Free and Paid video streaming services available. And it's hard to decide which service is Best or worthy for you.
When it comes to Video Streaming Sites, the first site comes to mind is "Netflix". And, yes Netflix is better than many other sites. But there is some best Netflix alternative available which gives tough competition to Netflix. And Amazon Prime Video is one of the best alternatives to Netflix. Because it offers Good TV Shows and Movies with some amazon prime services.
If you're confused between Netflix and Amazon Prime then follow this Article to know Which is better?. Am using both services for more than a month, that's why am going to compare both services. And then you can decide which one is right service for you.
Netflix vs Amazon Prime.
Trial and Pricing.
Amazon Prime vs Netflix Comparison.
Both Services Offers 30 days free trial, which you can claim by interning your card details. It's one time offer, You can't use same card or details again.
Netflix – Netflix Offers 3 Plan Basic, Standard and Premium. (Monthly Plans)

Basic ($7.99) – You can watch only on 1 device and HD and Ultra HD isn't available in this Plan.
Standard ($10.99) – This plan allows to watch Netflix on two devices and HD available with this Plan. ($3 extra for 2 devices and HD)
Premium ($13.99) – With this plans four users can watch Netflix at the same time. Also HD and Ultra HD available with this plan.
Amazon Prime – Like Netflix, Amazon prime video also comes with three different plans.

Prime Video ($8.99) – With Prime Video you can watch Unlimited TV Shows and Movies in HD, Ultra HD, and HDR quality.
Prime Monthly ($10.99) – If you like to shop online on Amazon then this is the best plan for you. Because this plan offers Prime Video, Music Streaming, Unlimited Photo Storage and Free two-day shipping of amazon prime products.
Prime Annual ($99) – This plan offers same things that monthly plan offers. But if you want to save money then buy this plan to save 25%.
Conclusion – After seeing Netflix vs Amazon Prime plans details, Maybe you're confused which is better?.
Let's make it simple – Do you shop online? Yeah, I know everyone does, but specifically if you use Amazon for online shopping. Then you should buy amazon prime (Monthly or Annual Plan). Because apart from TV Shows and Movies it offers many other services. And as you can see amazon prime video plans is cheaper than Netflix plans.
But, If you don't shop online much and you just want to watch awesome TV Shows and Movies. Then don't think too much just go with Netflix.
Note: If you're from India then you can get Amazon Prime at 999 INR per year. (Only one plan available for Indian users, which comes with Free two-day shipping and prime video services). If you're thinking why it's so cheap for Indian users Because few Amazon TV Shows isn't available in India. And it doesn't come with premium services like music streaming and unlimited photo storage.
Supported Devices.
After Pricing, the next thing comes is supported devices. If your device isn't supported by these two services then there isn't any point to buying any of them. Are you using Computer or laptop only?, Then you don't need to worry about supported devices. Because you can stream any of video service using web browser of any device.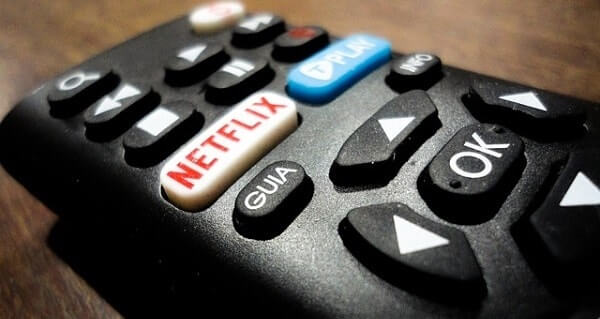 Netflix vs Amazon Prime supported devices – You can connect to Netflix using streaming media players (Apple TV and Chrome-cast), Smart TV's ( Hisense, Philips, LG, Panasonic, Samsung, Toshiba, Sony and sharp), Game console (Xbox 360 and one, PS3 and PS4), Set-top boxes, Blu-ray Players and Android iOS and Windows devices.
Amazon video is available on Smart TV, Amazon Fire TV stick, Set-top boxes, Blue-ray players, Game Console (PS, Xbox, and Wii), Android and iOS devices.
Conclusion – As you can see Netflix is available on many devices in comparison to Amazon Prime Video. Now you can decide which one is the right choice for you, and which service support or available on your device.
Interface and options. (App and Site)
Note: I am using Amazon Prime Video and Netflix on my laptop and Android device. I don't know about other streaming devices interfaces.
Netfliix vs Amazon Prime Interface Comparison.
Kids Section – The best thing about Netflix is – when you open Netflix site it asks you to choose between two option. If you have kids then you can select kids option and it will show you kids related content (Cartoon). Yes, the prime video also offers kids section which you can access from categories.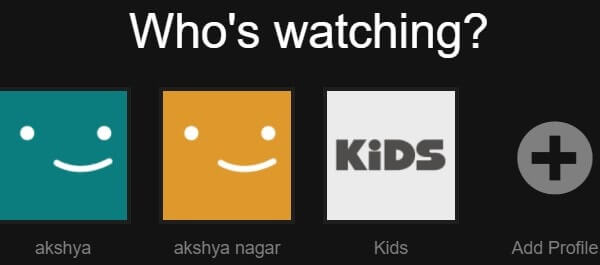 Series Cast Information (IMDB X-Ray) – One thing I found interesting in Prime video when you watch Amazon Original TV Shows. It shows real-time characters (Actors) original names. It is helpful for those who like to find out about the cast of TV Shows. It's kindle feature, now it comes with amazon prime videos.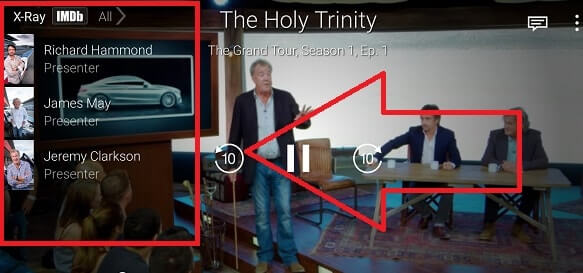 Continue Watching Option – Both Prime Video and Netflix offers Continue Watching Option. Means you can watch TV Shows and Movies from where you left watching. But Netflix shows the list of shows and movies on the home screen that you left watching. But in Prime Video you need to search or navigate to that show. That's why Netflix interface is better in comparison to Prime Video.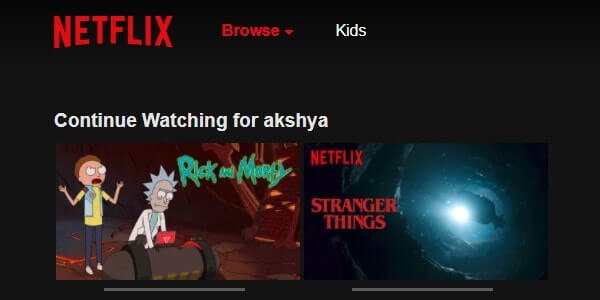 Search Feature – Both App have search option but Netflix App has a better option. Because when you tap on the search button, It shows search terms like – Netflix Originals, TV, Action, Horror, Drama, Music, International and much more.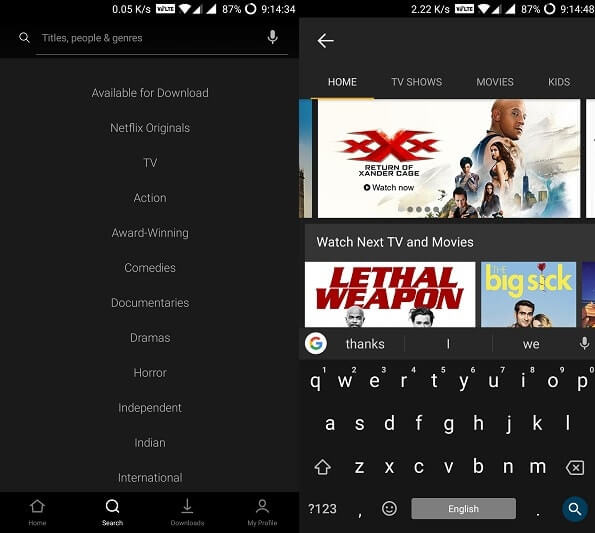 Categories – In comparing to Amazon Prime Video, Netflix have a large list of categories or Genre. Both App doesn't come with category menu, But Netflix site has one which allows choosing movies and TV Shows.
Note – There are some hidden categories available in Netflix – Which you can access using Netflix Secret Codes.
The conclusion of Netflix vs Amazon Prime Interface – The user interface of both Prime Video and Netflix App is almost identical. But few good features or user-friendly option like category and Continue Watching option make Netflix better. But Amazon Prime video also has some good feature like real-time cast information. Now it's up to you what things you like. And still, if you're confused then signup for 30 days trial of both services and then you can decide which interface is better for you.
Download Option.
Netflix and Amazon Prime Video site both doesn't have any option to download TV Shows and Movies. But Both app comes with the option to download TV Shows and Movies in high to low quality. Netflix App comes with two download video quality option – Standard and High (HD or Ultra HD).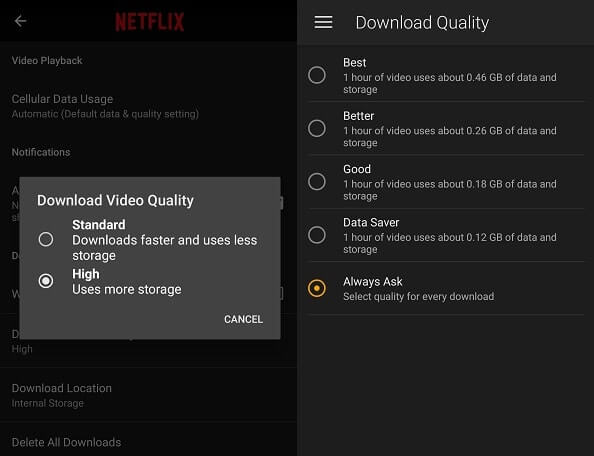 But Amazon Prime Video App comes with four option – Data saver, Good, Better, Best. Also, it shows how much storage one hour video will use. So clearly in Netflix vs Amazon download option comparison Prime Video App is best. Because if you're using slow internet connection, Still you can enjoy prime videos.
Read Also – How to download Amazon Prime Video to PC, Android, and iOS.
Video Quality and Video Player.
Like, Download Quality Amazon Prime Video provides four different video quality. That you can set according to your internet connection. But Netflix doesn't allow to switch between video quality, It automatically adjusts according to the internet connection. One thing I noticed while playing Netflix and Amazon Prime video.Amazon Prime Videos load faster and start playing when you tap on the play. But Netflix video takes around 10-20 seconds to load, which is sometimes annoying.
But Netflix video player allows skipping intro part of TV Shows which is a good option. Both video players come with subtitles option, which allows to enable or disable Pre-loaded subtitles. Overall, Both video player is good enough to play videos on slow internet connection and comes with the good option. So in Netflix vs Amazon Prime video quality and video player comparison both win.
Comparison – Amazon Prime vs Netflix Shows.
Everyone wants to know which streaming service offers best TV Shows and Movies. Both sites allow to Watch Series Online at Good Video Quality. Netflix is famous for it's Netflix originals TV Shows like – 13 reasons why, stranger things, iron fist, daredevil, Narcos, House of cards, mind hunter, The orange is the new black and many other TV Shows.
Recently, Amazon also started it's Amazon originals shows, which is also better. Like Betas, Mozart in the Jungle, the hand of God, Red Oaks, the Marvelous Mrs. Maisel, The big sick and many other TV Shows.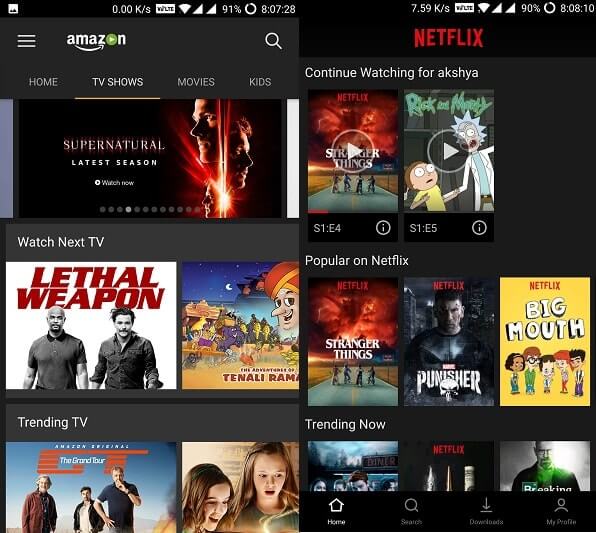 As I mentioned before am using both services for more than a month. So from a user experience, I can tell you unbiased, Netflix shows are much better than Amazon Prime. Yes, Amazon is trying to add some awesome TV Shows but if you want to pass your time. Then there are tons of Netflix Shows available, and Netflix has the larger list of TV Shows. So in Netflix vs Amazon prime shows comparison, Netflix is better option.
Amazon prime also trying to provide latest TV Shows, Recently they added Lethal Weapon and Supernatural. But if you want a best Streaming Service with some Awesome TV Shows then spend your money on Netflix.
Sign up for Trial – After reading Netflix vs Amazon Prime review if you're still confused between these two services. Then signup for trial using your card information, And you can cancel your subscription anytime. So don't worry about money deduction issue. Use both services for one month and then you can decide which one is best for you.