There was a time when we had limited TV Channels to watch. And, we had no control over what and when to watch. But now there are various streaming platforms available to Watch TV Shows and Movies. If you're a TV Series buff, then you must have seen various TV Series. But, it's hard to keep track of the release of the next episode. And, manually searching for each TV Series isn't a good idea. So, In this article, you will get to know some best TV Show Tracker Apps.
I want to clarify that, these Apps will not let you watch TV Shows. These Apps will help you to track, that, when, next episode or season is releasing. So, these Apps are useful for you only, if you have some method to watch TV Shows. (By Method, I mean, Streaming Service Subscription.) There are so many Apps available on iOS and Android for this purpose. But, I am gonna list down only some best Apps for you.
Best TV Show Tracker Apps.
TV Time – Track What You Watch.
If you install TV Time, then, I don't think you need any other Apps to Track your favourite TV Shows. This Apps is the tool to keep track of all the shows that you like. The App helps you to organize all series that you're watching currently. You can add all TV Series in your Watch-list. And, App also does help you to remember when the next episode gonna airs. There is dark mode also available in TV Time App. TV Time App also does show you Similar TV Shows to watch. Profile section of App also does shows, how many hours you have spent in watching.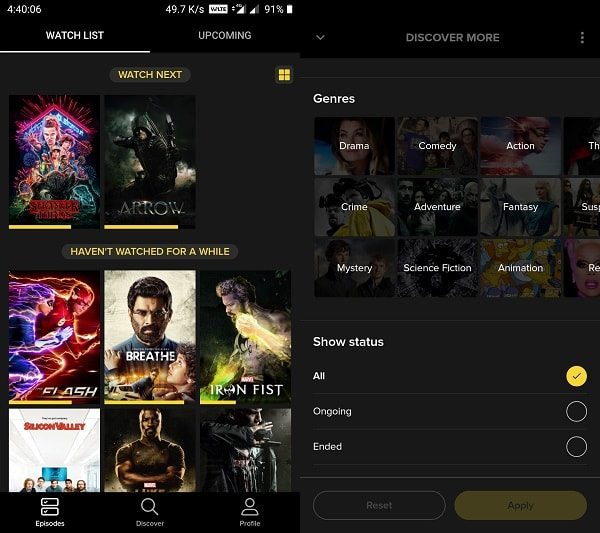 With Discover option in App, you can even find out some new series to watch later. In Discover section, there is a filter option. In which, you can select from multiple genres. Also can select between Ongoing and Ended status of the series. You can also see related videos, articles and podcast of your recently watched series. The best part about the App is, you can select the episode that you watched. And, it is helpful to figure out the next episode, that you're going to watch.
Install TV Time App: Android
Hobi: TV Series Tracker, Trakt Client for TV Shows.
Hobi App does offer similar features like "TV Time" in less App Size. You can select all the TV Shows that you're watching or want to watch. And, after that, you can select the episodes that you watched. Also, the App does show when does the next episode is releasing. Hobi App automatically sends you a notification when a new episode or season airs. Notification customization option also available. You can tell App when to send a notification. In Discover section of Hobi, you can discover new series according to genre and streaming platform.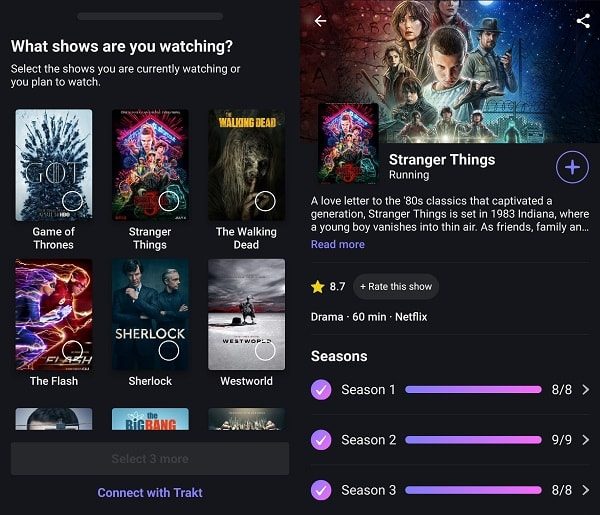 Though, if apart from the pre-defined options you want to customize. Then, you have to subscribe for premium. By inviting 3 members on this App, you can get 3 months premium for free. Currently, Hobi TV App has 50,000 TV Series available to track. And, the App also recommend a new series to the user according to their current series watch habits. The only thing that this App distinguishes from TV Time App is Trakt Integration. The app will allow you to sync Hobi with your Trakt watchlist. So, now you don't need to access the Trakt platform manually. Overall, it is one of the best TV Show Tracker Apps.
Install Hobi App: Android, iOS
Next Episode – Track TV Shows and Movies you watch.
Personally, I didn't like the user interface of this App. But, this App is suggested by many users. Because, according to users, the UI is clean and comes with unique features. Like every other App, you can add your favourite movies and TV Shows. And, in recent section, you can see which shows is just aired, and coming tomorrow. Though App UI looks simple, still you can select watched TV Shows. That is quite a handy feature.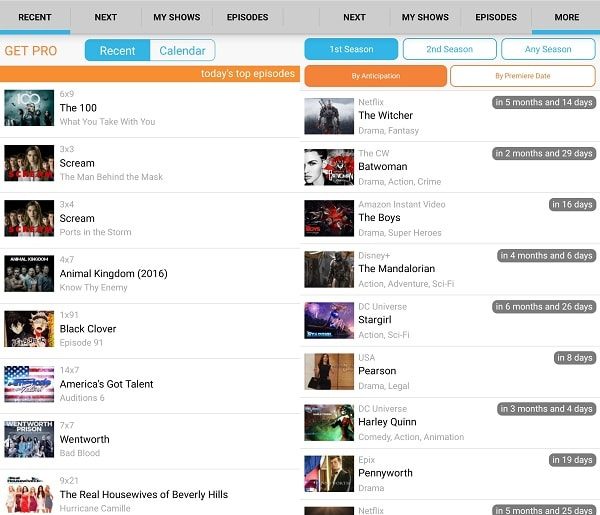 Even, If you have not select series or movies in your list. Still, In upcoming movies and shows section, you can see all upcoming releases. Check out more section for this. There are a trending and hot section also available in this App. In which you can find all popular and highly rated show. You can even sort according to the genre. Next Episode App also does recommend shows based on your shows selected. Overall, it is a good TV Tracker App, if you don't like TV Time interface.
Install Next Episode App: Android, iOS
SeriesGuide – Show & Movie Manager
The best thing about this TV Show Tracker App is, it prevents spoilers. Means, it doesn't show the details of the next episode unless you watched that episode. You can also connect with Trakt to check in, rating and comments of a show. Also, can sync between devices and media centres. And, to use App, you don't need to sign in. And, App will work even in offline mode.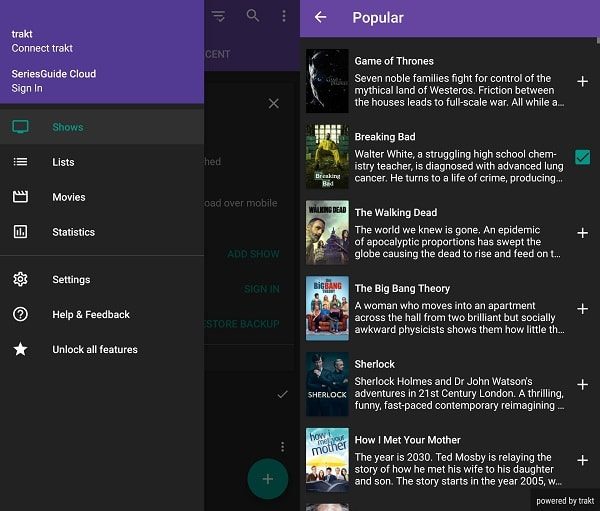 The app comes with extension support. Which you can add by searching within the App. Even you can create your own extension using the API of the App. Notification facility is also available in this App. There is a statistics section available in the App. That shows how many episodes you had watched. And, how many episodes remain to watch. Like other Apps, discover section also available in the App. That lets you find out new TV Shows to watch.
Install SeriesGuide: Android