We all know that two Best Torrent Sites KickassTorrents and Torrentz.eu shut down due to some legal issues. But still, some Best Torrent Sites available that allows download torrent files. Some sites were blocked, but you can access using proxy sites and servers. If you've downloaded the torrent file before, then you must be aware of uTorrent. There is no doubt that uTorrent was best torrent client until BitTorrent bought it. After that uTorrent filled with ads and spam offers, that's why many people are searching for a uTorrent alternative.
There are many uTorrent alternatives available for Windows and Android. Some are similar to uTorrent and come without ads and spammy offers. And others offer useful and unique features that lack in uTorrent. And choosing best torrent client or best torrent app isn't an easy thing because some uTorrent alternative comes with malware.
So today am going to tell you about some best torrent client for Windows and Android. It will help you in choosing the best torrent client for your device and don't worry these are verified. Some client comes with adware, but you can skip ads which are the good thing.
Note: BounceGeek doesn't support piracy or torrenting, We only tell our readers about Best software and apps.
Best uTorrent alternative for Windows, Mac, Linux and Android.
qBittorrent. (FREE)
It is the well – known alternative to µTorrent because it comes without ads and junk Free. It comes with all the main operating system like Linux, Mac OS X, Windows, OS/2, FreeBSD. The developers of qBittorrent added every possible feature that required to download a torrent file. You'll not face any issue in downloading, and it's ads – Free also minimal design makes the application useful.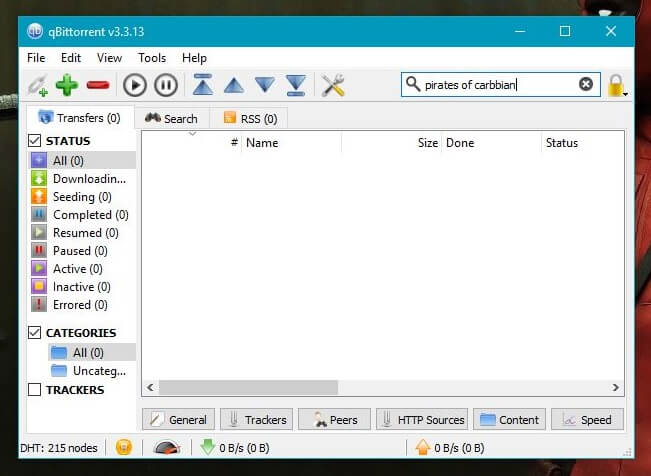 The software comes with an integrated torrent search engine which you can access View > Search Bar. It also allows security feature by using it you can set the password on qBittorrent to protect against unauthorised access. There is some more option that you might like about it – priority and schedule download feature, RSS reader, Speed in the title bar, torrent creator and much more. 
Deluge. (FREE)
Deluge
 is a lightweight, Open -Source Software, cross-platform BitTorrent client. You may find similarity between Deluge and qBittorrent because of some similar features. But qBittorrent somehow follows uTorrent and Deluge have its advanced feature. It is also lightweight software that comes with the minimal design that makes it best torrent downloader.
It also comes with all the main operating system Linux, Mac OS X and Windows.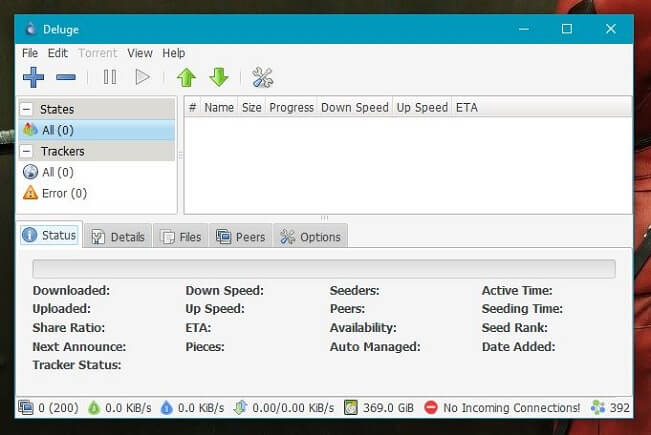 It doesn't come with full features like qBittorrent, but it relies on Plug-in system. Plugins allow you to add an advanced feature that you want similar like chrome extensions. You can access or install desire plugins according to the requirement by going into edit > preferences > plugins. You can run deluge on remote system although it will work similar to desktop applications.
Flud. (FREE)
When it comes to best torrent app for Android, uTorrent Pro app comes in mind. But uTorrent app comes with annoying ads and to get – rid of you need to buy pro version. Although you can get paid apps for FREE, you can try Flud app known as uTorrent alternative.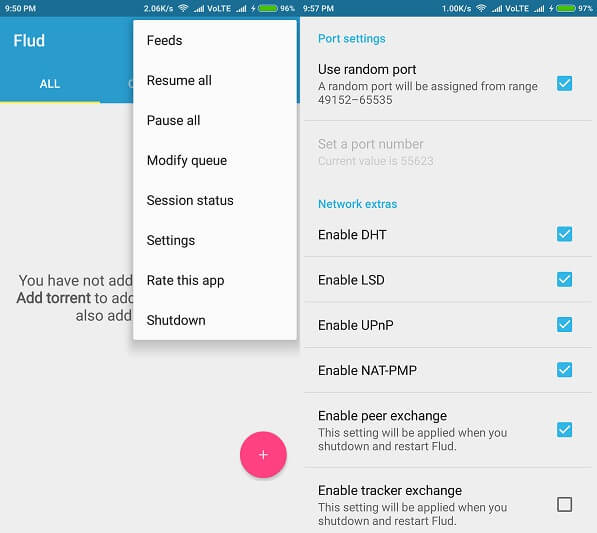 Flud is a simple and beautiful BitTorrent client for Android allows you to download the torrent file. It comes with some advanced feature like RSS feed, Magnet link, NAT-PMP, DHT, UPnP, Enable IP filtering and much more. You can access these or more options by going into settings menu also you can change the theme of the app which counts in additional features.
Tixati. (FREE)
If you're searching for adware and spyware free torrent client then Tixati comes in handy. It is very small torrent downloader which doesn't add anything extra to your system. Also doesn't have any annoying dependencies means you don't need to install any extra software to run it. It comes for almost every platform like Windows and all Best linux distros.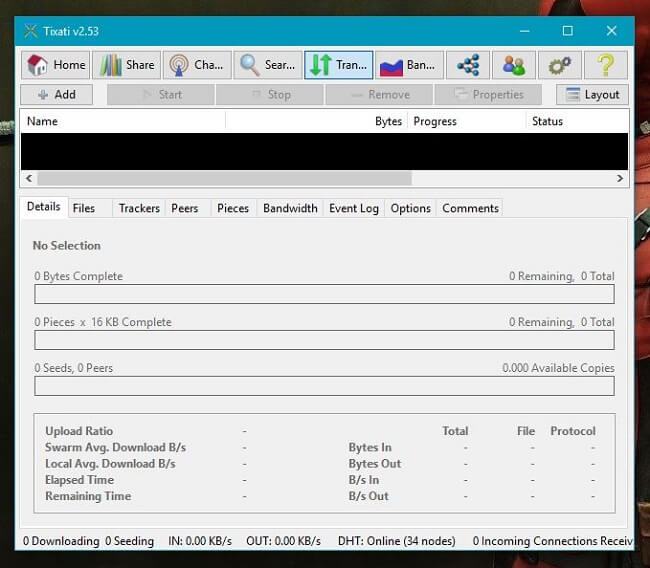 This software offers almost all advanced features that require performing on torrent file. It supports DHT, PEX, and Magnet Link also RC4 connection encryption for security purpose. Also some Advanced features such as RSS, IP Filtering, Event Scheduler also available in Tixati. There are Tixati settings also available that allows you to change the colour theme, widget style, behaviour and much more.
Transmission. (FREE)
Transmission is very simple torrent client officially available for Windows, Linux and Mac. It was not available for windows, and to download we need to access third party sites but now it's available. It is completely open – source torrent client that is completely clean from adware and other crap and malware.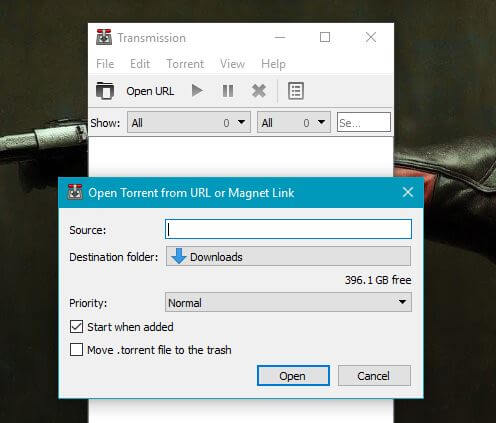 Although it has the very simple lightweight interface with least menu and useful options. But it is way more powerful than uTorrent that's why known as uTorrent Alternative. There are some advanced features also available like remove server, Encryption, web seed support, web interface, peer exchange, DHT, tracker editing and speed controls.
Vuze. (Bonus Content)
Vuze Bittorrent Client is an end-to-end free open-source software that provides all your torrent needs. It is a lightweight torrent program, and doesn't slow down computer speed. It is available for almost all platform like Windows and Mac. With Vuze, you can download a torrent using magnet links or tracker sites.
It also optimizes downloading speed automatically, also built-in torrent download manager lets you view the status of downloads. It also comes some advanced but small feature that you need to perform on .torrent file. There is no offline installer of this software so you need to download online installer first. 
Conclusion.
Still, there are many torrent clients left to add to this list, Some are paid like BitTorrent that allows same uTorrent features without the crap. After comparing all these software I found that qBittorrent and Deluge are the best torrent program among these. If you know any other better software that provides good feature then feel free to comment.