Whenever we think about sharing videos or watch videos, online "YouTube" comes to mind. And why not because YouTube allows people to share videos and earn money. But have you ever think about that there are some YouTube Alternatives available that also allow you to share & watch videos.
Am not saying that there is some drawback in YouTube, some tech site says DMCA is the issue. But actually, it is the best thing that motivates content creators to create more original content. But still knowing about Alternatives to YouTube is essential, in case YouTube is inaccessible or you want to explore more options.
Now you must be looking for options, Here are some Similar YouTube sites that allow the user to upload or watch videos, Check them out.
Best YouTube Alternatives.
Vimeo.
Vimeo is an old site that allows users to Watch and Share videos. And the best part is it was the first site to support High – definition video playback. The top priority of this site to maintain High – Quality videos across different genres or categories. On YouTube, you may find some click-bait content, but on Vimeo, all videos are genuine and HD.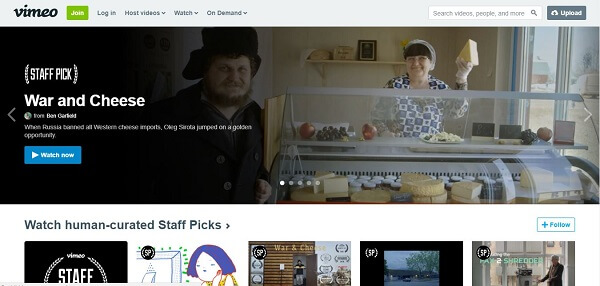 What makes it YouTube Alternative? First, all videos are completely ad-free, users will not see ads between or starting of the videos. And if you want to watch series online then also Vimeo is the best option, shows like Boss, The Royals and more available.
Uploading and Watch Videos on Vimeo is Free but up to a certain point. –
There is some drawback on Vimeo to maintain site content quality. It allows you to upload 500 MB of content using Free Account.
You can get a 5GB per week upload limit, and to get that you need to pay approx 10 USD.
Vimeo is only for the serious creator, but still, you can watch FREE videos which is a good thing. Although if you want to watch TV series, then you need to pay.
Dailymotion.
If any site that can take the place of YouTube that is Dailymotion. Because there is no doubt in it, it is the second-largest online video site. Apart from YouTube creators also upload videos on Dailymotion. If you want to expand your content and earn some extra cash with the same content then Dailymotion is the alternative.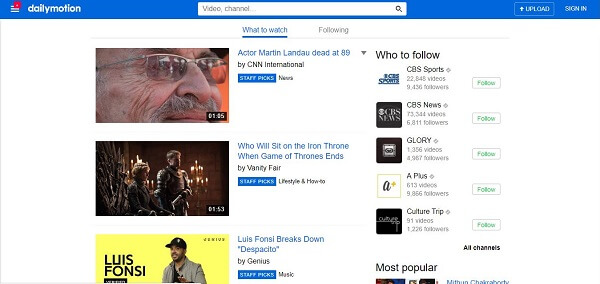 Only a few people know that by uploading videos on Dailymotion, You can make real money. Like YouTube, Dailymotion also has the potential to viral your content because it has over 150 million monthly unique visitors.
Uploading and Watch Videos on Dailymotion is free –
But there is some restriction, Like maximum video size is 60 minutes in length and 4GB in size. Although it is for security reasons, Otherwise users will start uploading piracy content.
 If you want to make some real cash, then you need to join the OpenVOD program by Dailymotion. That's the reason it is one of the Best YouTube Alternatives because of these similar features.
MetaCafe.
You'll wonder to know that MetaCafe is older than YouTube, it started in the early 2000s. And even after YouTube came up, still this site manage to get 50 million unique visitors per month. The site is famous for short videos you'll not be able to find out videos for more than 3 minutes.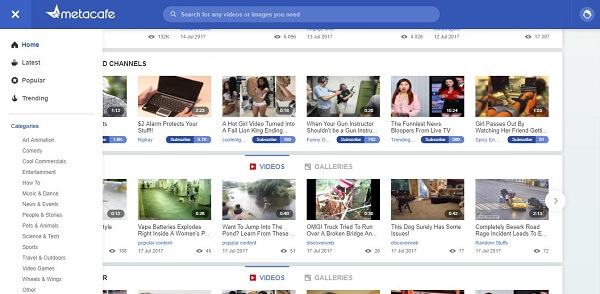 Like YouTube, MetaCafe also has its trending section, and all videos are in good categories. And if you want to download Metacafe videos you can which is the best thing.
Currently, you'll not be able to upload videos on MetaCafe reason no one knows. But still, it is a video site like YouTube because of some unique videos.
9Gag Video.
I will not call 9Gag a perfect or one of YouTube Alternatives, but still, it's a website like uTube. 9Gag site is dedicated to providing all fun related kinds of stuff like GIFs, Photos & Videos, and much more.
But the video section of 9Gag is funny enough to pass your free time. The Video section contains some NSFW videos so avoid them in the workplace. The website also has its trending section which filled daily with unique, funny stuff.
If you're getting bored and searching for a site to watch rich content, then 9Gag comes in handy.
Vidme.
If you want to make money by uploading videos, apart from YouTube then Vidme is also an Alternative. This site is completely dedicated to upload videos and make some money, but only original and genuine content.
You'll get money from your visitors or fan through monthly subscriptions and tips. Easy transfer from YouTube also available which allows transferring YouTube videos to Vidme. Also, you can show ads on your videos and get 70% of ads earning directly to your bank account.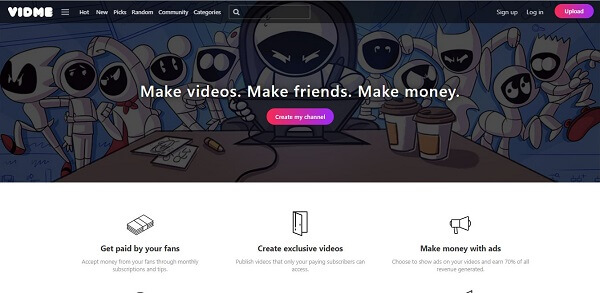 There are two categories one for a random creator in which you will be featured if you upload something. And another one is for pro channel means those are creating quality content for their fans. In my opinion, it well manages rather than YouTube that's why it is also an alternative.
6 More YouTube Alternatives. (Bonus Content)
Still, there are dozens of YouTube Alternatives available, and half of them I mentioned in Netflix Alternative. These alternatives to YouTube offer the largest categories of almost every genre of videos for everyone.
There is some website also available like Ted, Myspace, Vube (currently inactive) but these provide old and unlikable content.
Crackle is also one more option that you can try Sony Pictures Entertainment introduces it. It offers many excellent TV shows like mad about you and movies like the night of the living dead.
Vevo is also is the best site to watch Official Music Videos of famous singers. But it is not available for some countries or regions. But you can watch Vevo videos on YouTube which is a good thing. That's why I didn't add Vevo in this list.
Many sites added some TV shows and Movies sites to their alternative list, But YouTube is all about free and unique content.
Still, if you think any other best option left that can be an alternative to YouTube then feel free to comment.