Best Nougat Launcher – Recently Google Launched Android O developer preview for its Nexus and Pixel devices. And soon we'll able to see Android O on almost every new smartphone. Although Android O name is not decided yet like Android N known as Nougat. While some user is waiting for Android O update, some are still trying to get Android N.
Because N Launcher comes with many advanced features like Multi-Window Split Screen Mode, Data Saver, Notification Bar and much more. But the best thing about Android 7.0 is it's Nougat Launcher which is the main highlight. Now you don't need to wait for OEM update you can get Android N look and feel easy on your smartphone.
There are two ways to get Android 7.0 on your smartphone –
Install any of these Best Custom ROM – There are several ROM available on the internet, but you can Install Lineage OS to get Android Nougat. Still, it's the complicated way for some readers that's why I prefer next one.
Install any of these Best Nougat Launcher Apps – On Google Play there are various Home Screen Launchers available, but only a few are N Launcher 7.0.
So if you're also searching for a good one, then please check it out this Best Nougat Launcher list to find out.
Best Nougat Launcher – N Launcher 7.0
N Launcher Pro – Best Nougat Launcher.
N Launcher is Well – Known one of Best Nougat Launcher for any Android device. It comes with native Android 7.0 Nougat Experience. Also, it keeps Android 6.0 Marshmallow experience to enhanced features.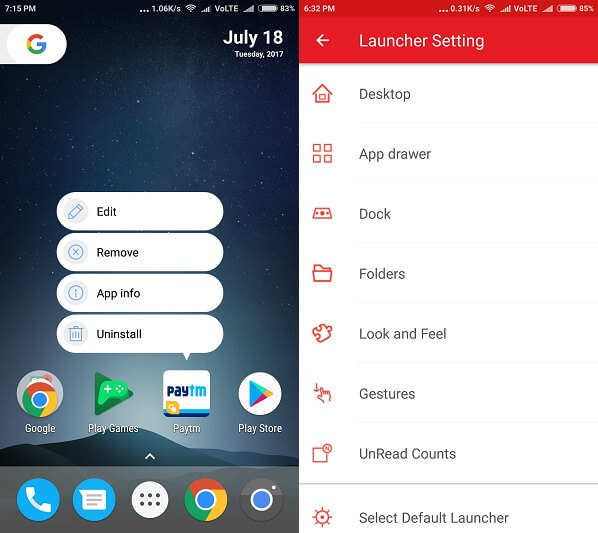 Installing N Launcher is very simple all you need to do is Download N Launcher Pro from Google Play. You may find two version of N Launcher one is FREE and another one Paid that is Pro version of it.
Feature that you'll get with N Launcher Pro –
Android 7.1 style app drawer that comes with 7.0 nougat style Animation and Design.
Nougat style drawer option A-Z fast scrolls bar, Vertical Style.
Wallpaper and Theme options also available, also you can set gesture using Launcher Settings.
This N Launcher Pro comes with some cool customization options like Icon Layout using icon pack, size and color also Rename Android App option.
It also allows Hide apps on Android using Hide apps option in this 7.0 Launcher.
Android N Launcher also supports Plugin called N Notifier. Which allows you to display unread count badges, and you will never miss any important messages.
NN Launcher.
After N Launcher, NN Launcher is also Best Android N Launcher that is entirely base on Nougat 7.0. It comes with many cool, value added features that can give any android device new look.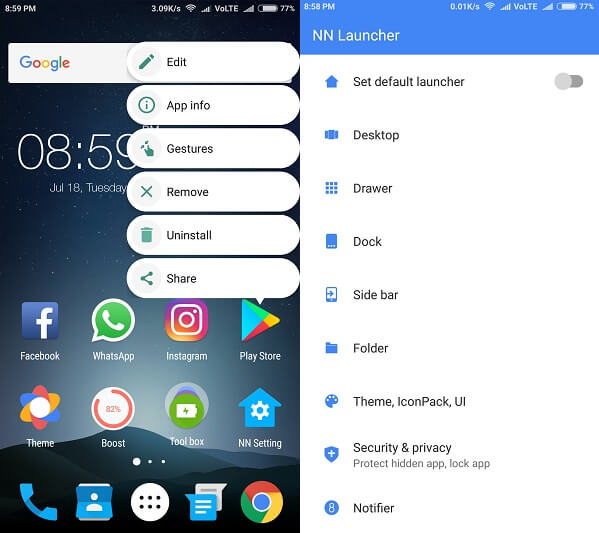 It is customization Launcher comes with many packed customize option that only available for Android Nougat.
Download NN Launcher
and get Nougat Experience, Installing process is similar to N Launcher.
Feature that you'll get with NN Launcher –
The main attraction of this Launcher is Android 7.0 style app drawer: A – z quick toggle, vertical or horizontal style, with recently used apps, cool transition animation and much more.
It also supports Many themes, Icon packs, and android nougat wallpaper.
You'll also be able to find out gesture support like swipe up/down, turn the screen on/off by tapping on it.
Like N Launcher, NN launcher also supports icon badges to remind about notifications. Also supports torch, battery and cleaner plugin.
There is much more thing that you can do with NN Launcher which makes it one of Best Nougat Launcher.
More Options. (Bonus Content)
After these two Nougat launchers, I tried all Launcher that claims to provide nougat experiences. But surprisingly those are completely copied of these launchers maybe these are copies of those I can't say. So there is no point to mention about each and every Nougat Launcher. But still, there is some Launcher which is better than these Nougat launchers and will provide you same look and feel.
Google Now Launcher / Nova Launcher.
I already described these two launchers in mine previous Best Home Screen Launcher article you can read it. But for quick selection, if you want to feel completely stock android with google search bar then try Google Now.
Or if you're the one like me who like to do lot's of customization then try Nova Launcher. There is none another launcher available on Google Play that can compete Nova Launcher. Or if you know any other launcher that provides awesome experience then feel free to comment.