WinRAR and WinZip Alternatives – File compression is not a new thing, you'll able to find out compressed zip folder option in the old version of Windows PC. Although there is no official way available to decompress or repair archive still there are some tools available. Everyone download files from best torrent sites and sometimes files comes in ZIP or RAR format. And in case you don't have required tool to extract files then the file is useless for you. There is two most – popular software available to compress or decompress file known as WinRAR and WinZip.
But unfortunately, some useful features locked in WinZip and WinRAR and to unlock those feature you need to pay for it. But without paying you can get exact same tools, here am not talking about any WinRAR and WinZip crack or keygen. There are dozens of Free WinRAR and WinZip Alternatives available that provides exact same tools. And some of them are File Encryption software which will help you in compress / decompress and encrypt the file.
After trying many File Compression and Extractor tools, I found these software useful. So to find out which tool is best for you to check it out these Alternatives to WinZip and WinRAR.
Best Free WinRAR and WinZip Alternatives – Best File Archiver and Extractor.
7-Zip.
7-Zip is an open-source file archiver software, and you can use it in any computer (low RAM PC) for absolutely free. The source code of the 7-Zip software is under a mixed license: GNU LGPL + unRAR restrictions. It not only allows to ZIP and Unzips file or folder also you can extract any type of compress files.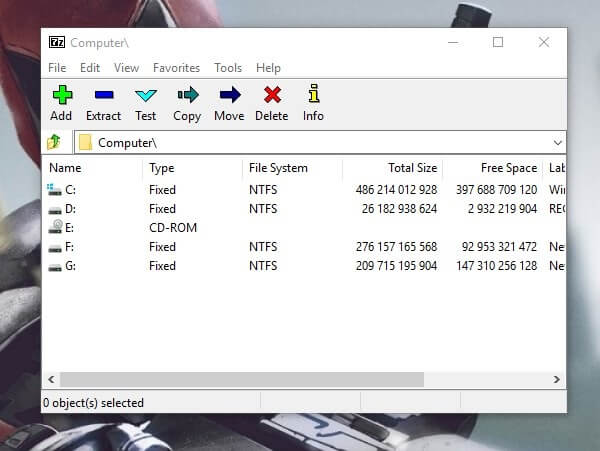 Why 7-Zip is better than WinZip and WinRAR?.
As I said before 7-Zip is completely FREE but this is not the only reason to call it's better. It provides a compression ratio which is 2-10% better than the ratio provided by WinZip and PKZip. And for the 7z file format, it provides LZMA and LZMA2 compression which is far better than compression provided by WinRAR.
This software not only works with newer and older version of Windows also there is the port of the command line version of Linux/Unix. With 7-Zip you'll get Strong AES-256 encryption in ZIP and 7Z formats, which will help you to secure archive with the password. It comes with powerful File Manager, by using it you can preview compressed file without extracting. Also, Integration with Windows Shell available which is helpful and accessible by Right – Click on File and Folder.
B1 Free Archiver.
B1 Archiver is also open – source and latest File Archiver tool, and it is also completely FREE. You can download the source code and use them in your product and services for FREE. It supports almost all latest File Format which is impressive and like 7-Zip have 7Z file format B1 have its own B1 File Format.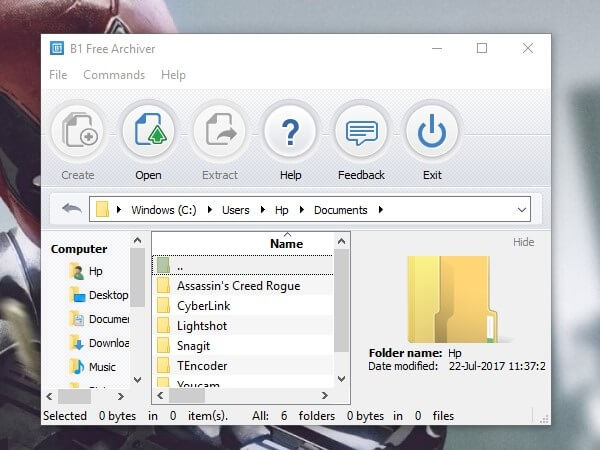 Why B1 is better and Alternative to WinRAR and WinZip?.
B1 File Archiver is known for its simple UI Interface, to use B1 you don't need any manual and guides. It provides four types of compression store, smart, classic, Maximum and the best one is maximum which applies on the B1 format. Classic compression is similar to which WinZip and WinRAR offer but Maximum is the advanced version.
B1 is not any platform specific software it is available for almost all platform like Windows, Linux, Mac, and Android. It also provides the same strong compression AES-256 to almost all file format, and without the password, no one will able to open the file. The File Manager of B1 is very impressive because somehow it looks like File Explorer. B1 also offers windows integration with windows which you can access by Right – Click.
PeaZip.
PeaZip is based on open – source technologies and highly voted File archiver and extractor on Softonic. It releases under open source LGPLv3 license, and available for any use like private and professional. Pea-Zip is cross – platform File Archiver available for Windows, Linux and BSD/ Unix. Also, it supports 180+ archive format that's why it's also known as 7-Zip Alternative.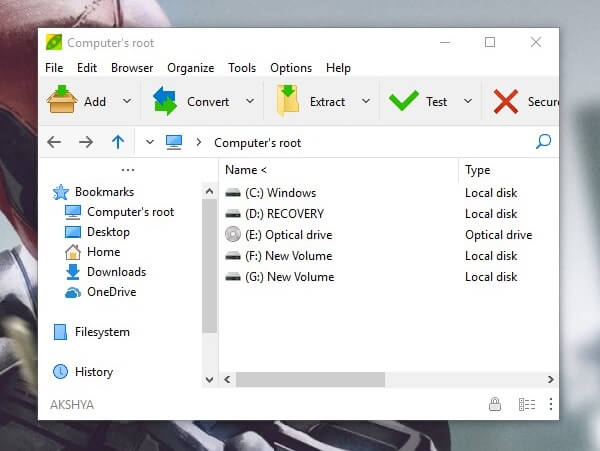 Why PeaZip is better than any other File Archiver tool?.
PeaZip provides fast high compression ratio, multi-format archiving to almost all File Format. You can check benchmark page for archive creation and extraction performances which are compared with other File Archiver. It provides ultra level compression knows as 7z format, also normal and high compression for zip format available.
Like other file Archiver's, PeaZip also comes with the powerful and complete file manager to view, browse and search archive files. To keep archives data secure it provides AES, Twofish and Serpent encryption which is best for files. Also, provides two-factor authentication (password and Key-File), secure delete and file hashing tools.
BandiZip.
Are you searching for lightweight Zip Archiver then BandiZip is the best option for you. It's not WinRAR alternative but known as one of WinZip Alternatives. It provides a very fast Zip algorithm for compression & extraction to almost all popular format. It is not cross platform software but available for Windows and Mac OS which is enough.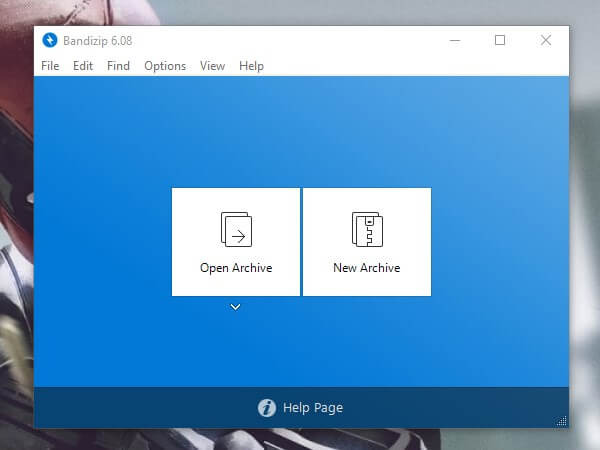 Why BandiZip is WinRAR and WinZip Alternatives?.
BandiZip supports Unicode to display international characters, also have the functionality to bypass files using High speed archiving. By using BandiZip you can create self – extracting file that comes in (dot) EXE format. Self – extracting files doesn't require file archiver because windows provide in – built functionality to do that.
With BandiZip you can create and extract multiple Zip files simultaneously using Windows explorer which is the good feature. BandiZip is completely free for personal and business use, you don't need to pay anything. If we talk about encryption then BandiZip offers ZipCrypto and AES 256 encryption that comes with premium software.
Hamersoft Zip Archiver.
It is not best File Archiver in terms of comparison with other File Archiver. But still good enough to provide basic functionality that is paid in WinZip and WinRAR. Like Bandizip it is also lightweight File archiver that comes with Drag and Drop file support.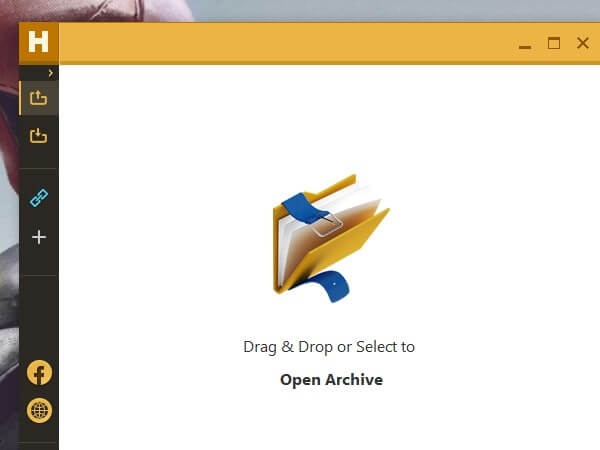 Why Zip Archiver is Best File Archiver Software. ?
It supports almost all popular file extensions or formats like 7z, zip, iso, RAR, tar, TGZ, and others. It provides three level compression low, medium and high. Encryption feature also available in this Zip archive which allows you to encrypt a file with AES – 256 encryption.
User – Interface of Zip Archiver is pathetic but still good enough to do require work. And Windows integration also available which accessible by Right – Click on file and folder. It is completely free and premium features come unlocked that makes it WinRAR and WinZip Alternatives.
IZArc.
Like 7-Zip and PeaZip, IZArc is also popular and best tool to create and extract Archive. Its interface is similar to 7-Zip and it supports almost all extensions or File format. With IZArc you can open CD image files like ISO, BIN and another format. It also provides the ability to convert the file format to one type to another.
IZArc supports 256 bit AES encryption to secure files from unauthorized access. It also integrated with windows so you can access IZArc by Right Click on files and folder. And if you have broken archives then with IZArc you can repair them easily. It is completely Free and doesn't come with any adware that's why it is also known as one of WinZip Alternatives.
Conclusion.
After reading about all these File archives, you must be confused which one is the best option for you. Still, there are dozens of Alternatives to WinRAR available but it will create more confusion for you.
And some of them are based on 7-Zip, am personally using 7-Zip from many years. Because it provides almost all required features that need to archive or extract files. There are many windows users who recommend PeaZip instead if 7-Zip. If you know any other better File Archiver that can be alternative to WinZip software feel free to comment.