Are you a YouTuber or maybe like to shoot videos casually then you might be searching for Best Video Editing Software. If you need Basic software to crop and add the title in video file then you can try default windows video editor. Windows 7 and the higher version comes with Windows Movie Maker video editor. But, unfortunately, this software doesn't support high-quality videos like H.265 video codec. That's why it's a good idea to look for Windows Movie Maker Alternative.
What're things you need in Best Free Video Editor Software.?
You must be looking for a Complete Video Editing Suite that can give you complete control on video and Sound. And if you're YouTuber also a Windows user then you must be looking for similar to Final Cut Pro software. Yes, there is some software available that's are Final Cut Pro Alternative, Check it out this list to find out Best one.
Best Video Editing Software. (Free and Paid.)
Wondershare Filmora.
Filmora is Best Video Editing Software for basic user and also for pro users. It's more than a simple Video Editor you can call it movie editor because it provides all functionality. By using Filmora you can add special effects and transition on your video, also directly can share on social media and DVD.
For windows & Mac users, Filmora provides four options –
Full Feature Mode.
Easy Mode.
Instant Cutter.
Action Cam Tool.
You can choose according to your requirement for example if you want to crop only then choose instant cutter. Same as if you want to just add audio and effects than the Easy mode is for you and for full functionality choose full feature mode.
Supported Platforms: Windows and Mac.
Supported Formats: All Video Format.
Price: 59.99 USD for the lifetime. (for 1 PC) – FREE Trial Available.
Key Features: Add effects, filters, titles, music etc. Burn Video into DVD and Much More.
CyberLink PowerDirector 15.
If you recently purchased HP laptop then you can find out this software in your laptop. PowerDirector 15 is one of Best video editor for Windows 10 and another version. It's next – generation video editing tool because it allows to Edit 360-degree videos using the same intuitive tools. If you have vertical video and want to fix black area and share on YouTube then PowerDirector comes in handy.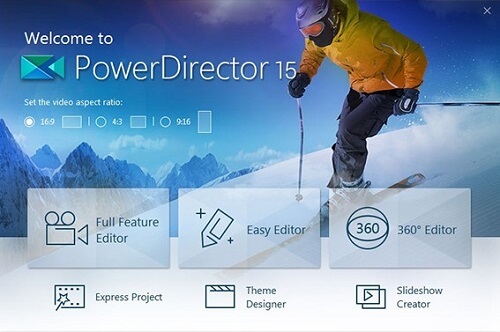 Like Filmora, PowerDirector also provides three options.
Full Feature Editor.
Easy Editor.
360-degree Editor.
This video editing software is best for skill user and also for basic users who just want to crop and merge videos. It provides huge customization option including unique alpha transitions, animated titles, particles and Pip objects. You can add the plugin if you want to edit audio on the extreme level but it's paid.
Supported Platforms: Windows.
Supported Formats: All latest Video Format including H.265
Price: 74.99 USD for Lifetime use – FREE 30 days Trial Available.
Key Features: Theme Designer, Slideshow creator, Video Blending, Motion tracking, Multi cam and many more Basic and Advanced features available.
LightWorks.
Looking for Free Open – Source Video Editor? LightWorks is Well – Known Alternative to Windows Movie Maker provides all basic functionality required to Simple Video Editor. It allows to edit all popular video format and also it supports 4K videos. It allows to add VFX to video and also you can edit audio in every possible way.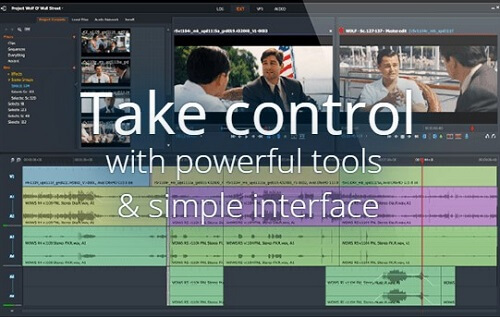 With Lightshot you can edit 360-degree videos and make the object smaller and larger which is unique. Although it's completely free it doesn't mean it not provide the advanced feature. It's professional video editor so you need to watch Tutorials to learn there is no Easy Mode. Official site of light works provides documentation and Demo project to learn how to use the software.
– Supported Platforms: All major platform – Windows, Linux, Mac OS X
– Supported Formats: Almost all video format.
– Price: FREE.
– Key Features: Easy timeline editing & trimming, Lo-Res Proxy workflows for 4K, Real time ready to use audio & video FX, the Export video for YouTube/Vimeo, SD/HD, up to 4K.
Final Cut Pro.
When it comes to Best Video Editing Software for Mac OS, nothing can beat Final Cut Pro. It's Apple's professional video editor. Final Cut Pro is for those who want more editing power than iMovie offers. Although Final Cut Pro X timeline looks similar like iMovie it's magnetic timeline view offers more power to the user.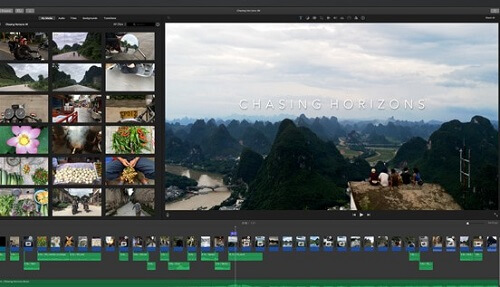 The famous tech YouTuber once told in it's the video that he uses Final Cut Pro. Also, some famous Indian YouTuber like technical Guruji uses same. The reason is quite simple because it provides all functionality that you can perform on video and trust me not any other software offers same. Now Final cut pro also supports third party plugins like FxFactory. It's hard to describe all key features of Final cut pro but if you want to know check the famous software review site PCMAG.
Supported Platforms: Mac Only.
Supported Formats: All.
Price: 300 USD.
Key Features: Multi cam Editing, Magnetic Timeline, Multi Channel Audio Editing, Clip Connections, Color grading and Masks and much more.
Shotcut.
Like FireWorks, Shotcut is also FREE Open – Source Best Video Editing software provides almost all basic features. This software supports almost all latest video format and also all image format like GIF, SVG, TGA and all other. The software comes with all video filter also allows you to mix and fade in and out audio and video.
It provides HTML 5 as video source and filters. 3-way color wheel helps in color correction and grading. This software supports 20+ video filters including Lens Correction, 3D LUT, Mirror. The User Interface of software is quite simple drag and drop key feature makes software Easy to use. You can check all feature list on its official website.
Supported Platforms: Cross Platform (Windows, Linux, and Mac OS)
Supported Formats: All format because of FFmpeg.
Price: FREE.
Key Features: Wide Format Support, Audio tools, Video Effects, All basic editing features.
HitFilm Express.
HitFilm is professional Video Editor without the Professional level price tag because it's Free. This software is not only about trimming unwanted parts of videos. Because it's full edit suite like other paid software it provides filters and special effects. Also, like pro software, it allows editing 2D as well as 3D videos. There is endless video tutorial available related hit film so whenever you feel lost check them out.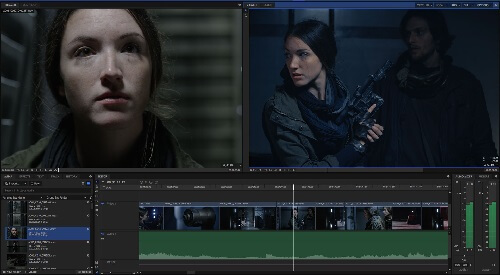 Supported Platforms: Windows and Mac.
Supported Formats: All major format.
Price: FREE.
Key Features – Advanced cutting tools, Keying for green screen effects, Audio and video filters, Compositing tools, Layers and masking, 3D video support.
Adobe Premier Pro.
Adobe is famous for it's some best software like Adobe Photoshop, Illustrator, After Effects and much more. And there is no doubt that Adobe Premier Pro also is the best video editing software. It is timeline based video editor which is available for windows and as well as Mac OS user. We can call it best software because of integration with after effects and Photoshop. Also, it's top notch video masking features like super transitions makes it best.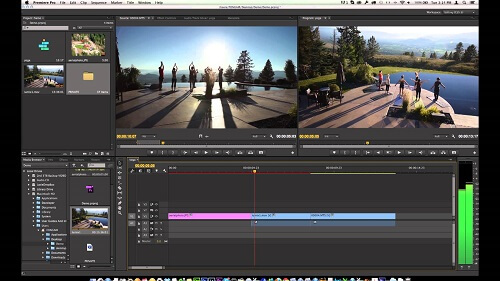 Supported Platforms: Windows, Mac, and Cloud also.
Supported Formats: Almost every popular video format H.265.
Price: Approx 20 USD per month.
Key Features: Unlimited audio tracks for YouTube, storyboard mode, Multi window editing, HD video support up to 4K.
Nero 2017 Video.
Famous CD/DVD burner software company Nero launched its Best Video Editing Software named Nero 2017 Video. It costs less than any other professional video editor. Recently they added H.265 video support with tons of effects and template to make videos editing better. Like any other software NERO also allows editing audio of any video file. With Nero, you'll not get 360-degree video support that other free video editor offering. But still, you can give it try, Because of Free trial available.
Supported Platforms: Windows.
Supported Formats: All latest video format and codec including H.265.
Price: Approx 49.99 USD, Free Trial Available.
Key Features: Special effects, 4K and H.265 video support, 42 video template.
iMovie.
After Final Cut Pro, iMovie is well – known Video Editor for Mac OS X. Best part about iMovie is it shows only tools that you required while editing. It doesn't clutter the screen with all tools that are available in the software. Microsoft stops providing features in it's built – in Movie editor but Apple added 4K video support and much more in it's iMovie Software. With iMovie, you'll not get multi-cam, freeze-frame, picture-in-picture, and the motion-tracking feature that available in Power Director. But still, for basic video editing, it's still one of the best software.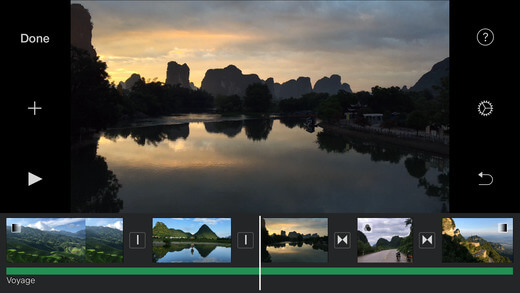 Supported Platforms: Mac, iOS.
Supported Formats: Almost All.
Conclusion.
That's all folks, Still, there are many software available in Corel Video Studio,  Magix Movie Editor but somehow these are similar software. If you are windows user then try filmora or if you're Mac user then Final Cut Pro is the best choice. And for Linux user Lightworks is good and also it's completly Free. If you guys know any other better software then feel free to comment.