For Android, there are so many VR Player Apps available to watch VR Content. These apps offer a large library of free VR Content. And, you can also use these apps to watch your recorded videos in VR Mode. Moreover, there are so many VR Games and VR Experience Apps available. And, in this article, you will find the best VR player Apps for Android. These Apps will allow you to watch VR content for free.
What is Virtual Reality?
Virtual Reality isn't a new thing. But, still, not many people are aware of it. VR (Virtual Reality) is a computer-generated, real-life-like experience. That takes place in a simulated environment. And, for simulation, few types of equipment are required. VR mainly incorporates visual, auditory, and sensory feedback like haptic. VR creates an immersive environment, which can be similar to the real world. This means, it generates a three-dimensional image, that appears around the user. That 3D image manipulates the human mind to show them a Virtual Environment.
How to Watch VR Content on Smartphone?
These days to watch VR content, you don't need to spend much money. Anyone can watch VR content on their smartphone screen. All you need is the best VR Player App for Android, to play VR Videos. And, a VR headset to watch that VR movies & videos
Well, If you're reading this article, it means you already own a VR headset. If not, then you can buy Google Cardboard. Or, can create yours for free. You can find instructions on the Google Cardboard site. Though, please make sure your device has a Gyroscope sensor. If you don't know whether your smartphone is VR Compatible or not. Then, read my article on VR Compatible Phones List.
Best VR Player Apps for Android
YouTube
YouTube is quite a famous video-sharing site. That's why there are countless 360° videos available to watch on it. And, every Android smartphone comes with the YouTube App. So, to watch 360° VR videos, you don't need to download a third-party App. Though, if you're specifically looking to watch a pre-downloaded VR video. Then, YouTube will here disappoint you. Because, it's a streaming platform, not a video player like MX or VLC.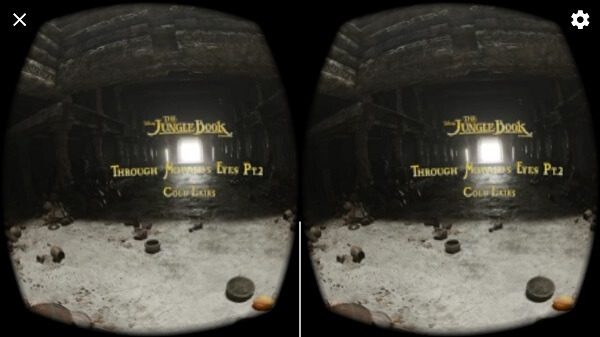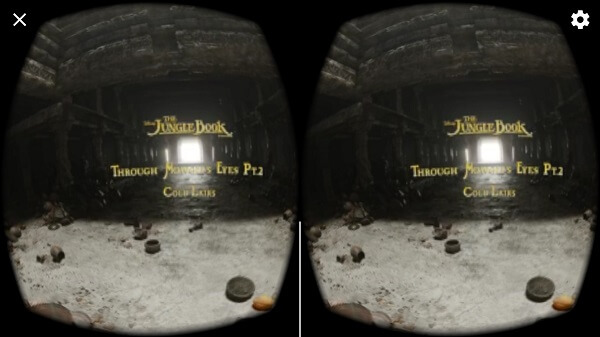 On YouTube, there isn't any specific section for 360° virtual reality videos. But, by searching for the "VR Video" keyword. You can find out all 360° VR videos. To enable VR mode in a 360° video. You need to tap on the VR headset icon. That appears after playing the video.
Cardboard
If, you're searching for the best VR player App for Android. Then, I don't think, you need any other App. Because Cardboard App by Google provides almost all smartphone VR content to watch. Even, you can play offline videos. Also, it helps to set up your first VR headset. And, gives you instructions about, how to interact with VR content through a VR headset. With this App, you can launch your favorite VR experiences. Or, can discover new Apps.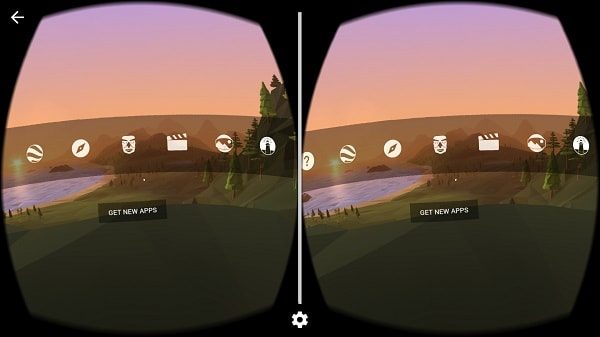 With Cardboard App, you can install Google Expeditions. And, you can fly where your fancy takes you on Google Earth. Basically, Google expeditions is a virtual reality teaching tool. That allows taking virtual trips all over the world. Currently, there aren't many places to visit. But, in the future, Google will cover all major places. Though, Google hasn't updated this App since 2016. But, still, this App is quite Good. If you're new to VR things.
Install Cardboard App from Play Store
Full dive VR – Virtual Reality
If you think, Cardboard App isn't good. Then, the Fulldive VR App is the best Android VR Player for you. Apart from a VR Player App, this is the first social VR platform. The App is compatible with Cardboard and as well as Daydream headsets. Full dive is a user-generated VR platform. In this App, you can watch, react and comment on VR videos. This App provides over 1 million of 360° videos. And, you can play over 500 games, available on their VR market.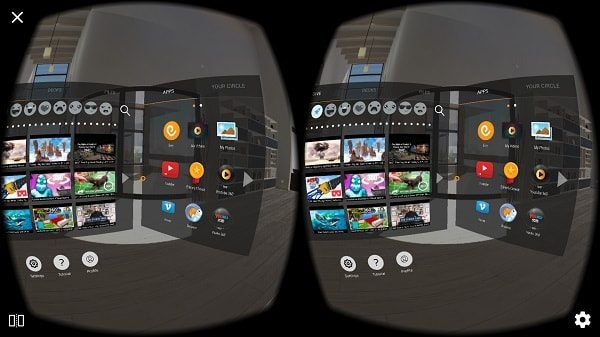 The App comes with an inbuilt VR Video Player, which includes 2D/3D players. VR browser is also available, which lets you browse the internet in VR. In the upcoming version of Fulldive, developers are adding some interesting features. Like, you can steam your Computer screen in VR. The app also provides a VR camera, that lets you take pictures in VR. You can also access and store photos in 360°.
MXVR Player – 360° VR
This App isn't developed by the original MX Player developer. But, still, this App is worth trying. I can't say this is the one of best VR Player Apps for Android. But, this App can help you to play any offline video into your VR headset. The App simply split videos into two-part. And, if you want, you can enable a 360° view.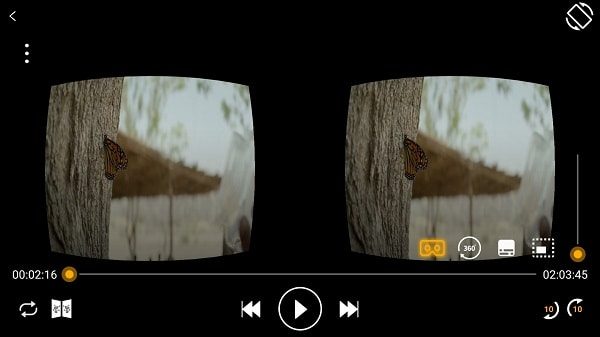 Also, like MX Player, the app allows downloading subtitles for the video file. There is a mirror option also available. But, I don't find it useful in Virtual Reality. When you open the App, it will show you all existing video files on your smartphone. And, you can choose, which video you want to play in VR format. Overall, if you only searching for an App to play offline videos into a VR headset. Then, this App is for you.
WITHIN
WITHIN, is the best VR Player App to watch the best VR content from the world's finest VR creators. The App provides story-based immersive content in multiple genres. Like, Animated, horror, music, documentary, and some experimental VR content. Though, the app doesn't allow you to watch offline content. But, you can download the existing content in the App. And, later can access it from the downloaded section.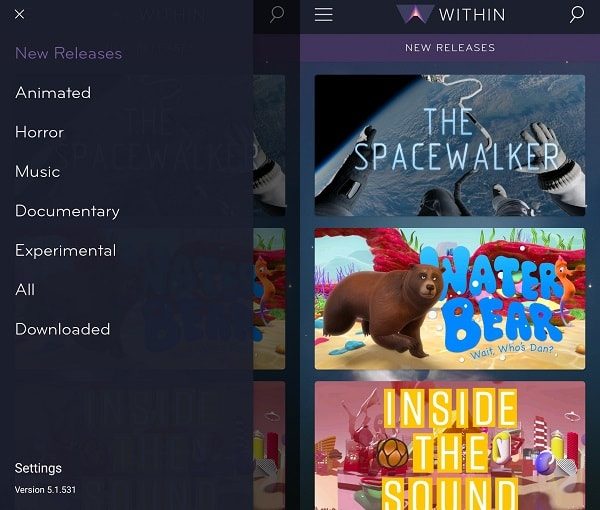 The VR content you will find on this App, is not available on any other streaming platform. So, If you don't find YouTube VR videos much more interesting. Then, try this App, it will not let you down. The App works with Google Cardboard and Google Cardboard–certified viewers.
Note: WITHIN App is removed from Play Store. You can still get it from third-party websites.
Summing-up
So, these are the Apps, that you can use to watch VR videos on your smartphone. If you're looking for some 360 VR videos to watch online. Then, YouTube and the WITHIN App will come in handy. Or, if you have some offline content to watch. Then, you can try MX VR Player. Though, there are many VR Players available on the play store. But, according to user reviews, MXVR Player App is good. Also, don't forget to try the FullDive VR App.