Best Android Cleaner App – Android and Windows have lot's of things common. Like Windows, Android also store cache files and data to run Apps flawlessly. Cache files stores information like user ID password, Changes are done in App. And when we uninstall Apps from Android, those cache files, and data not get deleted. And this useless data of uninstalled apps, known as "Junk Files". And if you don't delete these junk files then you might face "Not Enough Space" or "Can't Install the App" Error.
How do I remove junk files from my Android phone?
There are two ways to remove junk files and clean Android device. First is – You can manually delete junk files (Cache) by going into file manager or Settings.
Clean Android – Clean Junk Files using Settings.
Settings> storage & memory> Scroll down little bit and tap on Cached data and press OK. (For Android Nougat and higher version.)
Using File Manager.
Every Android device comes with an inbuilt file manager App but only a few come with "Show Hidden Files" option. If your device file manager app has this feature then enable it, If not then download one of Best Android File Manager.
After enabling show hidden files option now look for deleted apps folder and then delete it. And to delete junk files Go to Android> Data and look for package name of that uninstalled folder.
Note: Android Data Folder may contain some important Apps data. And deleting those folders can cause an error. So If you don't know correct folder of junk files then follow next way to clean android device.
The second way to clean junk files is using some best Android Cleaner Apps. There are tons of Apps available on Google Play Store. That claims to remove junk files, clean ram, boost device performance and increase battery life. But many junk cleaner apps come with malware and annoying ads, and only a few of them works correctly.
So, If you also searching for an App to Clean Junk Files (Cache) then follow this list of some Best Android Cleaner App.
Best Android Cleaner App.
Files Go Beta.
Searching for a basic junk cleaner App that can clean cache files and duplicate files then this App is for you. Files Go App is developed by Google, and currently it in beta mode. But you can download and try this App, am using this app for more than a month. And it's working flawlessly, never faced any kind of error.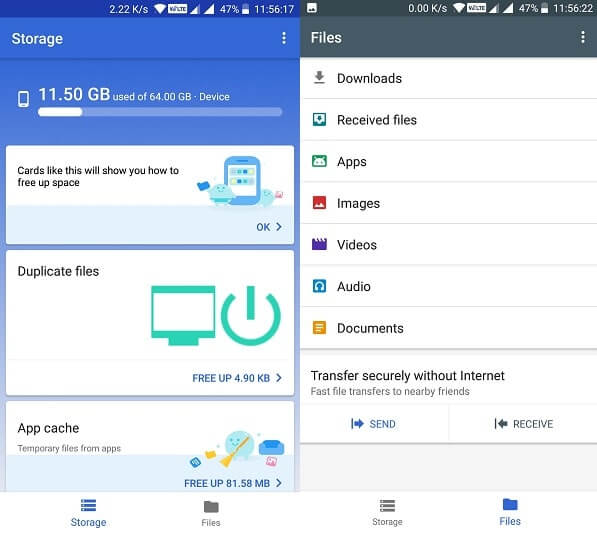 With smart detection, it allows getting rid of from spam (unwanted images received on WhatsApp) and duplicate images. And also if you want to send files to any other android user then you can do it offline. With Files Go you can delete large files and free up space. As I said before this app is in beta state, So still only a few features available. But if you only want to delete junk files then this is Best Android Cleaner App for you.
CCleaner.
CCleaner is one of oldest junk remover App by piriform. Before Android devices, It was available for Windows PC & Mac. The best part of this app is it comes malware free and not force you to install any other app. With CCleaner, you can remove junk and reclaim space, Monitor your storage and RAM. Also with App manager, you can check which app is auto restarting automatically. And can uninstall multiple unwanted Apps at once.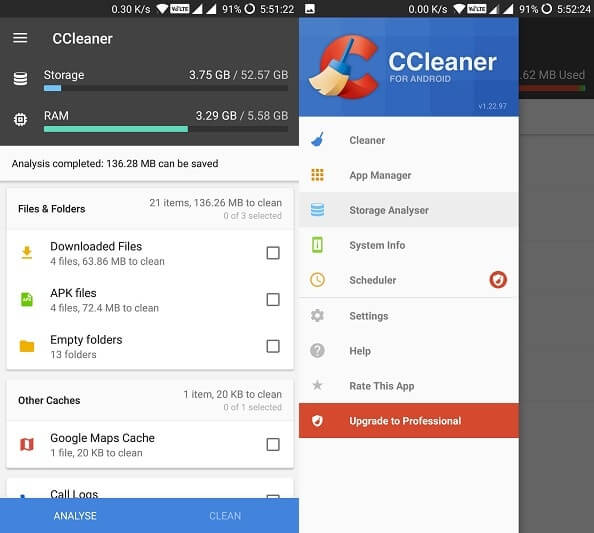 You can also delete call logs and SMS messages in bulk with a single click. With System Info feature you can check information related device, network, RAM, Internal storage, Battery status and temperature. CCleaner comes with ads, but those ads aren't annoying. But Still, if you want to remove those ads then you can buy pro version at 1.40 USD. Apart from ads, It is one of best Android Cleaner App that you can use on your android device.
Avast Cleanup & Boost.
Avast is another highly effective cache or junk cleaner App. Avast is famous for its free antivirus software for various devices. After 100 million downloads, the avast cleanup app still manage to get 4.5 ratings. This App optimizes device performance and boosts speed by removing unused junk from your android smartphone.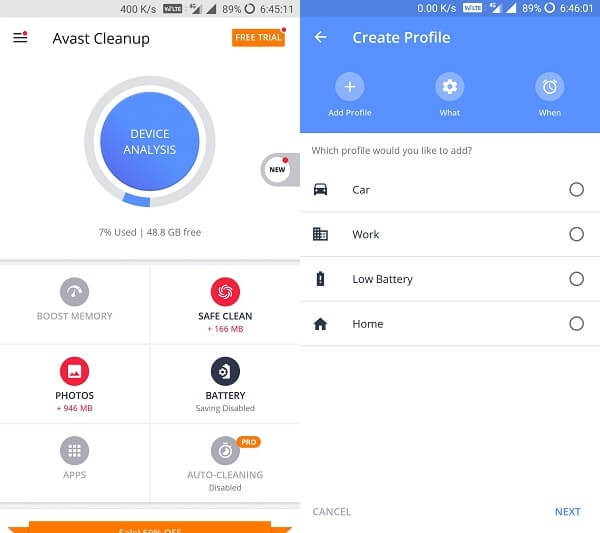 Avast cleanup app comes with a premium package (Paid) that offers – Automatic cleaning (Schedule Cleaning), Photo optimizer (Compress photo to save space), Remove Ads (App comes with ads). Like Files Go app avast also allow to manage Apps and delete large files. Overall avast cleanup cleans unimportant data, system and gallery thumbnails cache, installation files (APK). These features make it one of Best Android Cleaner Apps.
SD Maid App – System Cleaning tool.
SD Maid App is truly dedicated to deleting leftovers of uninstalled Android Apps. It offers dozens of tools to manage installed and uninstalled Apps files. Many Android apps generate logs, crash reports, and other files which don't get deleted while removing Apps. But with SD Maid app you can easily remove those unwanted or uninstalled apps files.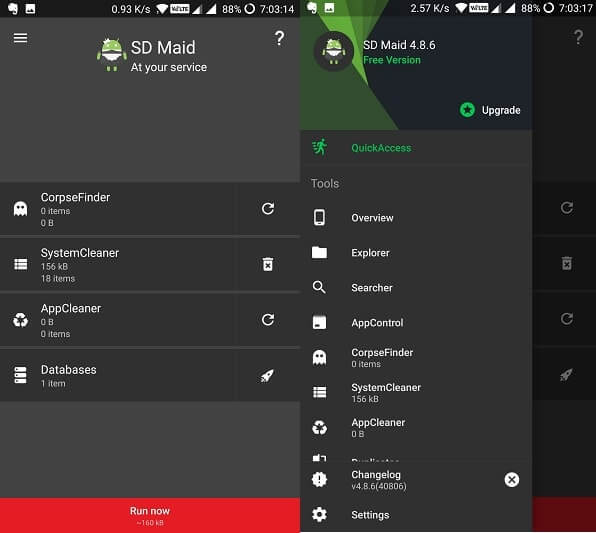 With SD Maid App you can also detect and delete duplicate images, music or document files. Like Avast this app also offers schedule cleaning or you can do manually via SD Maid widgets. There is few feature which is locked in this App, Which can be unlocked by paying 0.33 USD. Overall it is best cleaning app for android phone.
AVG Cleaner.
After Avast Cleanup, AVG cleaner is one of best android cleaner app by an antivirus company. It identifies and deletes unnecessary hidden files, bad and duplicate photos. Also, allow removing unimportant data like gallery thumbnails and residual or unused APK's. The app is also helpful to optimize battery life by closing unnecessary background process.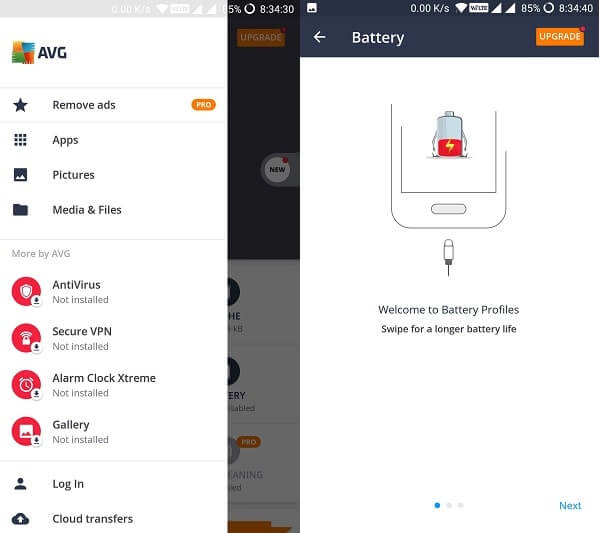 You can set a custom reminder to clean your device. If you're using the device with low storage then you can delete files larger than 5 MB. The app comes with cloud transfer feature which helps you to transfer files to cloud that you don't need locally. Battery profiles feature also available in the app, you can choose between the low battery, home, work, and car. The app is similar to or copied version of the avast cleanup app, maybe developers are same. Overall it is also the best android cleaning app that you can use.
Norton Clean, Junk Removal.
Like every other phone cleaner or RAM cleaner app, this app also allows to clean junk files, remove residual files and helps in optimizing battery. Like AVG and Avast Norton is leading cybersecurity software provider. Now it allows to sweeps your local storage files and cache files. Norton clean app also allows removing APK files that are unused.
With Norton clean app you can also remove bloatware Android unwanted and background apps. Also, give the recommendation to remove rarely used apps. You can also move apps from your phone memory to memory card. Overall it is not perfect but good Android Cleaning App that you can try.
Conclusion. – Best Android Cleaner App.
Cleaner App are only delete the unused folder and junk of uninstalled apps. There are tons of apps that claim to increase battery life, increase RAM. But all are useless, Battery can be optimized by stopping background process. But you can't increase RAM, these cleaner apps can free up ram space by closing apps. But when you run that app again, the app will again start occupying RAM space. So if you want the app to remove junk files then you can try any app from above list.
But If you're still confused which one to choose then try Files Go Beta first. Or you can also check out CCleaner, because it allows deleting more unused files or junk. But you're searching cleaner app to speed up your smartphone then download Greenify App to hibernate apps. That's all folks for now if you know any other better app feel free to comment.