Anonymous File Sharing – We all shares dozens of files daily, and there are many medium available. And the easiest way that we all use to share files is Gmail. Although there are some Best Gmail Alternatives available still email is not the best way to share files. Many tech blogs prefer to use the Best Anonymous Browser while sharing files via Gmail.
Although, there are some cloud file sharing services like One-drive, Google Drive, and Dropbox. But before start using them you need to register on these sites. But if you want to keep your personal info private then Anonymous file sharing sites comes in handy.
What is Anonymous File Sharing?
In Anonymous File Sharing we don't need to share our any personal information to send File even so name. We can just upload the file and we'll get a file sharing link. And when user complete download files using that link, the file will get auto delete from Anonymous File Sharing site server.
If you're like me who don't have much time for registration and sign-in on sites to share files. And looking for Best anonymous file sharing sites then check this list of Best anonymous File sharing sites.
Best Anonymous File Sharing Sites – No Registration Required.
File.io
File.io is Best Anonymous File Sharing site, they don't use any kind of backup to save file. And all files that they keep temporary are secure with encryption. Also, their log files contain no identifying information. Which means they don't keep anyone's personal information.
How to share file anonymously using File.io?
Sharing files using file.io is easy, all you need File and a Browser. Open-File.io into your Web Browser now click on upload and then select file from your File Manager / My Computer.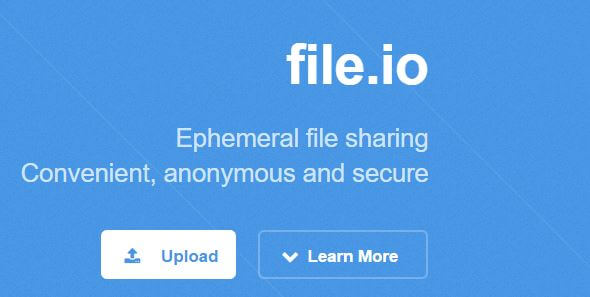 Whenever uploading process will complete you"ll get a unique link. That you can share with anyone and your personal details will be safe.

You can send maximum 5GB Per File, which is completely Free. Also, you can set an expiration date for the file. For example at the end of the link add ?expires=1w and file will auto – delete from server after 1w = 7 days.
Filetea.me
Filetea.me is the simplest tool for anonymous file sharing. Like File.io it also doesn't hold any users personal information. The interface of Fill tea is very basic and simple, the site doesn't provide any information. You'll get an Add File option which will allow you to upload the file, and like File.io you'll get link after upload.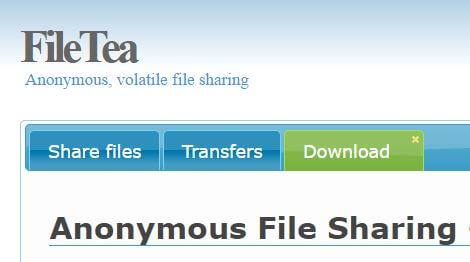 One thing you might don't like about Fill tea is when you share the link to someone. That link will redirect to Filetea.me site and then you'll get download option. You can also able to download process in transfer section and you can delete the file manually when transfer process will complete.
GoFile.io
If you're searching for a Best Anonymous File Sharing site. That provides No storage limit or bandwidth then GoFile.io comes in handy. It is completely Free and provides encryption to Files that you'll upload. It allows you to share maximum 10GB per File, which is just double of File.io limit.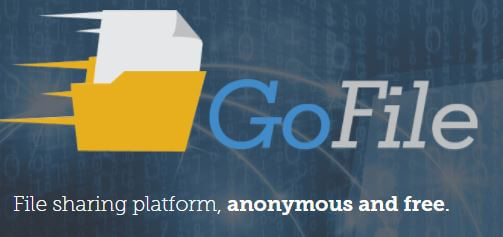 Like File.io you can also set an expiry date in GoFile and you don't need to do it manually. You'll get an option to set the expiry date of File which is the good thing. This site is still in beta stage so you may find some bugs, I prefer File.io over this.
DropFile.to
DropFile.to is simple to service for anonymous sharing of files that need to be placed online only temporarily. It allows to upload up to 5 files at a time and Maximum supported file size is 1 GB. There are no download limits – your files can be downloaded simultaneously by an unlimited number of people with maximum speed.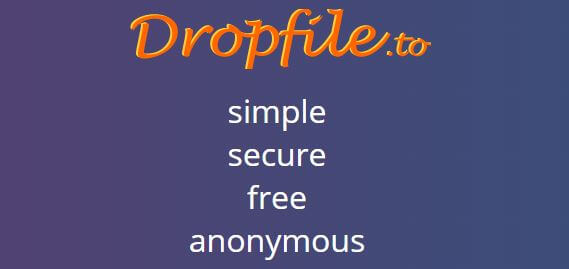 But something that you might not like about is it doesn't provide any kind encryption. But if you want encryption for your file you can encrypt before upload it on DropFile. You can also manage your uploaded files using access key that you'll get after upload.
UploadFile.io
Upload files.io is a completely free file sharing service, upload files without limits, securely & anonymously. It allows sending maximum 5GB per File which is more than enough. It is Free and premium version available on this site, in free they hold file up to 30 days.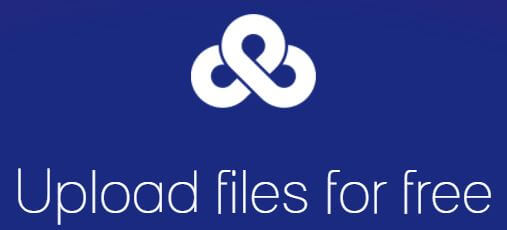 Also on uploadFile, Files are encrypted and transferred securely from your browser to their server. When file upload will get completed you'll get the option to set time of File deletion. You can choose between 1 hour to 30 days, never option also available in the premium version.
AnonFiles.
AnonFiles is a simple tool that allows us to share upto 1GB per File. And this is similar to other sites. But it also doesn't provide any encryption for Files that we upload. But for small File sharing, it is the Best Anonymous File Sharing Site.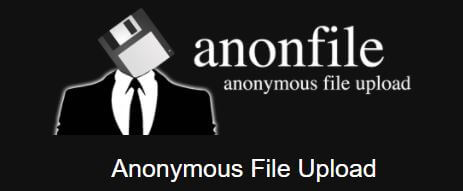 OnionShare. – Best Anonymous File Sharing Software.
OnionShare is an open source tool that lets you securely and anonymously shares a file of any size. It uses Tor to connect to an anonymous server that is completely safe. It's not available in Web version you need to download it on your computer and it's completely secure.
Ubuntu
If you are using Ubuntu, open a terminal and type:
sudo add-apt-repository ppa:micahflee/ppa
sudo apt-get update
sudo apt-get install onionshare

Fedora
If you are using Fedora, install it from Software or open a terminal and type:
sudo dnf install onionshare