In this article, Apart from telling you about some "Best Battery Saver App". I will also tell you the real truth about these battery saver Apps. Means, does these Apps really works or making us fool.
Nowadays, smartphones are taking the place of the Computer. Some people will not agree with the first line. But, if you know the popular PC multiplayer game PUBG is now available as PUBG Mobile for Android. And, if you have ever played that game on Computer and Android. Then, you might realize that the mobile version is much better than the PC version. You must be thinking that why I am telling you about this. Actually, On the computer, you always stay connected with power cable. So you don't need to worry about battery drain issues. But, in Android, you need to charge smartphone multiple times.
It's 2018, And smartphones are coming with 5,000 Mah Battery. Though, some flagship smartphones like OnePlus and Samsung still provide only 3,300 Mah battery. And, when you play high graphics games, battery sustain only 4-5 hours. That's why people are looking for some "Best Battery Saver App".
Does these battery saver Apps for Android really works?.
Many smartphones nowadays come with inbuilt battery saver. Which reduce mobile screen brightness, and turn off notifications. Also closes some running Apps. Which helps you to run the smartphone for a longer period. If your smartphone has this battery saver option. And, still, you're looking for a "best battery saver App" then stop searching for it. Because these Apps do the same thing, which "battery saver" feature does.
I can't say, that all Apps that claim to save battery are useless. In first two line of this article, I have mentioned that some apps are making fool. I said that because some Apps shows some beautiful animation, while we charge mobile. Also, while we use our mobile, these Apps show a widget in the notification area. And, to show widget and animation that App needs the battery. So, overall the App is using the battery instead of saving.
Things you can do to save Battery without using any App.
These Battery Saver Apps do certain things, which you can do manually. Some best battery saver App reduces screen brightness, turn off data connection and close background Apps. And, you can do it manually if you want. Normally, smartphone battery drain while we are on 4G data connection.
IMPORTANT – Please read "Fix Android OS battery drain" article. To know some solutions, to save Android OS battery life.
Some users are claiming that, their smartphone battery lasts only a few hours. When all background Apps are even closed. Actually, when you swipe to close App. The app doesn't get close fully. Because, if it does, then next time app will take time to load. That's why it stays keep running in the background. Though, there are few good apps which can close these Apps permanently. And, I am going to tell you about those Apps only.
Best Battery Saver App.
Greenify.
This is not a paid promotion of this App. I am using personally this App on my OnePlus smartphone. To save the battery from unnecessary usage. The app doesn't show you unnecessary animation and also no useless widget. The app comes with hibernate feature, which helps you to close background running Apps.
Though, App needs root permission to hibernate some system services. But, you can use this App, without rooting your Android device. All you need to do is, enable Greenify from accessibility settings. Once you hibernate all Apps. Next time you need to click on "zzz" button to hibernate all Apps at once.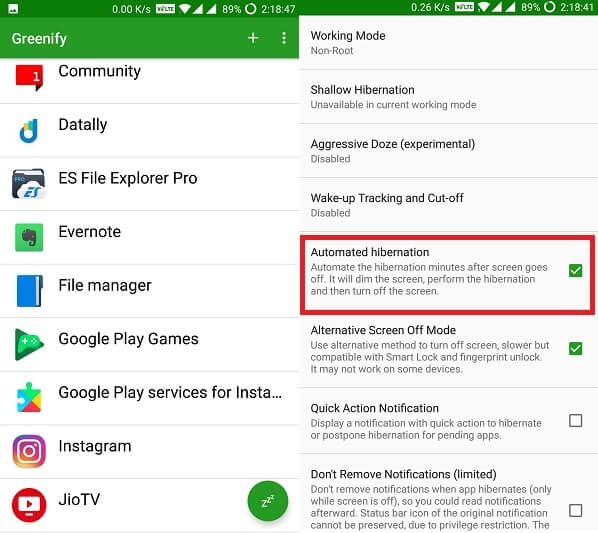 Note: If you hibernate any App through Greenify, then you"ll not receive notification from that particular App. So, I suggest you select important Apps like Facebook and WhatsApp in "Degreenify Selected App" list.
Like other "best battery saver App," you don't need to open Greenify Again and Again. To hibernate unnecessary background running Apps. App has a feature, which will close All background running Apps when you close smartphone screen. If you're using the Xposed framework, then you can do more with this App. Overall, this App so many features, which can be helpful in saving battery life.
Amplify Battery Extender (Root).
"Amplify battery extender" is one of the best alternatives to Greenify App. Although, this App is completely different from Greenify App. And, you need to root your smartphone to use this App. The main feature of this App is, identify and do stop the WakeLocks. Wakelocks occurs when an App prevents smartphone to go into sleep mode. And, continually uses battery and smartphone power.

The app allows controlling not only installed Apps by you. Also, you can control system Apps even alarm. There is pro version of this App available, which adds more features. Recently, App developer added Android Nougat support. So, if you're using Android Oreo, then you might face some issues. The app is open source project. So, if you're also a developer, you can see how App works and can build the App yourself.
Brevent.
Although, above Apps are enough to save battery life. But, I tried Brevent App, and I can say it is also "best battery saver App". You don't need to root your smartphone to use this App. But you need a computer to activate this App on your smartphone. The main use of this App is preventing the Unlaunched Apps from running in the background. Unfortunately, to use Brevent you need Android 5.0 and higher version. It's 2018, and device coming with Android Oreo. So you don't need to worry about it.

The best part is Apps added in the Brevent list can receive notifications. You can use allow sync feature, which isn't available in Greenify App. In Android Oreo, you need to enable USB debugging option always. There is a guide available on the internet to enable this App. So, I suggest you search for it. Or, you can comment, I will tell you the exact link of that guide.
Get Brevent App from Play Store.
Naptime.
If you know in marshmallow google has introduced doze mode. Which terminate background process. But, it does get activated after an hour. And, when you move the device, due to the sensors of the smartphone, doze mode gets turned off. So to fix this issue and save battery life, there is an App called Naptime. Some users were facing issue with the App. So developer already mentioned solution in App description.

The app works fine in Android 6.0 and higher version of it. To use App in non-rooted smartphone you need to give some command through ADB. You can read the description on play store to find out all commands. With this App, doze mode gets activated when you turn off your smartphone screen. This App also disables smartphone sensors, to prevent doze mode to get off. Overall, this is best Android battery saver App to try.
Get Naptime App from Play Store.
That's it. Still, there are many Apps available. Which can be the "Best Battery Saver App". But those Apps works similarly like these Apps. If you're confused which App to try. Then start using Greenify. Because you don't need to root smartphone. And, also don't need to give the command to activate App. If you think there is any better App available, feel free to comment.