Since Discord's initial release, the developer has made so many changes to Discord. And now Discord has become the primary VoIP application for Gamers, Streamers. Although, if you're not aware, on Discord you can do voice calls, video calls, and text messaging. Or can share media and files in private chats or servers. Discord even now allows doing screen sharing. You can also create your own Discord server (community) for free and can customize it as you want. And, if you ever created your own discord server, then you might already be aware of Discord Bots.
What are Discord Bots?.
Discord bots are nothing but just AI-driven tools that help you to automate tasks on your Discord server. It makes the server more engaging and moderates your server. Like, there are some bots like MEE6, ProBot, that can welcome new members. And, on the other hand, there is a discord bot like Rythm. With this bot, users can listen to their favorite songs with a group of friends. Some bots allow users to play games as well. Even, with the help of bots, you can create a poll and conduct giveaways. Also, there are some bots that can ban members who are creating a bad environment on your server.
But it's hard to find the best discord bots because there are dozens of Discord bots available. So if you don't know what bots to add to your server. Then, check out this useful list to find the best one.
Best Discord Bots to Moderate Server.
The first bot that you need after creating a discord server is Moderation Bots. With these bots, you can add welcome messages, mute, kick, or ban users. Also, some bots provide an anti-spam feature for troublemakers.
MEE6
Anyone who creates a Discord server should add the MEE6 bot first. MEE6 bot comes with MEE6 commands, that let the admin moderate the server in different ways. You can design custom welcome messages for users who join or leave your Discord server. Even, you can send private messages to the user. This bot also can help you assign custom roles to a new user.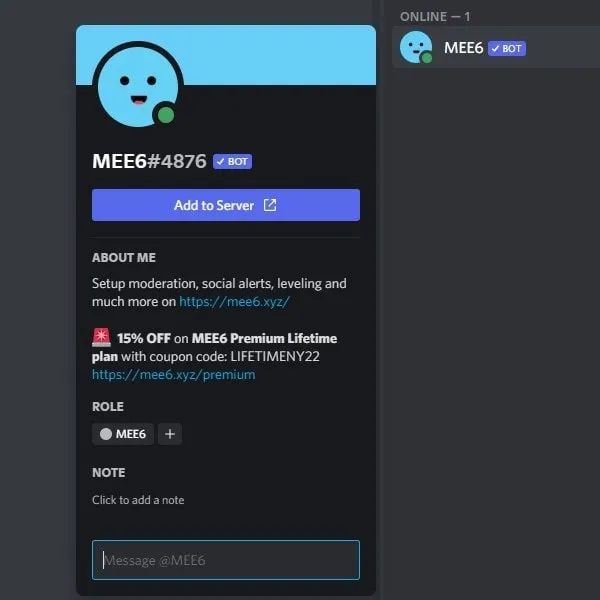 MEE6 commands also can scan your entire server for banned content. And, can warn, mute, kick, or ban users from specific text channels. Moreover, you can set some rules. And, if the user infracts those rules, then the MEE6 bot can punish them temporarily or permanently ban them. Additionally, it lets users play music. There is a premium version also available that will cost between $11.95/month to $89.90 for a lifetime.
Add MEE6 Bot to Server.
ProBot
ProBot is an alternative to MEE6. So, if you find MEE6 not that impressive, then ProBot could be your choice to manage the server. ProBot also comes with welcome messages for new members and also can give auto-response to messages. In addition, it comes with anti-raid protection, similar to MEE6 anti-spam.
ProBot custom welcome message includes member's avatar and name. It also can set automatic responses to specific words, when the user breaks any rules. You can also use this bot to warn, mute, kick, or ban members of your server from a chat or voice channel.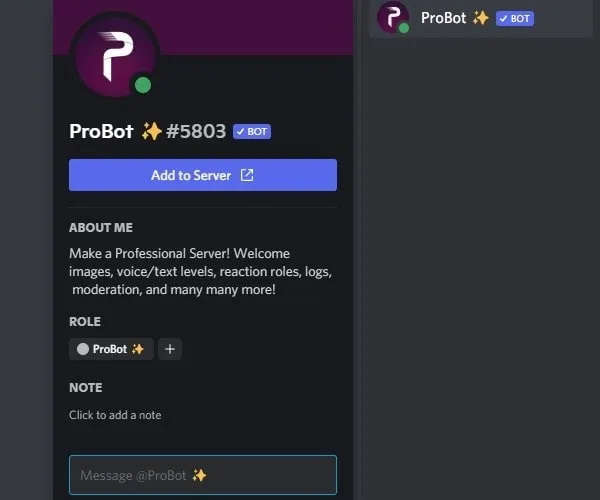 For offending members, you can create a custom voice channel, where this bot will move those members. And, then the server moderator can talk with them personally about their inappropriate behavior. Additionally, the bot can also be used to play music or assign roles and XP to members. The Premium version of this bot costs less than MEE6. So, you can definitely consider it.
Add ProBot to Discord Server.
Dyno
Definitely, this bot needs no introduction. But, if your's unaware, this bot is being used now in more than 850,000 servers. You might have seen this bot name in many popular gaming servers. Actually, this bot comes with 35+ different moderation bot commands. In which, from assigning roles to deafen, kick, and ban members are included. Dyno is well known all in one Best Discord Bots, It provides tons of customization options for your Discord server. It comes with a simple web dashboard and brings some cool features such as moderation. Antispam or auto-moderation makes your server free from spam messages and unwanted posts.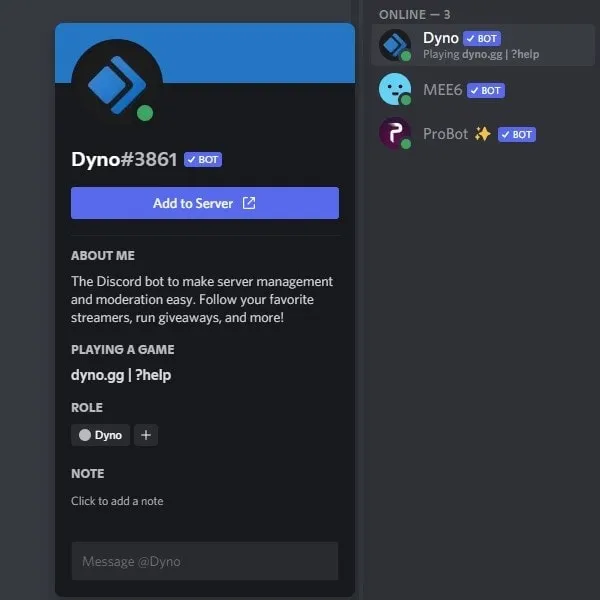 If you're also looking for a bot to play music from YouTube then you don't need to install the extra plugin. Because Dyno also comes with YouTube video integration but if you're thinking to play music from sound-cloud then it's still impossible with Dyno. The best part is after it bans a member, it does save their chat messages. So, if someone is behaving appropriately, this bot can collect proof. Dyno records all these data in a moderation log, which the admin or moderator can read later.
Dyno also can lock channels for a certain period of time. That prevents spamming and gives the admin time to clean up the channel. Apart from moderation, Dyno also can be used to show Covid statistics, create polls, play music, and do some tasks like flip a coin. And, if you are a premium user, then you can create custom embedded messages as well. It also posts AFK status whenever you mention it in chat.
Add Dyno Bot to Server.
Top Cool and Useful Discord Bots.
Aethex.
Aethex is the first top-class discord bot, that, Gamers uses to improve their discord server. It is an adaptable and multipurpose Discord bot. That comes with utility and music commands and comprehensive moderation. There are also some fun commands to try. Aethex has a reputation system and a level-based social system. To increase users engagement and captivate users. If you're the one who doesn't like to add multiple bots in your Discord Server. Then, Aethex is the bot that you're looking for.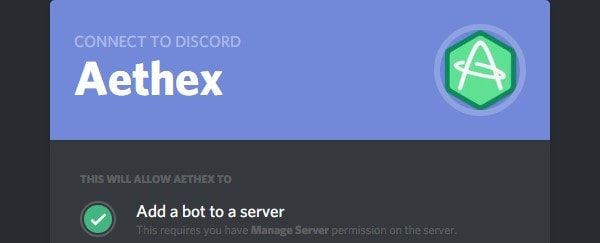 Because it can perform everything that you need for a discord server. This bot comes with a moderation tool. That helps the server owner to mute, kick or ban the user. Apart from music, the bot can be used for image search. The utility command of this bot always helps players like messaging, user search and so many things. Overall, If you're new to the discord. Then, add this bot, it's pretty straightforward.
Tatsumaki.
This bot is developed to increase user engagement on a discord server. And, many popular game streamers are already using it. The bot has an incentive system. That pushes users to be more active by letting them earn XP and increase their levels. And, with credit members can purchase customizations for commands such as t!profile and t!rank. This bot also allows setting welcome messages and notifications.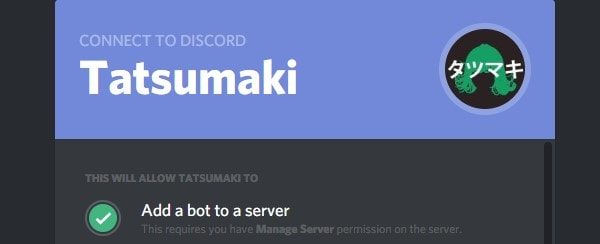 And, it comes with tons of commands for moderation. The Tatsumaki bot allows you to search on the web through Google search. And, helps to stay up-to-date with the RSS feed. The bot also provides members with a scoring system. Overall, this is one the of best discord bots with an outstanding user interface. And, there are many things, which the developer has added recently. So, I suggest you do check out their website.
GAwesomeBot.
It is one of the best multipurpose bots for a discord server. This bot is a highly customizable and powerful bot. Comes with tons of fun features to increase user activity on a server. With this bot, you can kick, ban or even award ranks to the members. You can also conduct polls and giveaways. Also, can generate sick memes with it.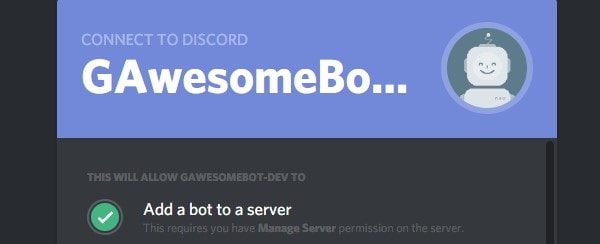 The main highlight of this bot is its robust extension system. This means you can ask the bot to show results from Wikipedia, Google, Reddit, and even from YouTube. GIF+ Image search feature also included. The GAwesomeBot also allows creating a To-do list and converting units. Overall, if you don't like Aethex for some reason, then GAwesomeBot is for you.
ErisBot.
ErisBot is an alternative to the Aethex bot because it provides similar features. It is the most stable bot till now and you'll not face any bugs. It allows playing Music videos directly from YouTube with the help of a URL. With ErisBot you can check out Twitter feeds into your discord server.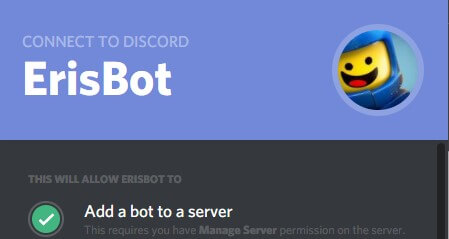 The self-cleaning features of ErisBot keep your server spam-free. You can also able to find out some interesting features like currency converter, Weather information, Random FML stories. Apart from these small customization features some useful features are also available like Twitch notifications, Access server information. There is much more you can do with the Eris bot, so you can give it a try.
FredBoat.
Reddit and many geek sites recommend this Bot for music. And yes, I will also recommend the same, am personally using FredBoat its open-source Music bot. It provides support for YouTube, Soundcloud, Bandcamp, twitch, Vimeo, and many more music services.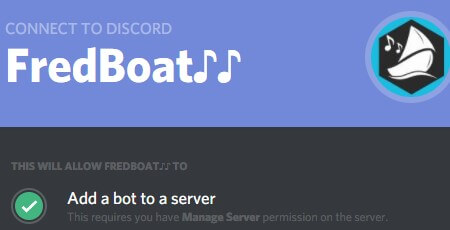 There is no setup required for FredBoat, it's a one-click installation. And allows you to search and play YouTube Videos using the chat option. Also instead of typing the direct URL of the track, You can simply just type in the name of your song and let FredBoat find it for you. You'll never feel any loss in the quality of Music, and it also provides a shuffle and repeat options to put the entire queue to repeat. You can also try the FredBoat alternative known as Cabot.
Hexacircle.
It is one of the Best Discord Bots that provides almost all basic and advanced functionality. Like other Bot it also allows you to kick completely or soft-ban people. (ban for a certain period of time) It comes with the integration of Giphy and Twitch (both are the best sites for GIFs)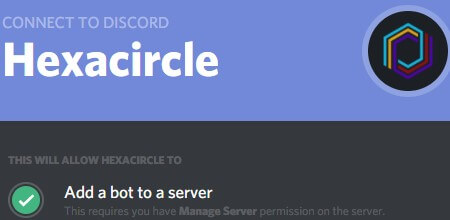 Haxacircle also provides some customizations like custom join and leave messages that will show new people who will join. Apart from these some basic music functionality like play music from YouTube using URL is available. Which allows you to control songs and adjust volume and more.
Septapus.
Septapus Bot is made for fun, but simultaneously it is useful. It allows to make comics and charts, so no more boring chats. Comics and charts will make your server more interesting and it allows you to post emojis and reminders.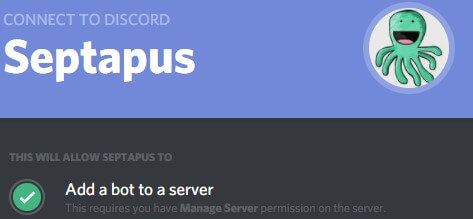 Septapus also lists information about YouTube Gaming and provides live announcements for YouTube streamers. So if you're YouTube steamers live announcements will make your work easy.
TypicalBot.
TypicalBot is another well-known bot for Discord server which comes with many customization and moderation. You can compare it with the Aethex bot which is currently offline. It provides various moderation tools like nickname logs, bans/unbans logs, queue, and much more.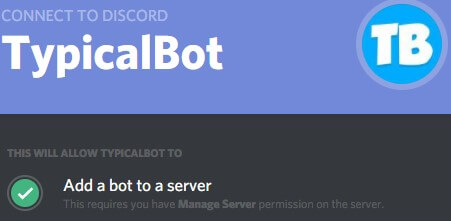 If you do lots of giveaways on your server then the typical bot will help you in choosing or picking random users. Some entertainment features are also included in this Bot like Dice rolling, magical 8 ball which makes it fun and useful Bots. Also, you can get cat dog and other animal pics in chat and you can get random jokes.
Serum Bot.
Are you looking for a bot that allows you to give commands using voice? Then try Serum (Best Discord Bots for Voice command), it is somehow similar to Siri (Not completely – Basic features). After adding this bot to your server, users can give voice commands.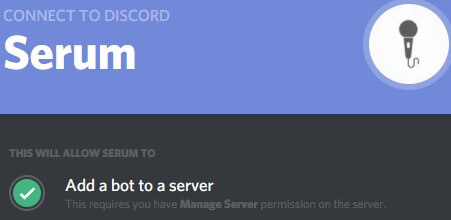 If you know while playing games if we want to give commands then we need to minimize the game. But if you add serum but you don't need to minimize you can give command directly through voice. To active serum Bot, while playing the game you just need to say Hey Serum and it will start taking commands from you.
Discord Dungeons.
It is completely different from all other bots, Still, it is one of the Cool Discord Bots. Because it can countless hours of fun to your discord server. The main feature of this Bot is the RPG Dungeon game within the Discord application. It gives permission to users and owners both to play RPG games which is a good thing.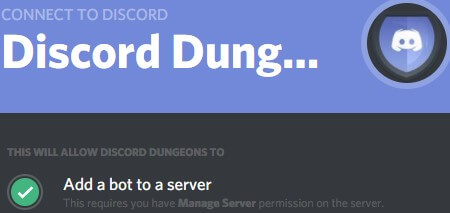 So, If you install Bot on your server then the user will be able to play through a desktop client using the Website and its Mobile application. The connected player can trade items and fight other connected players. Like other Bots, there is not so useful feature, But If you want to add some fun to your server then give it a try.
How to Add Bots to Your Discord Server.
If you're looking for these Bots, it means you already know about How to Add Bots to Your Discord Server. But Still, here am writing small instructions that will help if you don't know –
Step: 1 Go to Discord WebSite and log in with your Account Details. If you're adding Bots to someone else server then you need Manager Server permission. Or if it's your server then move to the next step.
Step: 2 Now use these bots sites to add Bots, or if you don't like these. Then go to Carbonitex Site and click on Add Bot to Server (Which you want to add). Or if you're using the Discord site then Invite is the option that you're looking for.
Step: 3 After clicking on that authorization screen will appear, the select server from the drop-down menu and click on Authorize. Open Discord app or site and you'll be able to see all bots on the Right Side of the screen.
That's all folks, According to me, these are the best Bots to improve your Discord server for users. Or if you don't like then you can check Carbonitex sites for all Bots, but those provide almost similar features. If you guys know any other Best discord bots then feel free to comment.