Over a decade plenty of things transformed into their electric version. The ordinary postal system changed to emails, Paperbacks made way for eBooks, and, even movies are now available through streaming services. Before the Netflix era, physical copies of Movies, (DVDs) were helpful to keep track of the movies you've watched, and, those you want to see. Well, now you can do the same by using movie tracker apps.
Does this ever happen to you? that you're watching a film. And, after watching a few minutes, you realized that you had already watched it. So keeping track of movies is essential, because, we humans tend to forget. On movie streaming services like Netflix and Amazon Prime Video, there is an option to create a watchlist. But, you can't mark the movies that you've watched already. And, not every movie available on both streaming platforms. That's why using a movie list app is way more sophisticated.
Best Movie Tracker Apps
MoviesDrop
MoviesDrop App is a simple Watchlist App for remembering the name of the movies, TV Series, Documentaries. MovieDrop layout is minimalist and simple. The app lets you create two lists of Movies. First is Watchlist – In which, you can add movies that you want to watch. Another list is for adding the Movies that you have already watched. The app comes with a voice search option to add the titles in your lists. And, you can check the complete information about the movies and TV series you added in the list.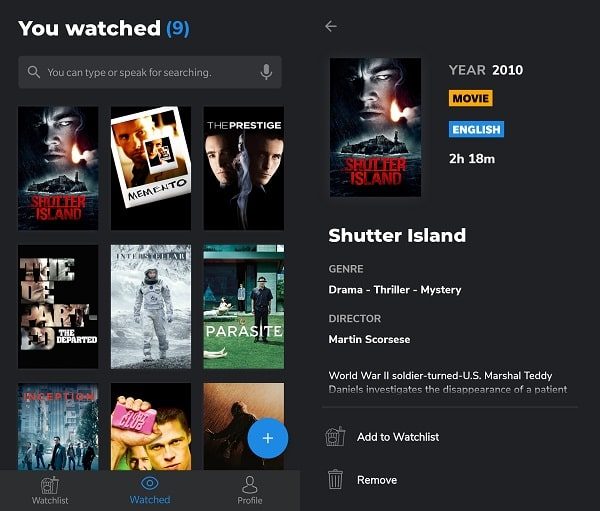 You can sign in with Google, Facebook, and even twitter to keep save your movies list. Recently, MoviesDrop also added a dark mode option. App uses The Movie Database (TMDb) API to search movies and TV Shows and to add. Though, as per developer, it is not endorsed or certified by TMDb. Though, as of now, MoviesDrop App is only available for Android users. Hopefully, this App will soon available for iOS as well. Overall, it is a simple but powerful movie tracker App.
Install MoviesDrop App from Play Store.
Moviebase: Manage Movies & TV Shows
The user-interface of Moviebase App is simplistic and easy to use. You can check ratings of a movie from IMDb, TMDb, Trakt, and Moviesbase all on the same page. Yes, App has its own rating system, but I would suggest you go with IMDb ratings. App also displays on which platform movie is available to watch. The best part is, you can add date and time to the watched movies. You can also create a custom list of Movies.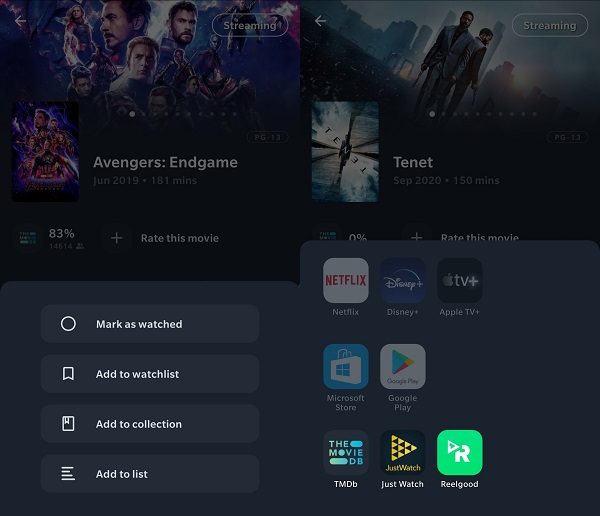 You can also purchase a premium version of Moviebase App, which costs only 299 INR / 4 USD for a lifetime. Premium subscription of App offers many features and advantage. Though, all basic feature like creating watchlist is absolutely free. You can sort movies according to the genre. Even, you can search for movies by artist name. Personally, I use this App to create Movies, TV Shows watchlist. Though, App is only available for Android users.
Install Moviebase App from Play Store.
Letterboxd
The Letterboxd app is not just a movie list App, it is a social network for the movie buffs. Apart from tracking movies, it is also a good App to find new movies. You can sort movies by year, genre, cast, rating, popularity, and more. Letterboxd app lets you review film, also you can go through a review of other users. Adding movies, into the watchlist, and into the watched list, is quite straightforward in the App.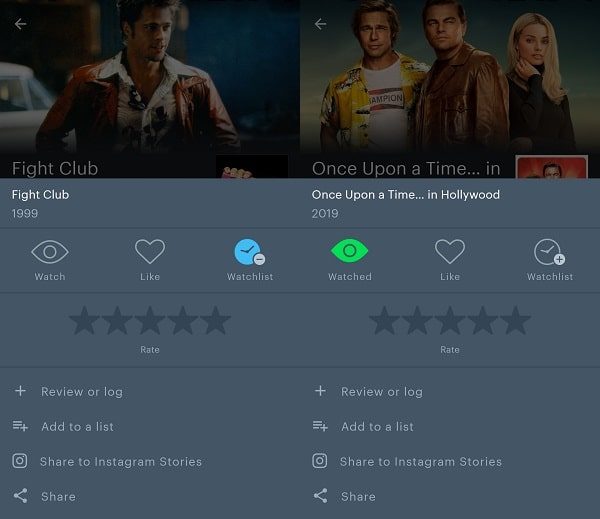 Simply open a movie title by searching, and tap on the "+" icon. And, by tapping on the "eye" icon you can add movies to the already watched list. Or, you can tap on the "watchlist" icon from the same page. Alternatively, you can long-press on a movie cover, and can add the movie into watched list/watchlist quickly. Though, to create a watchlist, you have to create a Letterboxd account, which is free.
And, in case, you don't trust App's in-house ratings, you can check movie ratings from IMDb. App also shows on which streaming platform movie is available to watch. Pro version of this App, costs $19 for one year. But, it is totally worth it, if you find this app useful. And, there are many benefits of pro versions, that you can check in App. LetterBoxd is available for web, Android, iPhone/iPad, and Apple TV.
Letterboxd app for Android. | Letterboxd app for iOS.
TV Time – Track Shows & Movies
I have already mentioned about the TV Time App in my "best TV Show Tracker Apps" article. Though, this App is worth mentioning again. Because, not only TV Shows, you can track Movies also with this App. In TV Time App, adding a movie into the Watchlist or Watched list is quite simple. Go to Discover section in App, and search for the Movie and TV Show. Tap on the searched movie, and you will get the "Add to Watchlist" option. And, if you have already watched that movie then tap on the checkmark icon. By going into the profile, you can check all added movies on the list.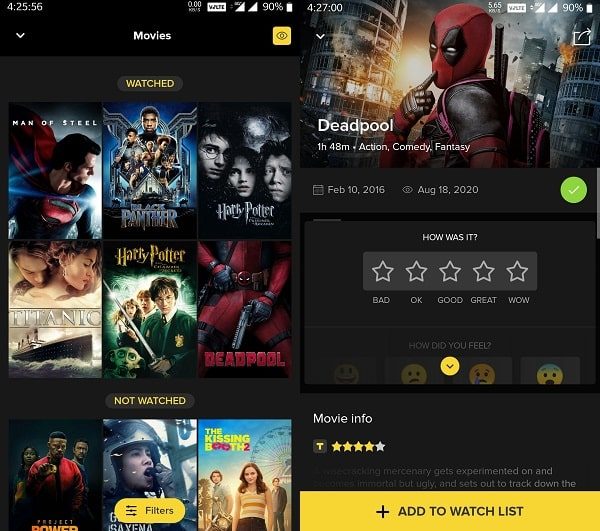 Like Letterboxd, TV Time App also shows on which platform, shows are available. You can create a to-do-list of movies and episodes to watch later. Also, you can receive notification alerts when new episodes and movies get available. From Movie's trailer to cast, App shows every information, that you might want to know. There is an in-house rating system, with that you can rate episodes and movies. And, can read other user's reviews. App also provides an option to create a custom list of Movies and TV Shows. Well, this App is more useful for TV Shows buffs. Because you can keep track of each episode of a TV Series. Overall, one of Best Movie Tracker Apps. The app is available for Android, iOS, and Web.
TV Time App for Android. | TV Time App for iOS.
SeriesGuide – Show & Movie Manager
This App can be a good alternative to MoviesDrop App. Unlike the other movie tracker Apps, it doesn't have many options. By that I mean, you can add movies to your watchlist and watched list, that's it. If you have a Trakt account then you can sign in using it. Also, if you want to backup and sync your movies and TV shows list, then you have to sign in to SeriesGuide Cloud. And for that, you have to buy a yearly subscription. But, if you don't want cloud backup then, you can use App for free with Trakt account.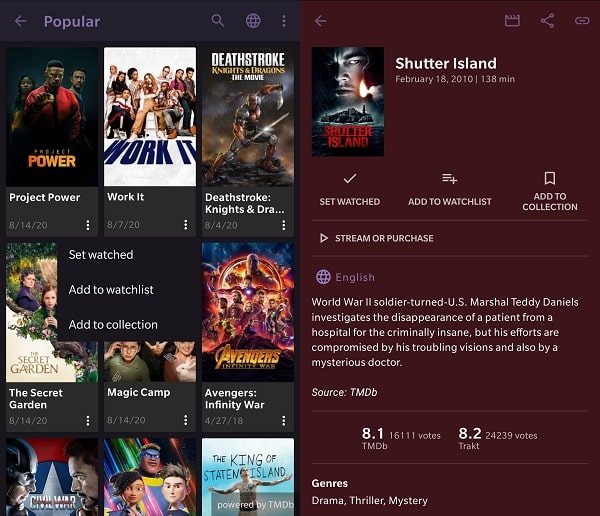 Like MoviesDrop, this App is powered by TMDb and shows all information about the movies. Add movies into the list is quite easy. Just search for the movie and you can use the "Add to Watchlist" and "set watched" option to create a list. App display TMDb and Trakt rating of movies. Overall, a good movie checklist app for Android users. The app is not available for iOS users.
Summing-up. – Movie Tracker Apps.
Now, with these Apps, you can track all the movies that you have watched till date, and gonna watch. No more need to type movies in notepad. Everyday new movie getting the release of OTT platforms. And, these Apps are perfect to keep an eye on all the latest releases. If you're still confused about which App to try, I suggest you go with Moviebase, it is a perfect App for Android users. But, if you don't want extra features, just want to make a list then MoviesDrop App is the right choice. If you're iOS user then try TV Time and Letterboxd App. Still, there are many movie list Apps, but these 5 were worth mentioning. If you know any other better App, feel free to comment.