OnePlus 5 Hidden Features – There is no doubt that OnePlus 5 is the "flagship killer" smartphone of 2017. It comes with latest Snapdragon processor and 6/8 GB RAM to handle multiple Apps & Games. Many smartphone companies now providing bezel-less phones, and soon OnePlus 5T is coming with it. If you already have any OnePlus device then you know that it comes with Oxygen OS. Oxygen OS is a customized version of Google's stock Android OS.
It comes with some cool features which are only available for OnePlus 5. So if you have a OnePlus 5 smartphone then follow this article to know about "OnePlus 5 hidden features and tricks". Although if you want to access all customization and cool features of Android. Then you can install or flash resurrection remix which is known as Best Custom ROM. Because it comes with tons of tweaks and tools which you"ll never able to find out in any other Android OS.
Note: At the time of writing article – It is based on Android nougat and soon OnePlus user will get Oreo update. So if some features do not work on your device then check Oxygen OS version first. (current Oxygen OS version – 4.5.13)
OnePlus 5 Hidden Features and Tricks.
Ambient & Lift Up Display.
If you have ever used Motorola devices then you already know about it. Because Motorola provides these feature instead of pulse notification light.
Enable Ambient Display and Lift Up Display option – Settings> Display> First enable Ambient display then Lift Up display.

Ambient Display – In OnePlus 5 whenever you receive notification pulse notification light starts blinking. Which tells you that you receive a notification but to check notification you need to pick up your smartphone. But if you enable this feature your screen will turn on for few seconds and you"ll able to see a notification on lock screen.
Lift Up Display – It is one of very useful OnePlus 5 hidden features, Which saves our time by showing time and date. If you enable this feature OnePlus 5 screen will show you time whenever you pick it up. You don't need to press any key, and when you keep your device display will turn off automatically.
Enable Dark Mode and Save Battery.
OnePlus 5 comes with 5.5 inch AMOLED display which requires a good battery. It offers 3300mAH battery, but by using this OnePlus 5 tricks or hidden features you can get extra SOT.
Like another custom Android OS, Oxygen OS also offers the ability to change the theme and accent color of the smartphone. You can switch between two theme light and dark, by default it comes with the light theme and blue accent color.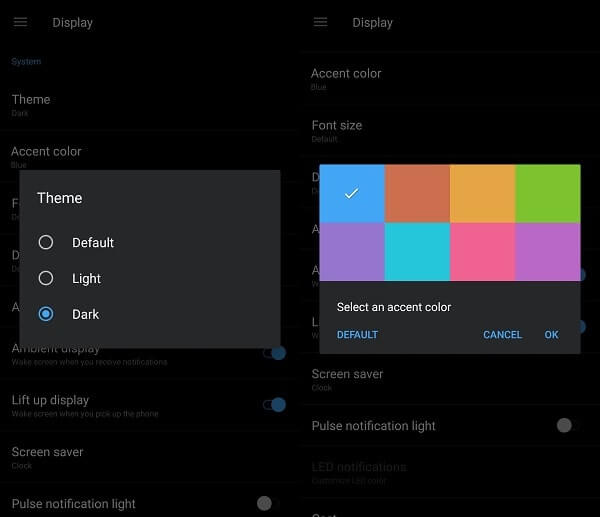 To change or enable dark theme on OnePlus 5 device, simply go to the settings> Display> under system section tap on the theme and choose a dark option. Within few seconds your settings menu, App Menu, and the Notification bar will turn into dark mode. If you want to change text color then simply tap on Accent Color and choose whatever color you like.
Customize LED Notification Light.
Am not calling it one of OnePlus 5 hidden features but only a few users know about it. If you're not a OnePlus user still you can customize LED notification colors using Android Apps. But if you have OnePlus 5 smartphone then you don't need to download any apps because there is an option available to customize.
Check light is Enable or Not – If notification light isn't blinking or lights up when charger connected. It means the pulse notification light option is disabled, you can enable it by going into settings> Display> Pulse notification light.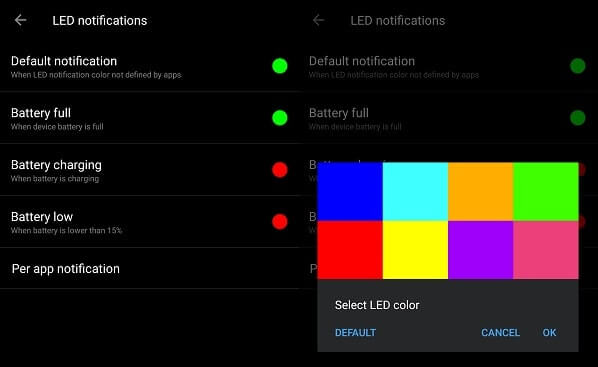 To customize LED notification light go to settings> Display> scroll down to bottom and tap on LED notifications. There is four option available to customize one is for App notification and rest three are four battery indication. Unfortunately, you can't customize specific app notification light color if still, you want to do then app available.
Enable OnePlus Laboratory.
It is one of OnePlus 5 hidden features, you can't access normally, by going into settings. You need to enable it by doing some act like you do to enable developers options. But before enable this advanced feature of the OnePlus device first you need to know about this.
What is OnePlus Laboratory?.
OnePlus 5 Laboratory comes with "Power notification controls" option. Which allows setting priority of notification from Level 0 to Level 5. You can set any custom level for specific apps notifications.
For example – If you set level 5 for Facebook notification it will show (Facebook notification) at the top of the notification list. If you set Level 0 for messages then it will block all notifications from the App. Each level has its own functionality you can check it by going into power notification settings.2
Enable Power notification controls and use.
To enable power notification controls you need to enable OnePlus Laboratory. Scroll down and expand status bar area and tap and hold settings icon for 10 seconds and release. You"ll receive a notification "Congratulations! The one plus laboratory has been added to settings".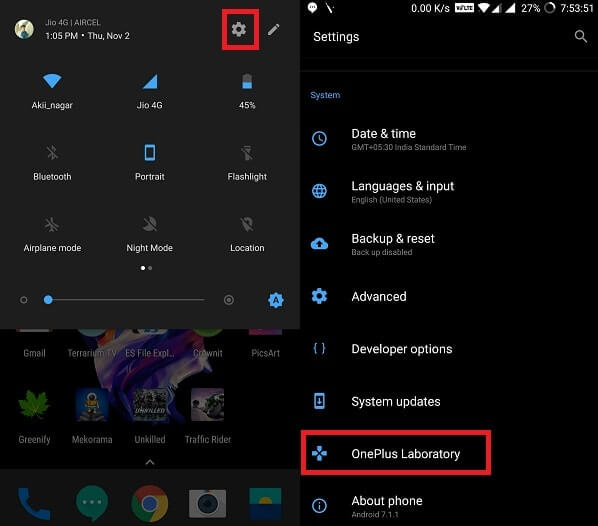 After that open settings> OnePlus Laboratory> Power notification controls> Activate.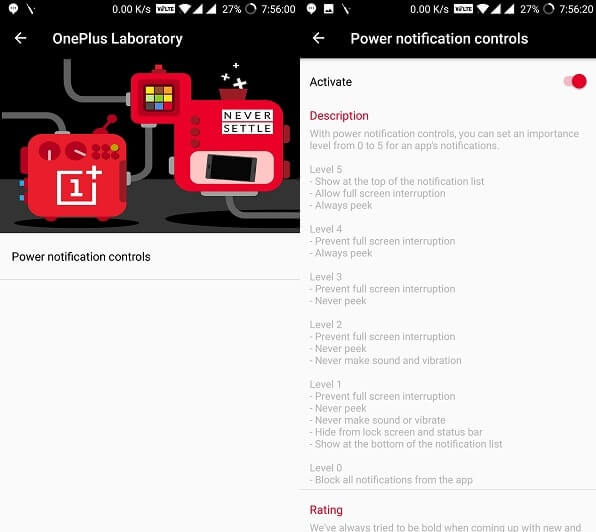 Next time whenever you receive notification from any app you can set priority by holding notification for few seconds.
Disable this hidden feature – If any moment you want to remove this option from settings "Hold same settings gear icon for seconds and release". A popup will appears and it will ask you to choose to remove the option to disable this feature.
Three-Finger Screenshot and Scrolling Screenshot.
Many smartphone maker companies offering the ability to take a screenshot by swiping three fingers on the screen. Oxygen OS also comes with this feature you can easily enable it by going into Settings> Gestures> three finger screenshot.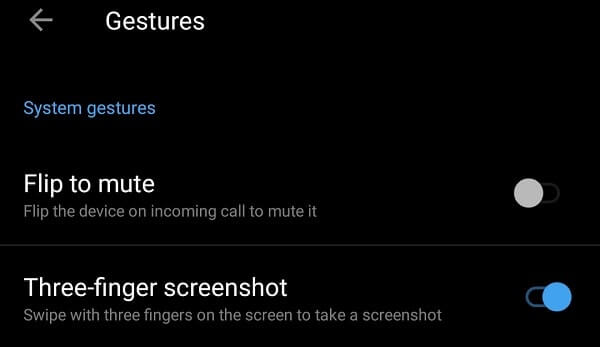 Only a few OnePlus users know about this feature that's why am adding it on OnePlus 5 hidden features list. Many smartphone makers offer to take scrolling screenshot feature, It is first introduced by Xiaomi. But now it is available for OnePlus devices also.
You don't need to enable anything from settings, All you need to do is take a screenshot and then choose the third option. When you tap on the third option after taking screenshot phone will start taking scrolling screenshot. You can tap on the screen and it will stop taking scrolling screenshot.
Gaming Do Not Disturb Mode.
If you play lot's of Games on your Android device then this feature is for you. Sometimes while playing games on Android device we receive App notification, But with this advanced feature, you can block all notification.
No need to worry about Alarms and Phone call this mode will not disable phone ring. Lock button option also available which will lock capacitive buttons.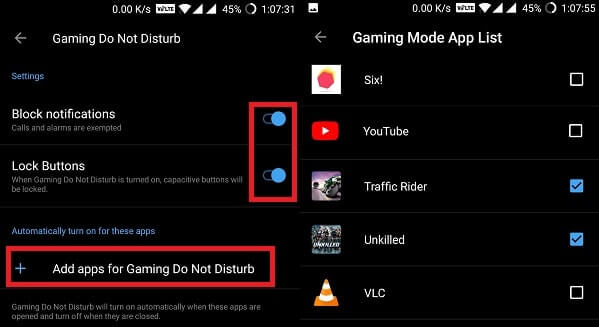 To enable gaming mode for specific app go to Settings> Advanced> Gaming Do Not Disturb> Enable Block notification and lock buttons option. Now tap on "add apps for gaming do not disturb" and then select games.
Network Speed Indicator.
Surely, this is not a hidden feature of OnePlus 5 but by default, it comes disabled. If you don't know what it is – Network speed indicator is a small feature of Android that shows real-time Internet downloading and uploading speed.
In MIUI it comes inbuilt but many big companies like Samsung does not provide this feature. In OnePlus 5 you don't need to download any third-party app you can easily enable Network speed indicator from settings.
Simply go to settings> Status Bar> Display network speed. (You can also enable battery percentage by going into the same section.)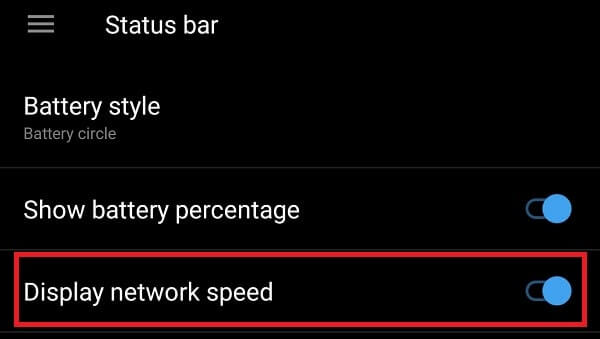 Screen Off Gestures.
It's the very awesome feature of Android devices, It comes only in few devices because it requires sensors. This is also one of OnePlus 5 hidden features that allow launching any App by drawing shapes and alphabets when screen Off. After enabling and setting up this feature you don't need to pick up and unlock the device. All you need to draw the shape that you set for specific App.
Enable Screen Off Gestures.
There are 5 alphabets screen off gesture available in OnePlus 5. You can set any app on any gesture, Also Music control gesture there.
Go to Settings> Gestures> Enable Music Control > Tap on any draw gesture from O, V, S, M, W and then choose the specific app.
For Example – If you want to open camera when you draw O then tap on "draw O" and then choose Open camera option.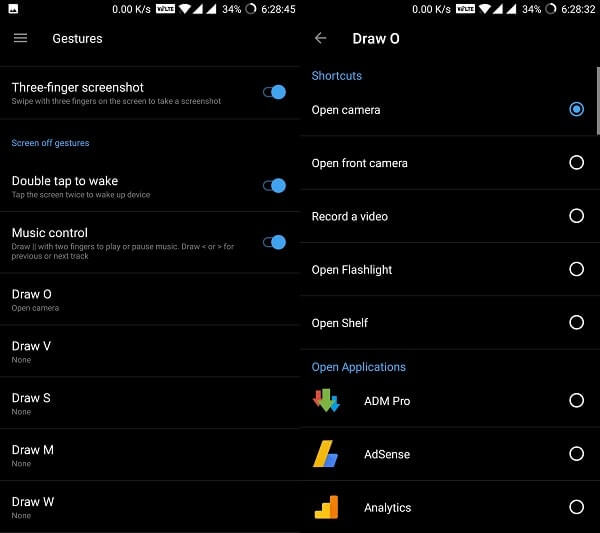 Bonus – In Gesture settings, there is Double tap to wake feature available. Which allows to wake up your screen whenever you tap two times.
Doze Mode.
It is one of OnePlus 5 hidden feature and also a trick to reduce battery consumption. The feature isn't new because it's first introduced by Google in Android marshmallow.
Enable Doze Mode.
Enable Developers Options – Go to settings> About Phone> Tap 7 times on Build Number.
After that go to settings> Developers Options> Enable Doze Mode.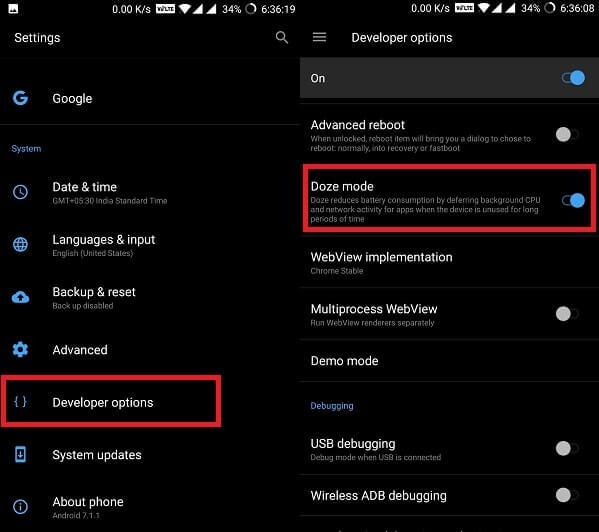 What Doze Mode does?.
When the device is unused for long period of time and unwanted task are running, then doze mode save battery life by reducing power draw and network activity of Apps.
App Locker.
Like, MIUI 9 Oxygen OS also comes with Best App lockers feature. It allows locking any App with your current fingerprint and pattern / PIN lock. So you don't need to install any third party app to secure your banking and other App.
Lock any App with App Locker.
Go to Settings> security and fingerprint > App Locker (under privacy section). Enter your current pattern or PIN / Password and then it will ask you to choose apps that you want to secure with App Locker.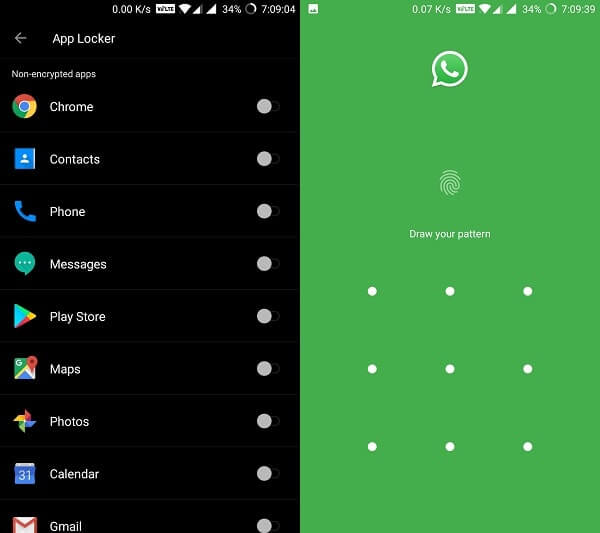 Note: Once you unlock any App, It will stay unlocked until you"ll lock your smartphone with the main lock.
Change Apps Icon.
To Change App Icon design you don't need to install third-party Apps in your OnePlus 5 device. With the help of OnePlus 5 hidden features "icon pack," you can easily do that. Also, you can import icon pack from Google play which is a good thing. But personally, I prefer default one, because of it's clean look.
How to Change Apps icon in OnePlus 5?.
First, hold down your left touch capacitive button for few seconds and choose settings option. Here you can change many things of OnePlus 5 launcher, but we want to change icon pack. So choose Icon pack option and then choose between OnePlus, Round and Square.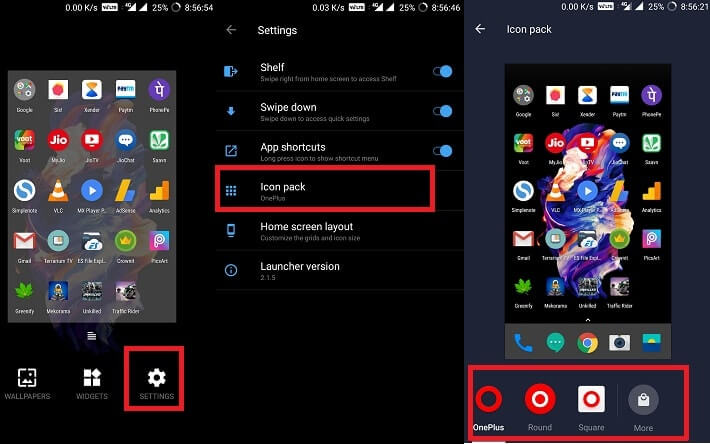 Disable App Shortcuts – On same settings menu, there is an option to disable and enable App shortcuts. So if you want you can do that but keep it enable, App shortcuts is really helpful it appears when you long press on the app icon.
Reading Mode and Night Mode.
OnePlus 5 comes with two highlight feature Reading Mode and Night Mode. Although these two aren't hidden feature if you're using your smartphone first time then it's hard to find out.
Enable Reading Mode and Night Mode.
Night Mode – Go to Settings> Display> Night Mode> Turn on Night Mode. And if you want to turn it on automatically when you can enable schedule Night mode option. It will allow you to set a specific time range to activate night mode automatically.
Reading Mode – Go to the same display settings and then choose reading Mode> Turn on reading mode. Or if you don't want to activate reading mode for the whole device then you can choose specific apps by tapping on "Add Apps for reading mode".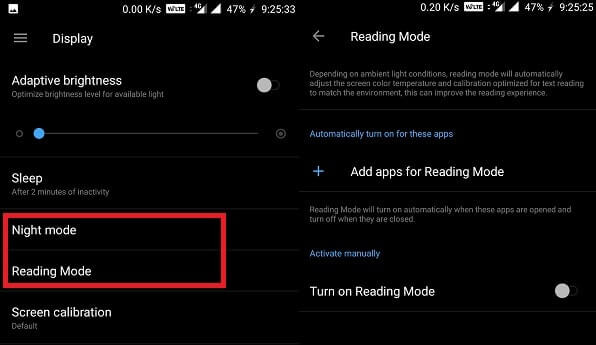 Reading mode and Night mode optimizes display by decreasing gray-scale mapping and by filtering blue eye. It is also helpful in reducing eye – strain and make reading easy in the night.
Bonus – OnePlus 5 comes with NFC support option, that's why Tap and Pay feature also available.
Quick Pay.
Quick Pay is the most helpful feature of Android devices and OnePlus 5 come with this option. It allows to launch your "scan and Pay" / "Tap and Pay" Application by long pressing the home key.
For Example – If you set Android Pay / Paytm or any other payment app for quick pay. Then whenever you"ll press your home key (It also works when the screen is off) it will launch send money page of that App.
To enable Quick Pay Go to Settings> Security> Quick Pay > Choose between Screen Off or Screen On (You can choose both).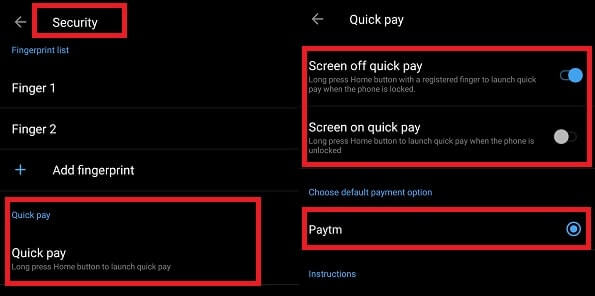 If multiple payment apps are installed then you can switch between from "Choose default payment option" section.
OnePlus 5 Trick.
It is one of OnePlus 5 hidden features that only a few OnePlus users know. Open Calculator App and then Press 1+= and you"ll get a small message "NEVER SETTLE". (Comment Down Below if you like this 😃 )

That's all folks, for now, I know there are many OnePlus 5 awesome feature left to share. But these are the cool features and tricks that you should know about it. If you know any other better feature then feel free to share with us in the comment section.