Google Now Launcher Alternatives – One of the Best things about Android is the ability to customize the user interface in any way you like. If you want to customize whole Android then must try Best Custom ROM "Resurrection Remix". But for a normal user, it's not easy to Flash Custom ROM on their smartphone. But still, there is the easiest way available to customize using custom launcher apps. There is no doubt in Google Now launcher is the perfect custom launcher app that provides stock Android experience.
Why we need Google Now Launcher Alternatives.?
If you are using Google Now only to get app drawer then you can try some other option. There is no drawback in Google Now Launcher but due to lacks of customization option, we need alternatives to Google Now. It comes with Google Now, Which you can access by swiping right, but after "Google Assistant" (Siri Alternatives) it's useless. So check out this list of all best Google Now Launcher Alternatives that you can try on your smartphone.
Google Now Launcher Alternatives
Pixel Launcher. (Simple and Fast)
Google's pixel devices are famous for many things and Pixel Launcher is one of them. Pixel Launcher is the replacement of Google Now Launcher. Google now provides app drawer to access apps, but to make UI faster Pixel launcher provide swipe up to access apps feature. If you want to use Pixel and Pixel XL phones home screen experience then this launcher is best for you.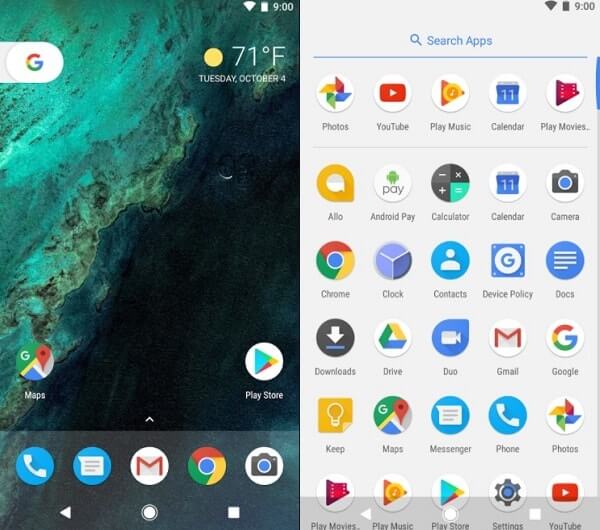 By swiping right you can access Google cards that bring news and personalized information. But if you want to remove it then you can do it. It gives you quick access to google search, but you need google app to use it. App suggestion also available which shows recently used apps to access faster. App search feature available or if you want to search alphabetically then the slider will come in handy. The pixel launcher available on play store is based on Nougat, But you can get Pixel launcher based on Android Oreo. – Check out Best Android Oreo Launcher Apps article to get.
Nova Launcher Prime. (high customization)
If you're searching for a launcher with tons of customization options than Nova Launcher comes in handy. It is well known one of Best home screen launchers App, that comes with highly customization options, material design and no substitutes. There is two version of Nova launcher free and prime version, Prime one will give you some extra feature.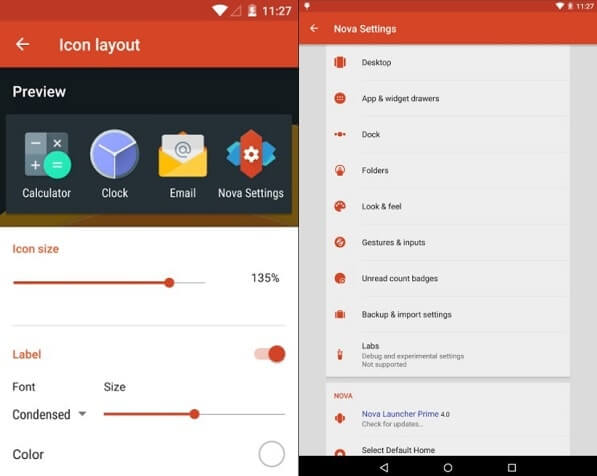 What you can customize with Free Version of Nova Launcher?.
Icon themes and Color Control – There are thousands of icon packs available for nova launcher, So you can change icons with whatever you like. Nova is the only launcher that allows you to change the color of labels, folders, unread badges, drawer tabs, and backgrounds.
Customize App Drawer and infinite Scroll – You can set app drawer in any way you like vertical or horizontal. Also can add some custom effects, which you can see while scrolling between apps. The infinite scroll also available, which doesn't make any sense but it might be useful for you.
Backup and Restore Layout – If you change lots of ROM then this feature might helpful for you. You can backup your desktop layout and launcher settings and can restore whenever you want. Also, you can import layout that someone else created or that comes with your phone.
Features that you'll get with Nova Prime.
Gestures control and unread counts – You can set a specific gesture for specific apps, like swipe, pinch, double tap and more. Unread counts badges also come with prime version, which will show you unread message number of Apps.
Create apps groups, Hide Apps and more scroll effects – You can create new tabs and folders in the app drawer – For example, you can make Google folder and put all Google apps in it. Nova Launcher allows Hide apps on Android, which is useful for security purpose.
That's it about Nova Launcher, So because of these awesome customization options, it is one of best Google Now Launcher Alternatives.
Get Nova Launcher from Google Play.
Action Launcher – Oreo + Pixel on your phone.
If you don't like nova launcher then Action Launcher is for you. It is well known Nova Launcher Alternative which offers similar customization option for free. By using action launcher, we can experience Pixel Launcher with Android Oreo feature. It comes with all Pixel launcher feature that I mentioned above and unique customization with unique features.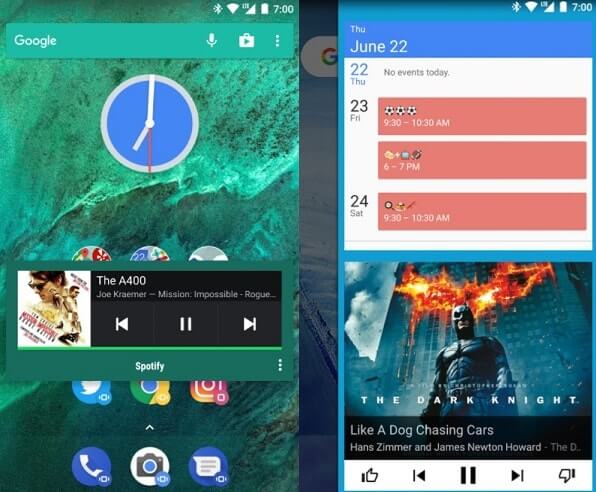 Pixel launcher features and App Shortcuts of Oreo – You can swipe up from your dock to see full screen all apps mode. Circular folder style, place the google pill and date widgets all pixel things available. Comes with google now integration which makes it Google now Launcher alternatives.
Notification Dots – It comes with full notification dots feature that comes in android Oreo. Also, you can create app shortcut just like Android 8.0 Oreo.
Quicktheme, quick bar, and Quickedit -It comes with dozens of the screen to customize with colors from your wallpaper. You can customize Google search bar, shortcuts, and apps using the quick bar feature. Smart size icons can automatically resize to match material design's recommended size. There is more customization feature that you can try after downloading it.
Evie Launcher.
Evie is known for doing things faster with a radically simple replacement of your home screen. It comes with better and faster-designed app drawer which supports both grid and list sorting. Also, comes with some live wallpaper which makes your smartphone screen realistic. You can redesign folder in a faster unique way that can adaptable to your home screen grid. Custom shortcuts feature makes easy to use a smartphone – from search results you can create one by long pressing results.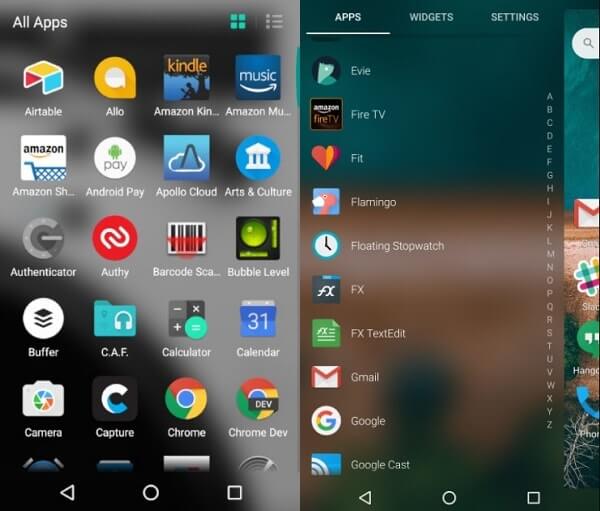 Like Nova launcher, it gives you the flexibility to backup of your current home screen and can restore on any device. App also supports gestures like double tap to lock the screen which comes with only few ROM and launcher. The app comes with unread badges so you can see the number of unread notification of the specific application. The main highlighted feature of this launcher is universal search "By using single search option you can search your whole mobile for apps, contacts, restaurant, movies, TV Shows and much more.
ADW Launcher 2.
It is another Google Now Launcher Alternatives which is based on Android 7.1 Nougat. If you're using android lollipop and marshmallow then this is the best launcher to get nougat UI experience with some advanced customization. Launcher comes with an endless feature you can change icons and effects, image filters and compositions.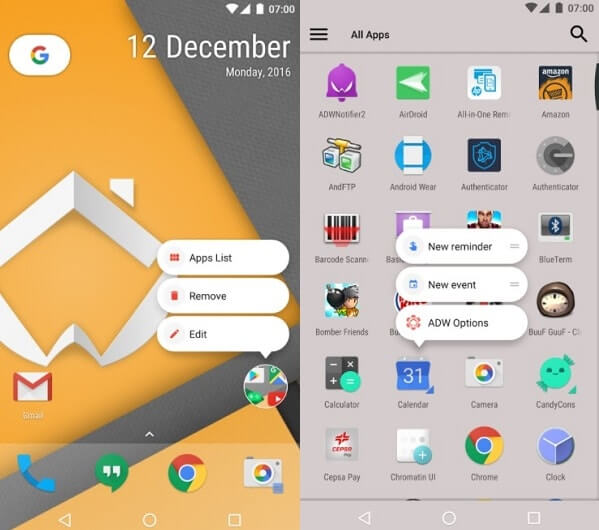 The dynamic UI coloring makes this launcher more attractive – colors get automatically set according to wallpaper. The visual mode allows configuring desktop, icon appearance, folder appearance and app drawer options. Wrap folder mode also available, which lets you launch the first app in the folder on tap. Gesture support also there, there is a specific section available in the settings menu to manage gestures. The launcher has its own extensions called ADW which allows adding weather, Gmail and much more.
Nougat Launchers.
There are a bunch of nougat launcher available on Google Play. Which helps you to convert your older android screen into nougat UI. So if you also want to experience nougat without changing OS then check out this article.
Android 7.0 Best Nougat Launcher.
Conclusion.
There are tons of Android Launcher available on Google Play, But this article is not about Best Launchers for Android. Here am talking about the only Google Now Launcher Alternatives. And these launchers have somehow similar and better features that make them alternatives. If you ask best one then I will suggest you get Nova Launcher Prime. Because it comes with all required customization feature which will give your smartphone new look every day.